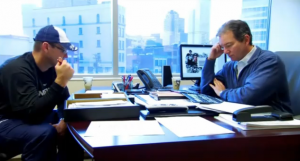 The dust has finally settled in Pittsburgh.
Weekend news of Evgeni Malkin's knee injury sent shockwaves through a fanbase already struggling to cope without Sidney Crosby.
Last night the Penguins lost 4-1 to the Columbus Blue Jackets with almost $23m in forwards unavailable to play.  Heading into Thursday's contest against Los Angeles, Pittsburgh has already lost 156 man-games due to injury and is searching for some way, any way, to score goals.  Most would agree the lineup the team dressed last night will have trouble even staying in playoff contention with a challenging, jam-packed February schedule on the horizon.
So what happens next?
If Malkin and Mike Comrie (late December hip surgery) miss the rest of the regular season, the Penguins will be able to use the long-term injury exception to create cap space somewhere in the range of $9m at the deadline. [The uncertainty surrounding Crosby and Mark Letestu's injuries make it impossible to determine the team's ultimate space.]
The salary cap won't be much of an issue if Shero decides to go shopping, but is ownership really interested in reckless excess spending?
The salaries of Malkin, Comrie, Crosby, Letestu, Arron Asham and any other injured players don't "come off the books" as is commonly assumed and reported.  The long-term injury exception simply allows the team to spend more money over and above the normal $59.4m salary cap.
Just because the Penguins can afford Alexei Kovalev's $5m pro-rated salary in the wake of Malkin's injury, it doesn't mean ownership will agree he's worth it.
In Part I of our Penguins trade deadline preview, let's focus on the market that Shero will be looking to navigate leading up to February 28.
Who are the Penguins going to get?
The beauty of the trade deadline rental (trading for a soon-to-be free agent) is the fact it's essentially a 30-game tryout.  If the acquired player works out, the team already knows he's a good fit and gets a head-start on contract negotiations.
Marian Hossa (2008 deadline rental) eventually left for Detroit after a successful playoff run with the Penguins, but Shero had a greater advantage in negotiations with Hossa's camp than he normally would have on the open market.
Bill Guerin (2009 deadline rental) realized he enjoyed playing in Pittsburgh on a line with Crosby so much that he was willing to take a discount to stay with the team the following season.
If the deadline rental doesn't work out (Alexei Ponikarovsky – 2010), the team isn't left on the hook with additional seasons and can walk away from the player at the end of the year.
Everyone with a virtual pen assumes the rental option Kovalev fits with the Penguins because "they had him once before and he wouldn't have any trouble fitting in."  Kovy-advocates forget that the 37-year-old Russian is fresh off a torn ACL and a mere shell of his 44-goal self from ten years ago.
It's not a coincidence that similar perimeter snipers like Petr Sykora and Miroslav Satan fell off the map under Bylsma's watch.  The Penguins' system feeds off speedy, hard-working forwards capable of playing relentless defense – hardly the bio line for Alexei Kovalev.
Rental Possibilities Few and Far Between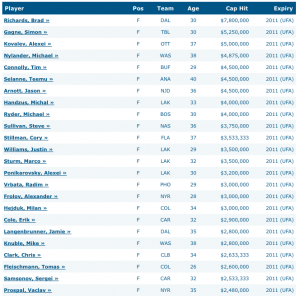 If historical trends are any indication, Shero's first stop will still be this list of rental possibilities as he looks to fill the void left by Malkin.
Stripping out just the highest-paid forwards on the list leaves us with this group of 24 players to the right.
After eliminating options like Frolov, Fleischmann, and Nylander (done for the season due to injury), the leftovers make up a pretty underwhelming bunch.
Sure, at the right price Teemu Selanne and Brad Richards would look great in a Penguins sweater, but Dallas (3rd place) and Anaheim (7th place) aren't going to be offering up their superstars in the midst of a playoff race.
In fact, as of this writing only the Edmonton Oilers are more than 5 points out of playoff contention in the Western Conference.  What kind of message would it send to the fanbase if the Stars sent Richards to Pittsburgh for an assorted pile of picks and prospects while the team sits at the top of the Pacific Division?
The truth is this year's deadline is setting up to be a total dud.  There aren't many 'sellers' out there and the GM's willing to pick up the phone right now are peddling overpriced and/or flawed assets like a t-shirt vendor on the Atlantic City boardwalk.  Sifting through the junk to find a diamond will be the goal of at least a half-dozen GM's in February – a goal that very few will achieve.
Even the best-laid plans go to waste
The All-Star Game is commonly recognized as the unofficial start to trading season.  Most of the deals that go down on Trade Deadline Day are the culmination of weeks of meetings, planning, and phoning other GM's to ask 'what do you got?'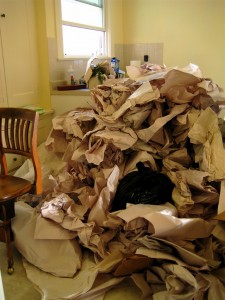 Team officials say Shero sat down with Assistant GM Jason Botterill and the organization's scouting department last week and started to put together a gameplan heading into the deadline.
With a very limited amount of cap space to work with at the time, the conversation probably centered around affordable options the team could acquire and fill any holes that remained on a team comfortably atop the Eastern Conference standings.  The team's scouts probably weren't in New Jersey eying up Jason Arnott ($4.5m salary) and trying to decide if he had enough left in the tank to make an acquisition worthwhile.
A single hit by Tyler Myers on Malkin's knee last Friday night effectively forced the Penguins front office to toss their playbook in the trash and start from scratch.
What if they become 'Sellers'?
If a logical deal doesn't fall out of the sky over the next few weeks, it's not a stretch to wonder if Shero will decide to take advantage of the tough market conditions and move a few of his own players.
Last month we took a look at why talented defensemen Alex Goligoski and Ben Lovejoy might attract interest from around the league and allow Pittsburgh to fill holes without sacrificing their core.  With the way the game has changed since the lockout, a trade deadline preview for almost every team in the NHL this year would stress a need for a 'puck-moving defenseman'.
2009 first-round pick Simon Despres is probably a season or two away from being NHL-ready making offensive defenseman something the Penguins have in excess.  Shero has what every team wants, but will wait until a team is willing to overpay for a promising young player like Goligoski.  That type of opportunity may not present itself until the summer.
On offense it's a different story.  12 of the 18 forwards getting a paycheck from the Penguins right now are scheduled to become restricted or unrestricted free agents this offseason.  Some will be back next year, some will move on to chase new opportunities and higher paydays elsewhere, and the next few weeks will serve as an open tryout for the 2011-12 campaign.
If Pittsburgh decides to trade from a strength to supplement a weakness, moving a member of their top-ranked penalty kill unit might make sense.
Craig Adams, Max Talbot, Matt Cooke, Jordan Staal, and Pascal Dupuis occupy so much shorthanded time per game for the Penguins that it hasn't allowed coach Dan Bylsma to see what he has in youngster Dustin Jeffrey:
"[Jeffrey's] been a welcome addition to our powerplay. He's done an admirable job between Kunitz and Dupuis. He's scored some goals. He's added powerplay goals. He's been pretty decent in the faceoff circle at times, and our [penalty killing] is such that that's probably the best thing he could do for us and he hasn't had a huge opportunity because we have five healthy penalty killers, which is right now a pretty good penalty kill unit."
Staal and Cooke are signed long-term and the return for Adams would be small, but if Talbot and Dupuis are looking forward to big money in the offseason now might be the time for Shero to deal one of them away.  Playoff contenders Chicago and Colorado sit among the bottom five teams in the NHL in penalty kill percentage and will be actively shopping for a quick fix at the deadline.
In the case of Jeffrey, it's also tough to envision where the 6-foot-1 center fits with the Pittsburgh Penguins' long-term plans.  The team has tried him at wing in recent seasons but he hasn't shown the physical ability to dig in the corners and win battles along the boards.  Jeffrey is best-suited at his natural center position but with Malkin, Crosby, Staal, and rookie Mark Letestu (recently given a two-year extension) already ahead of him on the depth chart, the 22-year-old could be a victim of a number's game.
The best trade is sometimes the one you never make
The Buffalo Sabres sent a second-round pick and prospect Nathan Paetsch to Columbus at last year's deadline for Raffi Torres.  At the time of the deal, Torres had 19 goals in 60 games for the Blue Jackets and was brought in to Buffalo to give the team a little extra scoring punch heading into the playoffs.
His final goal total on the year: 19.
It's a cliché, but sometimes the best trade really is the one you never make.  The Penguins are already without a 3rd round pick (sent to Philadelphia for Dan Hamhuis) and a 4th round pick (sent to Edmonton for Mathieu Garon) in next year's draft.  It won't be popular with fans, but sitting tight or taking advantage of hungry GM's around the league might not be a bad idea for Shero as he looks restock a talent pool depleted by recent deadline deals and prepare for next season.