Perseverance A Key to Habs Success
Much is made of the Montreal Canadiens size, or apparent lack thereof, specifically the ramifications it has on the teams ability to get beyond some of its more aggressive and physical opponents in the NHL.
Particularly teams like the Philadelphiha Flyers.
Philadelphia, currently the top team in the Eastern Conference, proved to be the demise of the Canadiens Cinderella playoff run of 2010 and have since become a measuring stick in terms of qualifying how competitive a club is.
In the case of the Canadiens, who rank sixth in the East, it turns out that their overall size as a team doesn't seem to compromises their ability to beat opponents, but it's the consistent intensity with which the Canadiens play with that wins games.
And this year, Montreal's just so happen to be one of the most intense teams in the league.
As measured by PowerScoutHockey.com, the Canadiens are in the top one-third of the NHL's most intense teams, which, as we will learn, is a new dynamic in-depth technique that helps measure individual teams compete and intensity levels with more accuracy and insight.
The defining factor in seeing beyond size.  How hard a team plays has to be considered when measuring the production and potential of a team.
For the Canadiens, that's hard – as in they play very hard, intense hockey.
Here is an overview of how the Canadiens season has played out thus far, including the measurements of how intense they played in each game.
Heading into action tonight against the Boston Bruins, the Canadiens are in a better position than they were this time last year and are poised to take advantage of ailing and injured rivals through the next couple weeks of play.
Although marred by injuries of their own throughout this season, it appears that Montreal is getting healthy at exactly the right time. With home ice advantage and top spot in the Northeast division within their sights, the Habs are going to need to continue persevering by playing intense hockey.
They are considered small and not quite as tough as some of the teams ranked higher in the standings, but it's interesting to think that few will give them the benefit of the doubt; they play just as hard, if not harder – judging from the measurements, than nearly all of their opponents.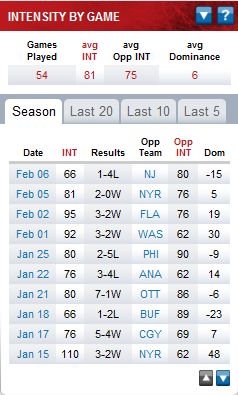 To help point out that the Canadiens are not intimidated by size and physicality, all we need to do is take a quick look back at how consistently intense the Habs are against their opponents.
It's a small sample size, yet if we look at the last 10 games the Habs have played, you'll note they consistently play a more intense brand of hockey than their opponents.
Their consistency, an intensity rating of 80 or above on most nights, is a solid indicator that Montreal tends not to take nights off and serves as a great sign of their ability to handle nearly any opponent.
Montreal averages an intensity rating of 81 per game and although it ranks them 9th in the PowerScoutHockey ranking system, they're actually tied for 4th, placing them in the company of the NHL's elite.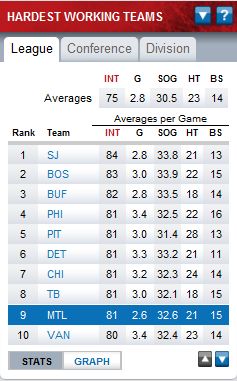 While I realize that this ranking and measurement system may be new to many, I can assure that it goes a long way in providing a more justified ranking of how teams actually stack up against one another.
Since Bob Gainey remade the entire roster and Jacques Martin took over, the Canadiens have been searching for some recognition and, despite their impressive playoff run last spring and continued strong play through 2010-11, it's been a hard thing to come by.
Martin's conservative system doesn't lend much of a hand in terms of promoting the Habs prowess, yet for the sake of this teams true identity, that is exactly how these Canadiens seem to like it.
They made a name for themselves last year and no one seemed to notice.
What makes it even funnier is that they're doing it once again this year, and still no one seems to be paying all that much attention.
Yet maybe that's best.
As I said, it's plain to see that these guys love to fly under the radar and, given how well they fared going unnoticed last time around, you have to wonder if people won't start to pay attention if they do better this time?
Steven Hindle