Familiar faces, indeed, as we prepare for Pens vs Caps yet again. The Pittsburgh Penguins are set to face the Washington Capitals in the second round of the Stanley Cup Playoffs. Stop me if you've seen this movie before.
In 2009, these two franchises met — in the second round, as usual — after the Capitals rattled off a 50-24-8 record and looked to be Cup favorites. Pittsburgh was a few months removed from a coaching change after head coach Michel Therrien was fired and Dan Bylsma took over. It ended up being a series for the ages as both Sidney Crosby and Alex Ovechkin shined bright, even netting dueling hat tricks in Game 2. Fast forward to the 2015-16 season, and the Penguins, fresh off a coaching change once again following a rough start to the season and the Capitals, coming off an impressive President's Trophy winning year collided again.
The storyline and result were the same, with Pittsburgh eliminating Washington and eventually hoisting hockey's ultimate prize a few weeks later. What seems like a Hollywood script — or a horror film for the Capitals' and their fans — has played out as dramatically as possible between these two franchises and this latest installment, set to begin on Thursday night at the Verizon Center, will be no different.
Well, the outcome could be.
Is This Actually Washington's Year?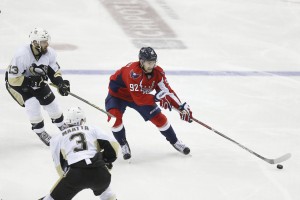 It seems that every season is labeled as such, right? This will be the year Ovechkin and company will exorcise their playoff demons. Except, every season, they disappoint in the postseason and fizzle out far sooner than anyone imagines. The Penguins are hoping to continue that tradition.
After hoisting the Cup last summer and of course, beating the Capitals as part of the journey, the Penguins raised their Stanley Cup banner prior to their October 13 season opener. Their opponent that night was none other than the Capitals, who opted to stay in the locker room during the ceremony despite head coach Barry Trotz originally saying he'd make his team watch. "I hope they have a long ceremony. I hope they have us standing there and I hope they raise that banner right in front of us so that we see it. Next year, hopefully, we can do the same thing to them and raise a banner in front of them," Trotz told the media after finding out they'd be Pittsburgh's guest on that special night.
Now, the Capitals have a very real opportunity to return the favor. But after watching the way a young Toronto Maple Leafs team pushed Washington to six games and multiple overtime finishes, many are wondering if they're once again losing steam at the worst possible time. Considering the Penguins and Maple Leafs are at least somewhat similar in their speedy approach, this series should be concerning to Washington and their fans. Plus, the Penguins are well rested and with Chris Kunitz and Chad Ruhwedel returning to practice this week, they're also seemingly getting healthy.
How will it all play out?
Matchup and Prediction
You likely won't see a panel from any network with a unanimous pick in this series. That's because, well, it could go either way with a few key factors determining the outcome. One of the most important factors will be Pittsburgh's blue line and their ability to escape the defensive zone with precision and control. They struggled mightily against the Columbus Blue Jackets in round one but Columbus didn't have the firepower to make them pay. Washington does.
Kris Letang's absence against Columbus was very noticeable. Letang, along with Carl Hagelin, will be sorely missed once again. The Capitals are a whole different animal with the amount of offensive talent they boast and will give Pittsburgh's defensive corps fits. If the Penguins continue the sloppy play in their own end zone that we saw in round one, this could be a short series. Marc-Andre Fleury faced 159 shots at even strength, which was the third highest total in the first round and only two behind Henrik Lundqvist in the top spot. Along with Fleury and Lundqvist in the top five were Frederik Andersen, Braden Holtby, and Carey Price.
To put that shot total into perspective, all of those goaltenders played one more game than Fleury but only a few shots separated the group.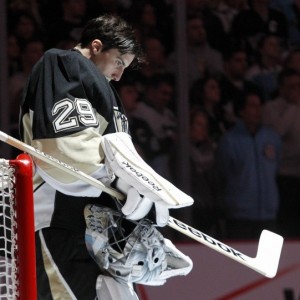 The Capitals fell just behind the Blue Jackets for shot attempts per 60 minutes with 65.68 according to Corsica.Hockey, good for third overall among postseason contenders. They also ranked third in shots on net per 60 minutes at even strength, so it's easy to see the importance of Pittsburgh shoring up their shot suppression numbers and ability to escape their zone efficiently. It's a tall task against this Capitals team.
If Pittsburgh wins this, Fleury will be a major reason once again. He was arguably the biggest reason they eliminated Columbus so quickly, mostly in thanks to his 49-save performance in a series-clinching Game 5. Will he be up to the task? Can Pittsburgh insulate him enough and stymie Washington's attack like they did last year, which was accomplished mainly by owning the puck themselves?
The Penguins could very well prove me wrong, but I'm taking Washington in six games this season. Letang's absence and the idea that Hagelin may not return is likely going to be too much for this team to overcome in a seven-game series against a potent Capitals squad.
Let's get this thing started already.