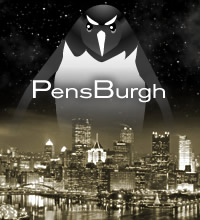 Blog: PensBurgh
Writers: Frank D (Manager); JDunman, Justin M, and Hooks Orpik (Editors); Lavender, GoPens!, and TonyAndrock (Authors); and tehchico (Moderator)
Team: Pittsburgh Penguins
Strength: PensBurgh has been cited as one of the more influential blogs by other SB Nation writers.
Weakness: Some of the "sections" seem to have been given up on, with the most recent posts months, or sometimes a year old.
Hidden Gem: Becky's translations (from French to English) of Marc-Andre Fleury's blog.
I know there has been a long delay between blog reviews lately.  Thanks to some feedback, I have been reworking how I am doing these reviews.  Hopefully this series will continue to get better.  Sorry for the delay, Frank.  Now, onto PensBurgh…
As usual, the writing at PensBurgh is on par with the other blogs in this series.  The style is tight and straightforward.  The game threads have heavy participation, over 1,000 comments during most of the playoff series against the Lightning.  PensBurgh even hosts game threads for the Wilkes-Barre Scranton Penguins.  They have recently begun reviewing the 2010-11 individual performances of Penguins players.
Editor JustinM did an end of season statistical analysis of the "Charity Point" – the point given for an overtime loss.  Under his formula, JustinM determined the Colorado Avalanche benefitted the most this season by the extra point, but it did not make a difference overall.  Interestingly, this year's playoff list would not be much different without the extra point.  Except for a shifting of the top eight in each conference, in the West the LA Kings would have been out and the Dallas Stars in the playoffs.
The PensBurgh site includes a section on fights, the most recent post discussing the goalie fight between Brent Johnson and Rick DiPietro in February.  They also keep a close eye on their prospects, offering up previews for the Wilkes-Barre Scranton Penguins and the usual analyses of acquisitions.  Frank D has also interviewed some local boys who are trying to make it up the ranks in the Hometown Hockey section.  This is a great addition and it would be great to see it continue.
The Pens of the Past section has a more interesting take as far as history sections go.  There was a memorial on the tragic death of Darcy Robinson in Italy, posts about former Penguins and where they went to play after leaving Pittsburgh, and (it would not be a Penguins fan blog if this was not discussed) Mario Lemieux's New Year's Eve 1998 five goals five ways.  There is the Hall of Fame inductions and the ruing of past trades, too.
Last September, JustinM began a new series on Draft Retrospectives.  He analyzed the 2000 NHL Entry Draft, where the Penguins' first round pick was Brooks Orpik.  Out of the 10 players drafted, Orpik was the most successful and the only one still with the Penguins.  Although another Draft Retrospective has not been finished, this was definitely another interesting subject that will, hopefully, continue.
Final Thought: PensBurgh writers have introduced a number of new and interesting topics, but there is no indication whether or not some of them will continue.
So, that's the PensBurgh blog in my words.  I also wanted to let the writers give you a few thoughts in theirs.
Four Questions for PensBurgh:
Rebecca: How long have you been writing for PensBurgh?
Frank D: Pensburgh started up on blogspot during the summer of 2007 and officially came on board with SBNation in December 2007, just in time for the Winter Classic against the Buffalo Sabres.  I started it around that time but the site has since grown exponentially thanks to contributions from Hooks Orpik and JustinM, Lavender on the game threads and TonyAndrock with his minor league content and updates.
Rebecca: Why did you decide to start PensBurgh? / How did you start writing for PensBurgh?
Frank D: There are a number of reasons I suppose, but I'll narrow it down to just two.  1) I was unemployed and bored out of my mind at the time and 2) I was trying to keep myself writing with the hopes of landing a(nother) full-time writing gig down the line.  (PS – it worked)
Rebecca: What do you think PensBurgh offers readers that differs from other blogs?
Frank D: I think the real bread and butter of Pensburgh, and any SBN blog for that matter, is the real-time commenting system.  It makes for some fun banter during the in-game threads and has really formed a good number of friendships on the site and even in arenas around the country.
Rebecca: Once the off-season starts, why should readers continue visiting PensBurgh?
Frank D: Just because hockey isn't on TV during the offseason doesn't mean the Penguins' season is over.  In fact, the offseason is just as exciting as the regular season when it comes to the team looking for ways to improve, whether it's by means of a trade, signing free agents or re-signing a few mainstays.
Originally from Chicago, I'm doing time in the now professional hockey-less Birmingham, Alabama (but we have club hockey!). Between working, reading, and writing, hockey is that little distraction that keeps me sane. At least once a month, and especially when the Blackhawks are in town, I can be found in Bridgestone Arena cheering on the Predators (except, of course, when the Blackhawks are in town).