A few weeks ago, I wrote a report on the Philadelphia Flyers defensive prospect Robert Hagg. He's one of the many Flyers many talented defensive prospects and there are some question marks surrounding this young player. Hagg has the skill, size and talent to be a legitimate top-four NHL defender, but his biggest problem is consistency.
One shift he looks great, he's moving the puck well and making smart decisions with the puck, and the next he's burned defensively.
Robert Hagg Against the Hershey Bears on March 23rd
At times during this game, you look at Hagg and have nothing but good things to say. And then the next shift he makes a crucial mistake.
If you look at Hagg's physical tools and abilities you can't help but be impressed. He has great vision, a high hockey IQ and skates very well. I can't say enough about the tremendous potential he has. But there is a negative point coming as you can imagine.
The biggest knock on Hagg has been issues with consistency and its isn't only a game-to-game problem, it's shift to shift. Although, he has been a healthy scratch quite a few times this season due to this same issue. And Hagg's struggles are mostly mental, when he's playing well he's unstoppable.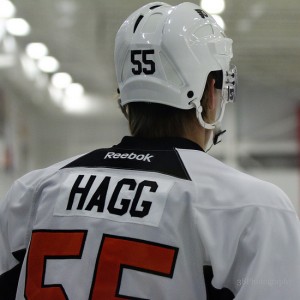 Four times during the Lehigh Valley Phantoms and Hershey Bears game on March 23rd, Hagg dove deep into the defensive zone carrying the puck with Bears defenders hanging on his back. He was able to get around the defense and set up offensive chances for teammates and then recovered back to his spot on the point without giving up an odd-man rush. It's rare to see a defender who skates that well and can control and protect the puck that well, especially one who's a bigger player.
And if you want to talk about work on the power play, Hagg is a phenomenal quarterback.
I've now seen Hagg play a handful of times this season and overall he's looked better each and every time I saw him. However, every game there were still shocking inconsistencies, but to his credit he's been much more consistent in the last two games I've seen.
What Does Robert Hagg's Future Hold?
He's definitely progressing and "learning to be a pro" (as scouts have told me), but I don't see how Hagg could play for the Flyers next season. It's likely he'll spend another year with the Phantoms where he can hopefully correct the consistency issues he's been dealing with.
But one has to ponder whether Hagg has a future with the Flyers organization, especially if he cannot buck the consistency problems. Philadelphia currently has one of the deepest defensive prospect pools of any NHL team and they're going to have a log jam of defenders.
Defenders Mark Streit, Andrew MacDonald, Nick Schultz and Shayne Gostisbehere are signed through next season, and it's likely Radko Gudas will get a two or three-year contract this offseason. And with the Flyers having outstanding young defenders like Travis Sanheim and Ivan Provorov looking to make the jump to the NHL sooner than later, there might not be a place for Hagg with the Flyers.
And it really is a shame because he has all of the tools to be a solid NHL defender, but the reality of the situation is that there are only so many roster spots for defenders. Others within the Flyers farm system are perceived as having higher upside and Hagg could be passed over in favor of another. It's also worth noting that the Flyers have plenty of time to decide on him, as he's signed for the next two seasons. This does not guarantee that he finishes that contract with Philadelphia, because if another team shows interest and the Flyers are looking to make a trade, I personally believe Hagg will be available in negotiations.
Thanks for reading! Feel free to leave your comments below
Michael Pityk is an analyst who has written for numerous sites since beginning his professional career. He's acted as a credentialed member of the media for the Philadelphia Phillies, Philadelphia Flyers, Pittsburgh Pirates and the Pittsburgh Penguins. His work has been featured in Sports Illustrated, The Sports Journal, MSN, PensLabyrinth, Montreal Hockey Talk, ESPN Pittsburgh, The Hockey Writers, Todays SlapShot and The Bleacher Report. He formerly was the editor of Pens Labyrinth and an analyst for The Sports Journal. Michael presently acts as an NHL Analyst for The Hockey Writers