The Phoenix Coyotes experienced a fairly disastrous weekend losing in a shootout to San Jose and then getting blanked by St Louis all while watching teams around them win games. They finished Sunday night placed seventh in the Western conference, but were just a single point ahead of Pacific division rivals LA and San Jose with each team owning two games in hand. It looked like the clock was ticking down on the Phoenix Coyotes' season with five games left to play. Their only consolation was that at least they didn't have to wait long to find out their fate. With the Coyotes not playing until Thursday and their three Pacific rivals all playing twice before then, Dave Tippett's team would know their position better by the time they welcomed San Jose on Thursday.
Monday Night
Monday couldn't have gone much better for Phoenix. Dallas lost in regulation to Calgary, Los Angeles lost in regulation to Vancouver and only San Jose won with that regulation time victory coming at the expense of another playoff competitor in Colorado. As significant as the results were themselves, even more crucial was the fact that none of the matches resulted in the dreaded 'three-point game'. The Kings, Stars and Avalanche emerged with zero points between them. Consequently, the Phoenix Coyotes are still eighth and even an LA win tonight would only leave them a point behind a playoff spot.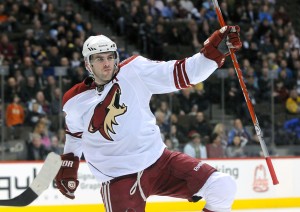 Wednesday Night
The five other playoff spot competitors are once again in action on Wednesday night. The Phoenix Coyotes need help and the key will once again be that the games end in regulation. LA travels to face Calgary in a game with huge playoff implications. Tippett and his team will feel pretty confident about finishing ahead of the Flames, even though a victory for the Canadian team would draw them level on points. Dallas, who are currently tied on points with the Coyotes, also travel to Western Canada, where they will take on Edmonton. Colorado and San Jose are also on the road tonight as they travel to face potentially difficult opposition in Vancouver and Anaheim. The signs point to another potentially positive night for the playoff ambitions of the Phoenix Coyotes, but for the time being, their fate is still not in their hands.
Phoenix's Chances After Wednesday
The reality is that regardless of the results on Wednesday night; Monday night has created an opportunity for the Phoenix Coyotes. They host what will be a tired Sharks team playing on back-to-back nights on Thursday and they are at home for two of their three games after that. In fact, three of their remaining five games are against teams who are no longer in the playoff picture.
Wednesday night may be the night where the Phoenix Coyotes are relegated to 'the outside looking in', but this Western conference playoff race is going down to the wire and Dave Tippett's team is going to be right in there all the way.
In other news, captain Shane Doan returns Thursday night after a three-game suspension and should provide a big boost to a team that has managed just one win in their last four games during what is undoubtedly a crucial stint.