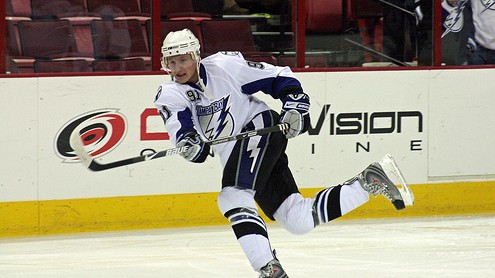 Throughout a difficult season for the Tampa Bay Lighting center Steven Stamkos has been scoring goals at a record pace. He eclipsed the team record (held by Vincent Lecavalier) Monday night in the win against Philadelphia by firing a puck past Ilya Bryzgalov for his 53rd goal of the season. Undaunted, he tallied two more goals against Boston the following night.
Now, with the Lightning all but eliminated from playoff contention, one question remains – Will Stamkos break the 60-goal mark this season?
Since the lock-out of 2004-05 only one player has reached that elite status, Washington Capitals forward Alex Ovechkin. The Russian scored 65 goals in 2007-08, the same year he captured the Art Ross Trophy and Lester B. Pearson Award. The only other players to come close in the post-lockout era were Ovechkin in 2008-09 with 56 goals and Jonathon Cheecho in 2005-06 with 56 as well.
With six games remaining in the season, Stamkos doesn't have a chance to pick up the extra hardware hat Ovechkin did, but he does have a strong chance of hitting the 60-goal plateau. However, it won't be easy. Four of the six remaining games are on the road where he has averaged about .59 goals per game this season (22 goals in 37 games) and .50 goals in his career (80 in 158). His home splits are better – .67 this year (33 goals in 39 games) and .58 for his career (94 in 161), but with the games being against Washington and Winnipeg, two teams fighting for their playoff lives, it could be hard for him to get chances to score.
Stamkos does come down the stretch red-hot having scored 5 goals in his last 3 games and 11 goals in 13 games in March. However, he can be a streaky scorer who can put goals up in bunches and then go 3-4 games without scoring. Four times this season he has gone 3 or more games without scoring goals.
For an elite shooter he is also quite unselfish. Of his 55 goals so far this season only one of them has been an empty net goal. On more than once chance facing an open net he has opted to pass the puck to a teammate rather than building up his own numbers. The most memorable opportunity came on a February 4th game against Florida where he passed the puck to Martin St. Louis so that the winger could complete his hat trick against the Panthers.
The good news is that he is getting some help. Vincent Lecavalier is scheduled to return to the lineup for Thursday's game against the New Jersey Devils. A broken bone in his hand has kept the Lightning captain out of the lineup for the past 18 games. Having Lecavalier back on the ice allows Coach Boucher to roll out two effective scoring options and forces other teams to pick their poison so to speak.
It will be interesting to see if Lecavalier's return will cause Coach Boucher to shuffle the lines. Vinny always seems to play better when paired up with St. Louis, however, since Lecavalier has been out of the lineup the diminutive winger has been very productive on Stamkos' line along with Teddy Purcell.
In all likelihood that line will stay together and Lecavalier will find himself centering a line between Ryan Malone and a resurgent Brett Connolly. Stamkos will benefit most from the captain's return on the power play where the "Big Three" are often sent out on the same unit and teams are forced to choose between Lecavalier from the right circle and Stamkos from the left one.
Without a doubt Steven Stamkos is one of the best offensive talents in the NHL today, in fact, an argument could be made that he is the best pure-shooter playing in the league right now. While he has elevated his game by moving to the front of the net and scoring "garbage goals" on rebounds and deflections he is still at his most dangerous when winding up for a slapshot on the power play or streaking down the wing with the puck. His shot is so good that even though every goaltender knows what is coming, he can still beat them.
The numbers dictate that he will fall short in his quest for the magic number. Scoring five goals in six games is a difficult task for even the best players in the game. The long season tends to catch up to players at the end, especially when they have struggled so long to stay in the playoff race and fall short.
However, Stamkos tends to respond best when challenged, and eclipsing 60 goals is really the only challenge he has left this season. Who knows, with a couple of strong games he could have a chance to break the mark on the second to last game of the season – in his hometown of Toronto. Something that the media in Canada would no doubt be willing to make a big deal out of.
The 60-goal club is an exclusive one in the NHL and includes names such as Wayne Gretzky, Mario Lemieux and Stamkos' own general manager – Steve Yzerman. It's not a lock that Stamkos will be the 20th member included into that elite group of scorers, but betting against him would be a mistake.