The Pittsburgh Penguins were a dull team just four months ago. They were vanilla, bringing very little creativity and even less offense. Like so many other NHL teams, they were drowning in their own systematic approach to hockey that handcuffed their greatest strength.
Raw, nearly unmatched talent.
In order to make up for a questionable defensive group, former head coach Mike Johnston resorted to a defensive mindset that stymied this team's potent offense. He tasked his superstar centers, Sidney Crosby and Evgeni Malkin, with covering more ice than normal in the defensive zone. The result was boring, uneventful and ineffective hockey. And, the results prove that it didn't boost their defensive effort either.
We all know the intangibles that Mike Sullivan instilled in the Penguins when he took over in mid-December. Poise, resiliency, etc.
Maybe the most underrated aspect of Sullivan's message is something that many don't talk about quite enough. He instilled trust in his players, which led to trust among each individual and their co-worker on the ice. That's the basis of the Penguins' new fast, creative and fun brand.
Sullivan's Trust is Boosting Confidence to New Levels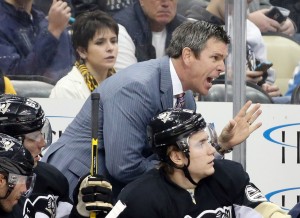 A team like the Penguins, stacked with superstars and savvy veterans like Matt Cullen, Eric Fehr and Trevor Daley, have to put faith in the hockey I.Q. of their lineup. That's exactly what Sullivan has done, and that's exactly why it looks as if this team will do just about anything for their new bench boss.
They're having fun, which is leading to creative plays and an immense amount of production.
You'll see Kessel and his speedy counterpart Carl Hagelin breaking early quite consistently, looking for a jump on opposing defensemen on the rush. You'll see defensemen like Daley and Letang attacking high in their own zone, rather than playing conservative and keeping the play outside.
All of these things occur because the team believes in each other and they know that someone will see it playing out. They'll have backup.
Of course, taking chances will also lead to mistakes. In most cases, those mistakes lead to getting reprimanded and potentially losing playing time. But, not with the Penguins. Not with Mike Sullivan.
Recently, Jason Mackey of DKPittsburghSports.Com did a feature on Sullivan. After being told that multiple players cited his patience and trust, Sullivan had the following to say.
I do trust them. They're good players. I also know that there's inherent risk in playmaking. We're not going to be perfect out there. If we're turning pucks over all over the ice, that becomes a problem. What I try to do is focus on the process and the thought process of what our players are going through. Sometimes players have the right idea. They just don't execute. We can live with that because that's the game.
Sullivan continued…
We want our players to be creative. We want them to be in their instinctive mindset. That's when they're at their best. If I bark at them every time a puck is turned over, we're going to be afraid to make plays out there. We have to allow our players to play. We have to relinquish some control.
Truer words are rarely spoken and that mindset, one that puts the game in the hands of those taking the ice instead of the decision-maker behind the bench, is nearly impossible to find in today's NHL. Maybe it's the risk that comes with it and coaches wanting to protect their jobs. Maybe it's a case of coaches simply not having that type of confidence in their group.
Whatever the case is, it's refreshing to see that Sullivan recognized the opportunity to let a skilled group show off their talents.
Chaotic But Methodical Approach by the Pittsburgh Penguins
While it sometimes seems as if the Penguins are freewheeling, playing on instinct and instinct only, there's still plenty of structure. Sullivan's system is based on an instinctive approach and using their speed to play behind opponents. Consider the adjustment to their power play, which has struggled mightily in recent weeks.
The following goal is a great example.
What you won't see on the highlight from NHL.Com, is that Crosby started the power play in the right circle. When the puck moved to the point, he and Daley rotated and Crosby made his way to the opposite corner. The Flyers lost track of him, which allowed him to open up as Kessel let his wrist shot fly from the point.
That dynamic structure is an adjustment made by Sullivan in the absence of Malkin, who was the life source of Pittsburgh's power play prior to getting injured. One small example of Sullivan's ability with X's and O's, and his willingness to adjust as needed.
There's also something to be said about how Pittsburgh is winning games. They have more second period goals than anyone else in the NHL, and remain the only team to boast a perfect record when leading after two periods.
To reiterate something I said on Twitter recently, it's almost methodical how Pittsburgh feels out their opponents in the first period, exploits what they've found in the second and then locks it down in the third. But, maybe the phrase "locks it down" is the wrong verbiage.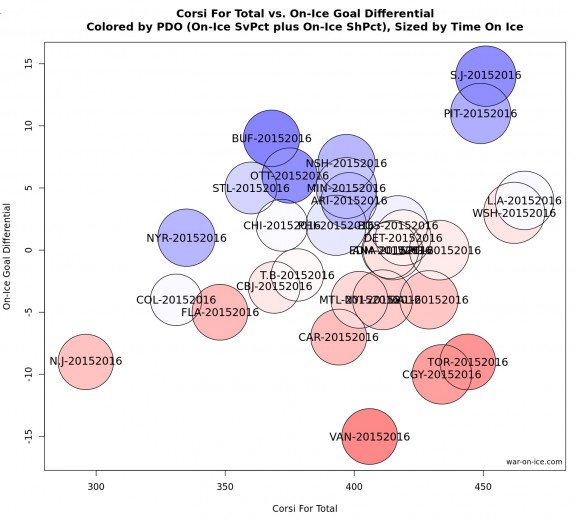 The above chart, courtesy of WarOnIce.Com, represents third period play from Feb. 1 to present and focuses on goal differential and total Corsi-for. Basically, what we're seeing is that Pittsburgh, as well as the San Jose Sharks, aren't shutting down their offenses in the third to protect leads. Both are producing an abundance of shot-attempts and more importantly, they're scoring.
Sullivan and the Penguins aren't abandoning their philosophy of speed and offense. The best defense is playing the entire game in your opponents' end. Pittsburgh's doing exactly that.
Sprong Watch and Other Tidbits
Daniel Sprong won't be returning to Pittsburgh anytime soon.
Daniel Sprong with 2 goals and an assist in Charlottetown's 4-2 win over Rimouski to take first round series 4-2. #1 star (3-6-9 pts so far)

— Tab Douglas (@fantabulous937) April 4, 2016
If Charlottetown were to lose, Sprong would rejoin the Penguins and will likely finish the season with Wilkes-Barre/Scranton. However, despite being viewed as an underdog heading into the final weeks of the regular season, Sprong's Islanders finished the season on a high note and continued that into the postseason.
The Penguins look poised to hold second place in the Metropolitan Division, as they now have a five-point lead on the New York Rangers. However, the Rangers are in danger of getting bumped to a wild card spot by the Islanders, as the Islanders are only two points back and have a game in hand.
That's an important race to watch since it will determine Pittsburgh's first round matchup but honestly, does it matter at this point? I'm not sure there's anyone that can stop this team right now. That probably sounds over-confident but until they show any reason to doubt them, I'll stick to my guns that Pittsburgh is the team that no one wants to face in the postseason.
According to Mike Sullivan, the Penguins should have an update on Marc-Andre Fleury's concussion either Monday evening or at some point on Tuesday. Considering this is his second concussion in just a few weeks, Pittsburgh needs to use caution. They're in good hands with Matt Murray and could probably find success with him in the playoffs as well. Hopefully Fleury's recovery will be speedy and free of setbacks but if not, the youngster seems to have everything under control.
Pittsburgh Penguins writer for TheHockeyWriters.Com and PittsburghHockeyNow.Com. Youth hockey coach, and student of the game.