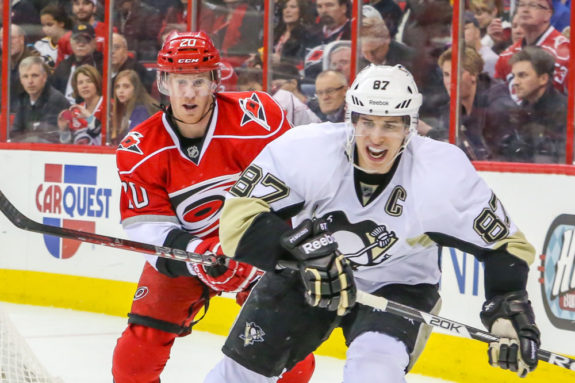 It seems like every time we turn around these days, another Pittsburgh Penguins superstar is down with an injury. Just as Evgeni Malkin came back from his "upper body injury" (totally not another concussion, you guys, seriously), Sidney Crosby took a puck to the mouth and shattered his jaw. Now the team announced that James Neal has a concussion and will not be traveling on the upcoming road trip. On top of that, Paul Martin is still on IR with a broken bone in his hand and Kris Letang is still working his way back from two separate lower body ailments (broken toe and groin).
Sounds bad, right? Well all things considered, it could be a hell of a lot worse.
A Run of Good Luck
At first glance, the Penguins' injuries look like enough to cripple a team, and it seems a wonder that they've done as well as they have. But compared to other teams around the league the Pens have been incredibly lucky.
So far this year, the Penguins have only lost 41 man games to injury or 1.05 man games per game played. Only the Boston Bruins have been healthier.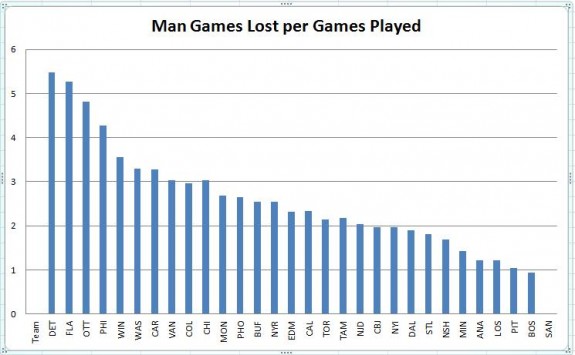 San Jose is the only team that doesn't report man games lost to injury. As James Mirtle of the Globe and Mail explains, there is a direct correlation between team performance and man games lost to injury which makes Detroit and Ottawa's seasons incredibly impressive.
The Penguins' injury numbers are likely to rise as the season goes on. Martin is definitely out until at least the first round of the playoffs, and it's unlikely that Sid will be back before the end of the regular season either. It's still way too early to tell with Neal, but after the team's previous experience with concussions, it wouldn't be a total shock to see them err on the side of caution and sit him as long as possible.
But at this point it barely matters. The Pittsburgh Penguins have already clinched a playoff spot and barring a tragedy, they will soon clinch the Atlantic Division. With Malkin back and the additions Jarome Iginla, Brenden Morrow and Jussi Jokinen at the deadline, there is more than enough firepower to finish the job. So from a team perspective, there is no urgency to rush anyone. The only thing that matters is having Crosby, Martin, Letang and Neal ready for a long playoff run.
Personal Glory
Personal accolades are another matter. Before breaking his jaw, Sidney Crosby was the runaway favorite to win the Art Ross and Hart trophies. Shockingly he has only won these trophies once each in his career, so it would definitely be a nice feather in his cap to bring either one home again.
I think he should definitely still win the Hart – clearly no  player in the league has been more valuable to his team than Crosby – but the Art Ross will probably escape him. Crosby still holds a seven point advantage over Steven Stamkos, but Stamkos still has 10 games left and has been averaging more than a point per game all year. Martin St. Louis and Patrick Kane are also on pace to eclipse Crosby.
At this point reports are that Sid couldn't play if he wanted to.
But will that be the case next week? If he is borderline ready to go, would it be worth it to him to rush back for personal glory when only a handful more points would seal the title?
Glory aside, a scoring title can go a long way in contract negotiations, which may make the risk worth the possible reward for some players. But in Sid's case I don't see it. After his protracted concussion battle, I would assume that he knows the value of long-term health better than most of his peers. And Crosby has never been greedy when it comes to his paycheck, not that he's even due for a new contract for a long time anyway.
From Pensburgh:
Crosby realizes and is OK with the fact that Malkin's cap hit will be higher than his. It's just business.
While another Art Ross would be nice, another Stanley Cup would be even better. If sitting out longer than he might have to improves the chances of winning another Cup, I think that's a bet Crosby will take.
Author's note: I added a bit more to clarify my thoughts on why Crosby probably won't push it to come back for an Art Ross.
Billy Nauman is a Pittsburgh Penguins contributor for The Hockey Writers. He also runs his own hockey blog at backtothefoundry.com. Follow him on Twitter @punchbroadbent