Tuesday night's game against the New Jersey Devils was a milestone for Pittsburgh Penguins center Evgeni Malkin, as he skated in the 800th game of his career; all of which have come with the Pens.
In doing so, Malkin became the 19th Russian to play 800 games in the NHL and the fourth Penguin to do it. He also became the fourth player from the 2004 draft to accomplish the feat, joining Alex Ovechkin (1021), Andrew Ladd (934) and Travis Zajac (857).
It's fitting his 800th game came against the Devils. As a 20-year-old, Malkin made his NHL debut against New Jersey on Oct. 18, 2006, scoring his first career goal in a 2-1 Penguins loss. In game No. 800, Malkin, now 32, recorded an assist, the 574th of his career, in a 4-2 defeat.
In the 17 games this season that brought him to 800 for his career, Malkin has 21 points.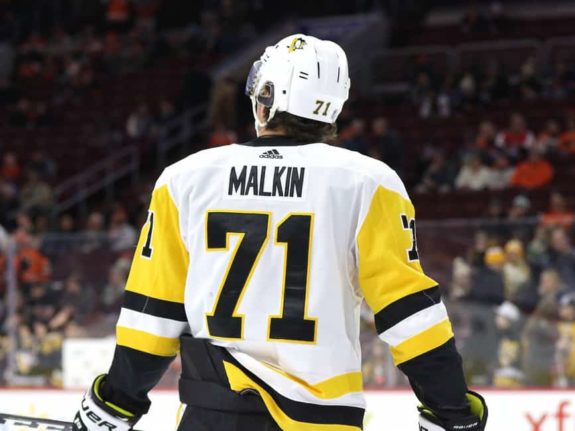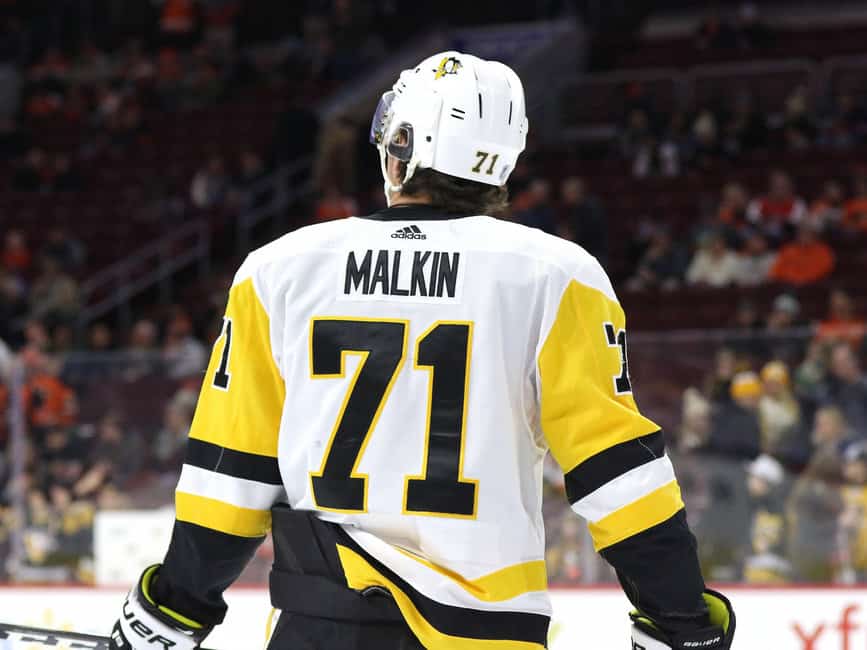 The second overall pick of the 2004 draft has long been regarded as one of the best players in the world; and one of the top players of his generation. Although it's fair to say Malkin hasn't received enough recognition for his talents because Sidney Crosby has been his teammate since day one.
Related: The NHL's Most Underrated Superstar
The average career length of a player drafted in 2004 is 277 games. So 800 is well past the life expectancy of the class. As he surpasses the milestone, how has Malkin impacted the Penguins? Where do his career numbers place him? How does he stack up against other players? And after 800 games, is he a generational talent?
Malkin's Impact on the Penguins
Malkin arrived in Pittsburgh with hopes he could help return the Penguins to their early-1990s success. The team had been among the worst in the NHL since the beginning of the new millennium with Mario Lemieux aging and the departure of Jaromir Jagr. In 410 games from 2000-01 until the 2005-06 season, the Penguins had a 142-206-31-31 record (second-worst in the league) and were 18th in goals per game (2.69), 29th in goals against per game (3.35) while averaging the third-fewest shots per game (26.9).
Malkin was ready to help the Penguins and wanted to play in the NHL so badly that without telling anybody, he fled from his Russian team, Metallurg Magnitogorsk on Aug. 12, 2006, just five days after signing a one-year, $3.45-million contract with them.
But Evgeni and (J.P.) Barry, his agent, had hatched a new plan, spawning a series of events befitting a Cold War fantasy. When Evgeni landed in Helsinki, Barry was there waiting for him at customs. They snuck away and hid out for a few days in an apartment, until Evgeni could go to the U.S. embassy and apply for a visa. When Evgeni and Barry made their escape to Los Angeles, Velichkin was enraged. (From 'Evgeni Malkin: A Russian tale with roots founded in ice and iron,' Pittsburgh Post-Gazette — 02/08/14)
Metallurg later sued the Penguins; claiming he was still under contract in Russia, so he shouldn't have been allowed to play in North America. The case was thrown out, allowing Malkin to stay with the Penguins.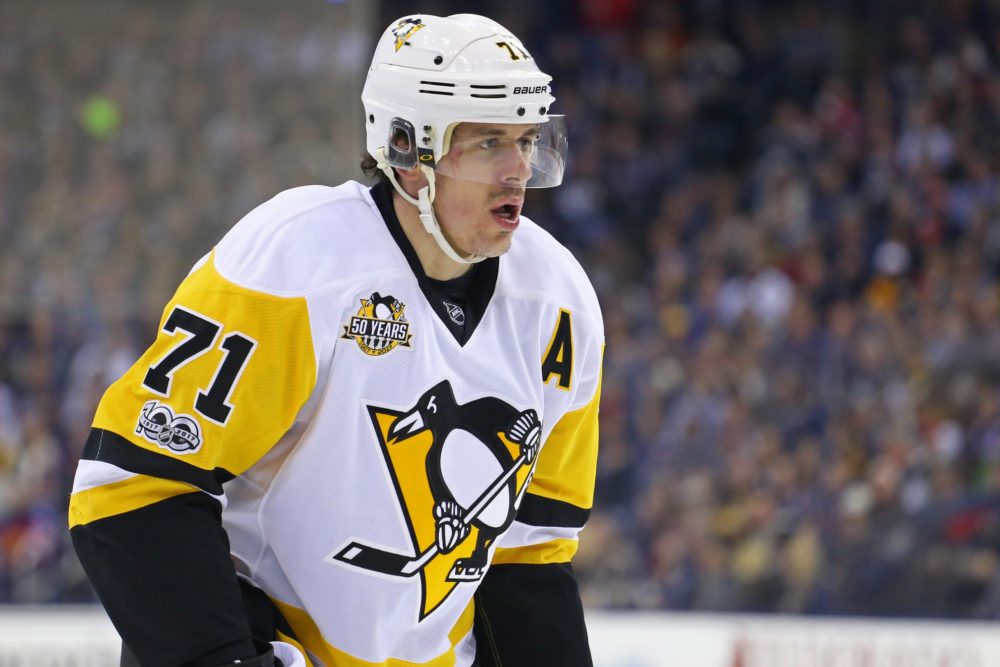 After a preseason shoulder injury, Malkin made his NHL debut on Oct. 18, 2006, and scored his first career goal. He then scored a goal in the first six games of his career, becoming the first player since the NHL's inaugural season in 1917-18 to accomplish the feat. Malkin finished the season with 85 points — 33 goals, 52 assists — in 78 games; it remains the highest scoring rookie season since 2006-07. He won the Calder Trophy as the league's top rookie.
Malkin's arrival had given the Penguins a superstar to pair with Crosby, who had 120 points and won the Art Ross and Hart Trophies along with the Ted Lindsay Award that year. Their efforts helped the team finish with a 47-24-11 record (105 points), — a 47 point increase from the 2005-06 season — and secured a playoff berth for Pittsburgh, their first since 2000-01. The Penguins were eliminated in five games in the first round by the Ottawa Senators that year, but, after years of last place finishes, the start of Malkin's tenure had the arrow pointing upwards.
The following season brought along Malkin's first big test. With Crosby missing 29 games an ankle injury, Malkin was thrust into the number-one center role. In his time without Crosby, Malkin recorded 46 points — 20 goals, 26 assists — en route to surpassing the 100-point mark for the first time in his career with 106 — 47 goals, 59 assists — in 82 games. Malkin's sophomore season made it clear that he was no product of Crosby and was a star in his own right. Much like the days of Lemieux and Jagr, the Penguins once again had two of the best players in the world.
During the playoffs, Malkin recorded 22 points in 20 games, helping the Penguins advance to the Stanley Cup Final, where they ultimately fell to the Detroit Red Wings in six games.
The 2008-09 season remains one of the best years of Malkin's career. His regular season saw him win his first career Art Ross Trophy as the league's scoring leader with 113 points — 35 goals, 78 assists — in 82 games and finish second in Hart Trophy voting for the second consecutive season. While his regular season was successful, the 22-year-old Malkin took his game to another great in the playoffs.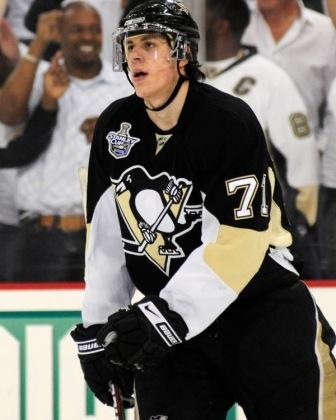 In 24 games, he scored 14 goals and added 22 assists for 36 points in 24 games — the most in a playoff season since 1994 —, and the Penguins returned to the Cup Final for a rematch against the Red Wings. This time, the Penguins defeated the Red Wings in seven games to capture their first Stanley Cup in 17 years, thanks in part to Malkin's series-leading eight points. For his efforts, he was named the Conn Smythe Trophy winner as playoff MVP. After two straight final appearances, it looked like the young Penguins had the makings of a dynasty. 
After the 2009 Cup victory, the Penguins began a downward spiral. They won a bunch in the regular season but had no success in the playoffs. Malkin was also claimed multiple times by the injury bug, which ravaged the Penguins for years after their move to CONSOL Energy Center (now PPG Paints Arena). His biggest injury occurred in February 2011, when he tore his ACL and missed the rest of the season. Fully recovered, he returned in 2011-12 as the top center, with Crosby limited to 22 games due to concussion issues. Once again, he excelled in the absence of his teammate, recording 109 points — 50 goals, 59 assists — in 75 games; capturing his second scoring title and first career Hart Trophy.
Related: Peerless Penguins: 5 Unforgettable Seasons Since 2008
During the lockout-shortened 2012-13 season, the Penguins reached the Conference Final for the first time since 2009. Despite reaching the Conference Final, they remained without a victory past the second round, as they were swept in humiliating fashion by the Boston Bruins, scoring just two goals in the series.
After the postseason, Malkin was able to sign a contract extension, but he had some questions to answer to himself first. Things didn't look like they were getting better after another playoff failure. Did he want to stick around if things fell apart? And Did he want to continue to be the second option when he'd be the first everywhere else?
Ultimately, Malkin chose to stay with Pittsburgh and signed an eight-year, $76-million contract, locking him up until his age-35 season. He liked playing with Crosby and felt his best chance to win another Stanley Cup would be as a Penguin. But the next two seasons after he was extended resulted in much of the same for the Malkin and his team.
After years of cap and asset mismanagement by former general manager Ray Shero, the Penguins were so top heavy that if Crosby and Malkin weren't scoring, the team wasn't even able to remain competitive in games. After a few more early exits, trade rumors began around Malkin, even though his contract had a no-movement clause. He stayed put, but it looked like the Penguins championship window was coming to a close.
The Penguins hit rock bottom during the early part of the 2015-16 season. Crosby was off to the worst start of his career, offseason acquisition Phil Kessel was quiet, and the team was out of a playoff spot in December. Though, things turned around after Mike Johnston was fired. Mike Sullivan replaced him, trades were made, and the Penguins got deeper and started to win without Malkin and Crosby doing all the work. Following a seven-year absence, the Penguins returned to the Stanley Cup Final, where they defeated the San Jose Sharks in six games.
Malkin only played 57 games because of injuries, but his case as team MVP was a strong one. For most of the first half of the season, he was the only skater keeping the Penguins' heads above water and stole points for Penguins on a nightly basis. Without his efforts in the first half, Crosby's return to form and the Penguins' midseason turnaround would've been too little, too late.
The following season, the Penguins became the first team in the salary cap era to repeat as champions after beating the Nashville Predators in six games. Malkin didn't win the Conn Smythe in either year, but his 46 points — 16 goals, 30 assists — in 48 games were tied with Crosby for the most over that time.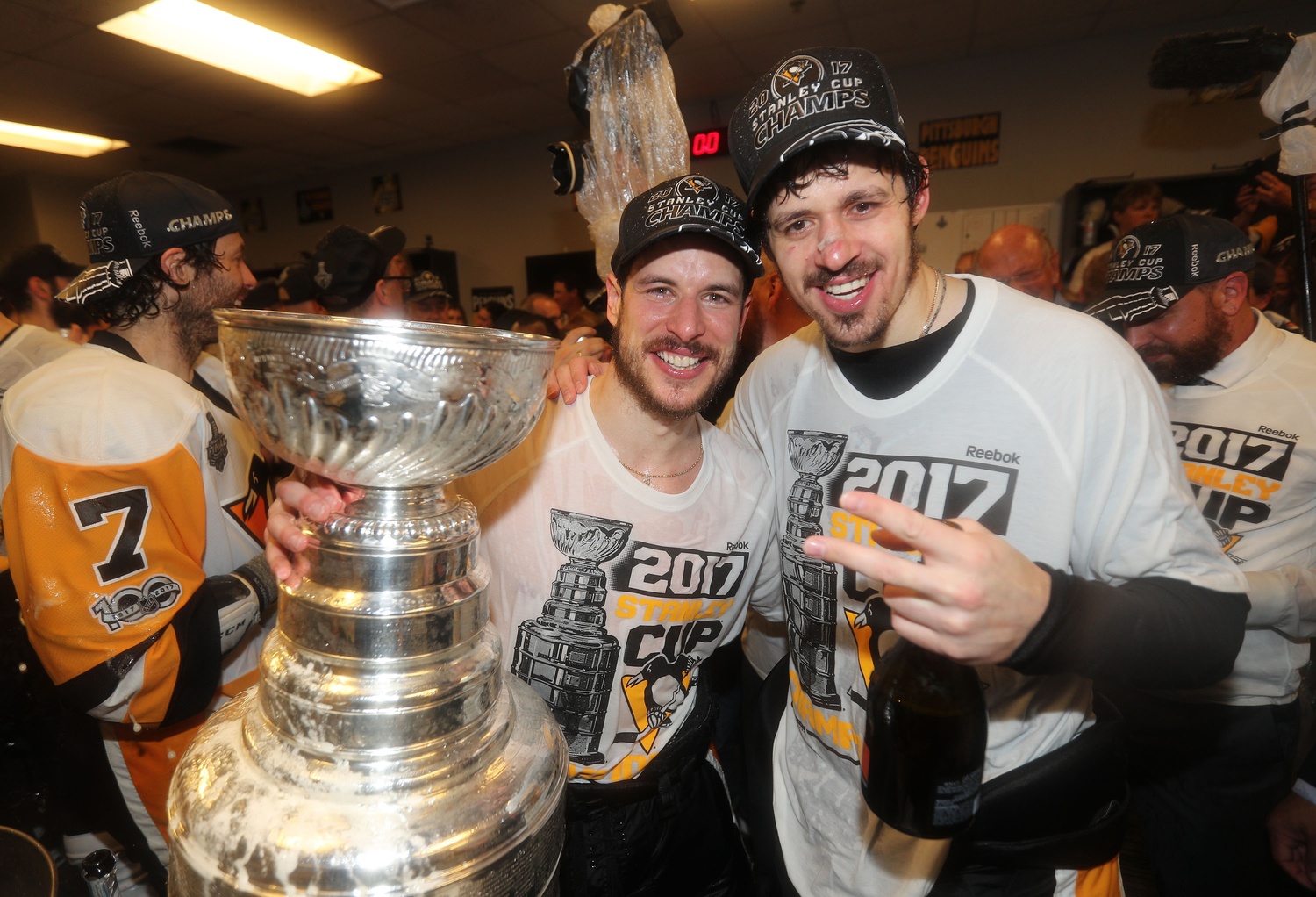 In the 2017-18 season, like most of the Penguins, Malkin experienced first-half struggles before flipping the switch after New Years Day. Malkin's 62-point second half — second most in the NHL — was key in yet another midseason turnaround that earned the team a 12th consecutive playoff berth. The Penguins fell short of the first three-peat since the early-1980s New York Islanders.
Since Malkin's arrival, the Penguins have been the league's best team. They have the league's best record at 568-302-96, are first in goals scored (2978), 16th in goals against (2586), have the third-ranked power play — among teams with 300 games played — (20.2%) and average the fifth-most shots per game — with the same criteria (31.4). They've also made the playoffs in all 12 of Malkin's seasons, the longest streak in the league. In the postseason, the Penguins have the most wins since the 04-05 lockout, with 97, are first in goals for (516) and have the seventh-ranked power play — among teams with 20 games played — at 20.6%. Their three Stanley Cups are tied with the Chicago Blackhawks for the most in that span.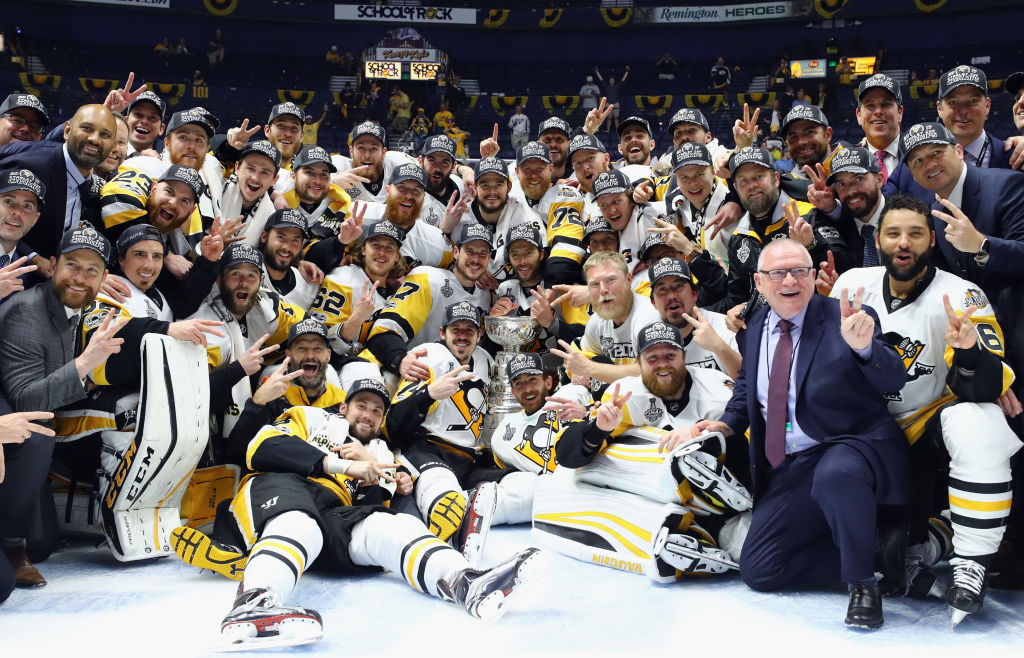 After 800 games with Malkin, the Penguins are in a much better position than they were after his first game. He's helped to recreate a winning culture for the Penguins as one-half of one of the most dominant 1-2 punches in NHL history.
Malkin's Numbers After 800 Games
After 800 games, Malkin has 951 points — 377 goals, 574 assists — which is 98th most in NHL history and fifth most among active players, behind Joe Thornton, Alexander Ovechkin, Patrick Marleau, and Crosby. Mike Bossy (752 games) is the only player in the top 100 who has played fewer games than Malkin. He also has the third-most goals, sixth-most assists and third-most points since he debuted in 2006-07. Malkin's career adjusted point total of 1136 is 62nd all time, and fifth among active players. With adjusted totals, all statistics are based on an 82-game schedule with a roster size of 18 players and league averages of six goals per game and 1.67 assists per goal.
In playoff action, Malkin's 165 points — 62 goals, 103 assists — are 17th most all-time and second most among active players behind Crosby (185). Among players with 50 games of playoff experience, Malkin's 1.04 points per game (P/GP) ranks 20th all-time and second among active players.
His career P/GP of 1.19 is 13th all-time and second among active players — only Crosby is above him. Malkin's career goals per game (G/GP) of .471 is 39th all-time, and is fifth among active players behind Ovechkin, Steven Stamkos, Ilya Kovalchuk, and Crosby. And his assists per game (A/GP) of .718 is 21st all-time and third among active players behind Crosby and Nicklas Backstrom.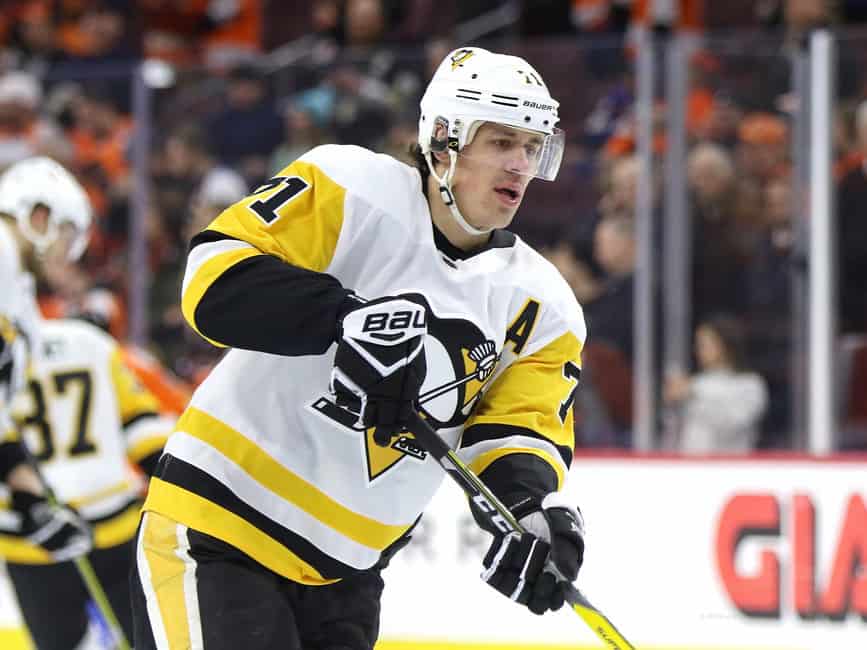 Since entering the NHL in the 2006-07 season, Malkin has 260 multi-point games, 91 games of three or more points and 23 games of four or more points. He ranks third, third, and second (tied with Ovechkin) in these categories, respectively. Malkin also has 55 multi-goal games and 12 hat-tricks, which rank him seventh and second, respectively in the same span. His 123 multi-assist games are the sixth most, and 29 games with three or more assists are also sixth most. Lastly, his three 100-point seasons since the 2004-05 lockout are third-most behind Crosby's five and Ovechkin's four.
Malkin has 12 seasons where he's averaged a point a game or better, second behind Crosby's 13. He failed to reach the P/GP mark only during his injury-shortened 2010-11 season. Additionally, including his first game, Malkin's P/GP has never fallen below one. And of the 139 forwards in the Hockey Hall of Fame, only ten have produced at a higher rate than him.
How Malkin Stacks up with Other Greats
A long-standing tradition after a player reaches a milestone, is to look back at what other players did in the same span. How do Malkin's first 800 games in the NHL compare to some current, and future Hall of Famers?
*The Rocket Richard Trophy won't be included in the awards section because it didn't become an official award until the 1998-98 season. 
*Awards from seasons where players surpassed their 800th game are uncounted 
Evgeni Malkin: 377 goals, 574 assists, 951 points, 64 game-winning goals | one Hart Trophies, two Art Ross Trophies, one Ted Lindsay Award, three-time NHL All-Star
Wayne Gretzky: 659 Goals, 1243 assists, 1928 points, 67 game-winning goals | nine Hart Trophies, seven Art Ross Trophies, five Ted Lindsay Awards, ten-time NHL All-Star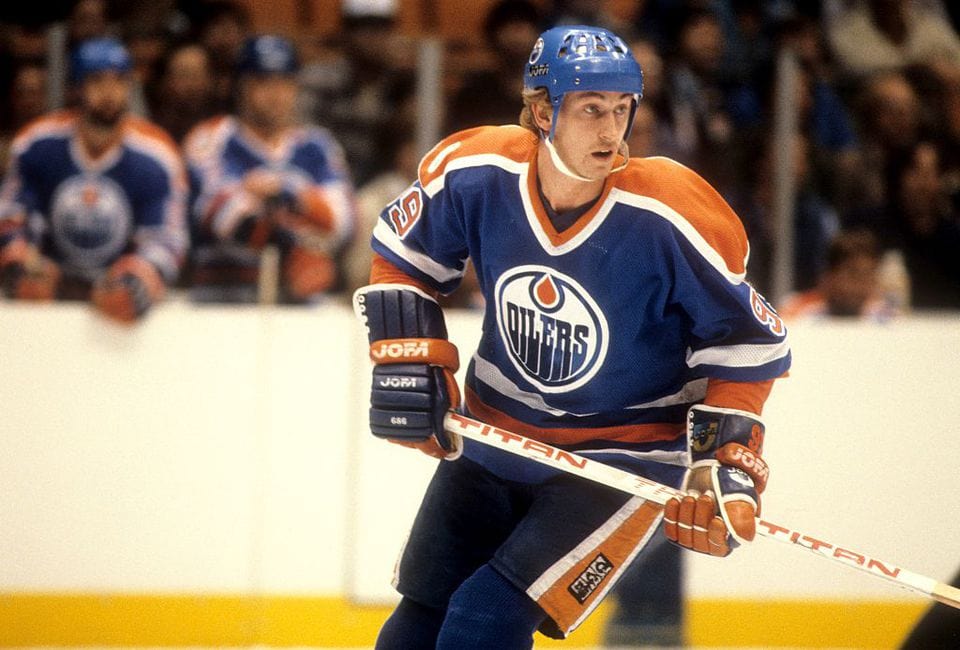 Jaromir Jagr: 430 Goals, 634 Assists, 1064 Points, 76 game-winning goals | one Hart Trophy, four Art Ross Trophies, Two Ted Lindsay Awards, six-time NHL All-Star
Mario Lemieux: 649 goals, 931 assists, 1580 points, 70 game-winning goals | three Hart Trophies, six Art Ross Trophies, four Ted Lindsay Awards, eight-time NHL All-Star
Sidney Crosby: 387 goals, 653 assists, 1040 points, 52 game-winning goals | two Hart Trophies, two Art Ross Trophies, three Ted Lindsay Awards, seven-time NHL All-Star
Alex Ovechkin: 499 goals, 433 assists, 932 points, 85 game-winning goals | three Hart Trophies, one Art Ross Trophy, three Ted Lindsay Awards, ten-time NHL All-Star
Mark Messier: 380 goals, 591 assists, 971 points, 41 game-winning goals | one Hart Trophy, one Ted Lindsay Award 
While a number of players had better counting stats than Malkin through 800 games, many were their respective team's top options; or had extended periods as the number one player. Outside of parts of two seasons, Malkin has been entrenched as the Penguins' number two option and thus, been given fewer opportunities. As far as awards go, Malkin has done well despite being at a disadvantage because he's Crosby's teammate.
His numbers compare favorably to Messier's, who served as the second option behind Gretzky while he was a member of the Edmonton Oilers. There's nothing wrong with being compared to Messier. After all, he had a successful career and is the third-leading scorer in NHL history.
When the stage is set and the lights shine brightest, how do Malkin's numbers compare to the same players in the postseason before they played 800 games?
*Playoff statistics from the season the player reached 800 games are unincluded
Malkin: 158 games, 62 goals, 103 assists, 165 points, 12 game-winning goals | one Conn Smythe, three Stanley Cups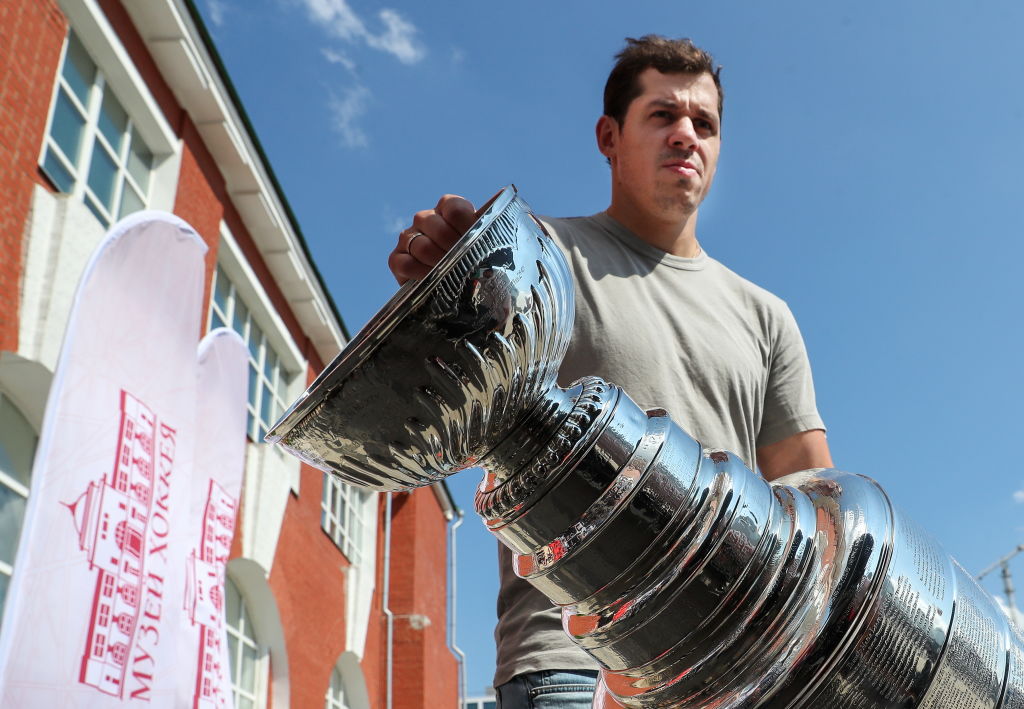 Gretzky: 131 GP, 86 goals, 188 assists, 274 points, 17 game-winning goals | two Conn Smythes, four Stanley Cups
Jagr: 124 GP, 63 goals, 72 assists, 135 points, 14 game-winning goals | two Stanley Cups
Lemieux: 107 GP, 76 goals, 96 assists, 172 points, 11 game-winning goals | two Conn Smythes, two Stanley Cups
Crosby: 148 games, 57 goals, 107 assists, 164 points, nine game-winning goals | two Conn Smythes, three Stanley Cups
Ovechkin: 72 games, 36 goals, 34 assists, 70 points, five game-winning goals
Messier: 148 games, 76 goals, 124 assists, 200 points, seven game-winning goals | one Conn Smythe, five Stanley Cups 
Malkin's postseason numbers don't match up with Messier, who is widely known for his heroics in the playoffs. But they do match up with Jagr, another player who spent the majority of his productive playoff runs as a second option.
Is He a Generational Talent?
The term "generational player" is used loosely in this era of hockey because there are so many elite players. But even when you tighten the line between elite and generational, Malkin stands out as a generational player. He's consistently been above his peers, has shown no noticeable decline in play as he's aged and has made every player around him better, even ones like Crosby. For a player who's top three in scoring since entering the league and produces at the 13th highest rate of any player in league history, Malkin could be considered underrated.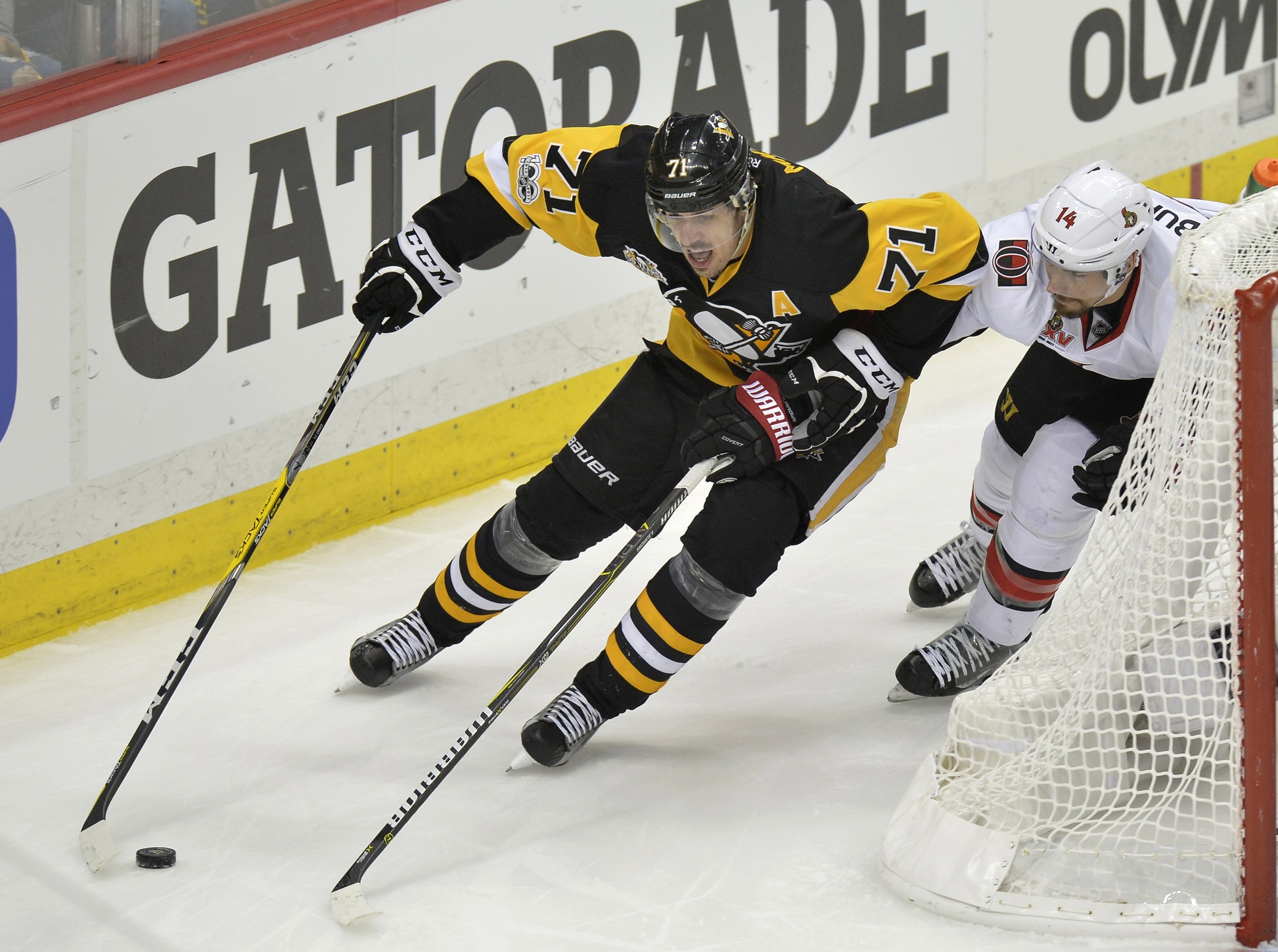 Often described as a playmaker, Malkin can also be classified as a power forward. He routinely uses his 6-foot-3, 195-pound frame to overpower defenders and win puck battles. He also plays an aggressive offensive game and is one of the most difficult players in the league to take the puck off of. Even in his 13th season, Malkin remains a player who can single-handedly take control of a game out of nowhere.
Though like any player, he has his flaws. During Dan Byslma's days behind the bench, Malkin would often toss his discipline out the window if he felt an opponent was playing him too aggressively; leading to ill-advised penalties and Malkin being thrown off his game. It still occurs under Sullivan at times, but it's become less frequent as the Penguins coach is vocal with his players and preaches about playing the game the correct way.
His effort on the defensive side of the ice has gotten better in recent years, but there are still times where he forgets his assignment. He also tends to make careless turnovers but he more than makes up for it on a nightly basis. The Penguins front office and coaching staff aren't going to complain about the occasional mishap from Malkin when the good heavily outweighs the bad.
As for where he ranks, Malkin likely sits among the top 20 players of all-time currently. He's won almost everything a forward can in the NHL and is more productive on a per game basis than all but 12 players in the 100-year history of the league. With his career still far from over, Malkin has an opportunity to continue climbing up the leaderboards and adding to his legacy along the way.
Crosby is rightfully credited with turning the fortunes of the Penguins' franchise around, but without Malkin, the franchise is without a few more Stanley Cups.
Not bad for a player who wasn't ranked as a top 100 player of all time in 2017.
*Adjusted statistics from Hockey-Reference