Cancer's far-reaching hand can be seen and felt by just about everyone. It doesn't discriminate or choose its victims based on social status. With the rapid rate at which cancer is growing, there is hardly a soul in the world that hasn't been touched by the disease. None are immune, including those in the world of hockey. Players and their families know the struggles that come with battling cancer. Like others, they strive to find a cure.
The NHL launched the Hockey Fights Cancer initiative in their efforts to extend aid to those suffering from the effects of cancer. Joining the cause, 21 AHL teams have come alongside the NHL to do their part.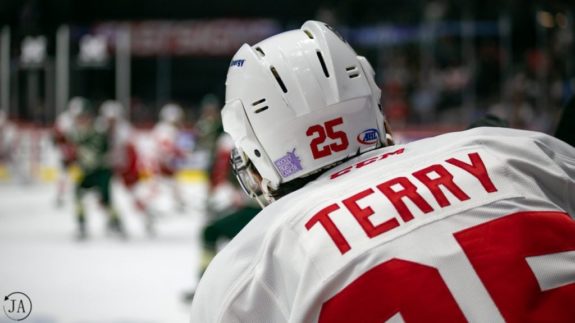 Cancer is Personal
This initiative touches a deep part of my heart personally. Three family members have had their lives taken due to the disease. Each instance was personal and intimate. I remember exactly where I was when I was told of each diagnosis, when I was told the possible outcomes, and when their final breaths were taken. I watched the disease drain the life of my grandmother, who only a handful of years before, said goodbye to her sister who was also claimed by cancer.
I was in college at the time and recall going to her house every day after work, on my way to class, to help take out the trash and get her dinner ready. She was a high spirited lady. She was the matriarch of the family was independent but always had time for others. She'd often be writing letters of encouragement for a local prison ministry, reading, or cooking for the 50-plus grandchildren that would often stop by to visit.
As cancer began to overcome her ability to do the things she loved, she never lost the love for others or studying. Her heart was for her faith and her family 'til her last breath. Though her strength plummeted, her speech left her and her vision was all but gone, she would often hold my hand and charge me with loving the souls around me, caring for my family, and being a light in the darkening world. Cancer took her life but it could not overcome her spirit.
The Grand Rapids Griffins Join the Fight
My experience is not unlike many inside or outside the hockey community. The cancer conversation is no longer taboo as more and more are struggling to find hope for a cure. The NHL launched the Hockey Fights Cancer initiative in 1998 and has raised now over $20 million for cancer research and treatment.
The AHL has come alongside the NHL and joined the fight. Throughout the league, teams have orchestrated special event nights complete with "I Fight For" cards, special jerseys, auctions and more to help raise funding for the ongoing battle against cancer.
Grand Rapids is home to Helen DeVos Children's Hospital, 42nd in the nation for Pediatric Cancer care, and nationwide cancer care organization, Gilda's Club. With these two resources readily available on home turf, the Griffins provided game-goers with a few different ways to help those suffering in our community. A link was provided to donate tickets to local patients as well as a place to purchase tickets where the proceeds would benefit the community's cancer research efforts.
The Griffins also wore special lavender jerseys on their Hockey Fights Cancer night to be auctioned off. Proceeds will to go to local cancer centers.
Cancer Awareness Kindles Family Bonds
The world of hockey has been rocked by cancer recently. Most recently, Ottawa Senators goaltender, Craig Anderson, walking alongside his wife as she battled and the New Jersey Devils' Brian Boyle was diagnosed with leukemia. Boyle made a dramatic comeback, scoring his first career hat-trick on Hockey Fights Cancer Night in Pittsburgh. Thankfully, both have been confirmed in remission and on their way to health once again. In both instances, they were overwhelmed by the love and support that came from the hockey community. "I think a lot of life lessons learned this year not only by myself but staff and players, all together." (from 'Nicholle Anderson Wife of Senators Goalie Cancer Free',  NHL.com  – 5/27/17).
https://www.instagram.com/p/Bp2XZGfhVAg/
Teams treasure the family values formed in the locker room and on the ice. When one suffers, they all suffer. As cancer becomes less taboo to talk about, leagues like the NHL and AHL are reaching out and taking a stand. Players are less shy about sharing their stories and fans are more open to supporting them. Boyle and Anderson's struggles were largely broadcasted and accepted by the hockey world. The community created by the Hockey Fights Cancer initiative and the support of their local communities has enabled players and their families to seek solace in their struggles.
All for One – One for All
Author of the famed novel, The Three Musketeers, Alexandre Dumas, accurately coined the Musketeers' famous motto, "All for one; one for all." The phrase, though perhaps cliche at times, is no less true. As cancer becomes a seemingly unavoidable issue, hockey teams and fans alike are setting aside their differences for the sake of others. Stirring compassion and understanding from all walks of life, the Hockey Fights Cancer initiative provides an opportunity for those who love the game to support those in their community.
When there is a support system to help bear the burden the struggle seems to fade, even if only just a little. The hockey community has done an excellent job of doing their part in joining the cause and bringing assistance to their teammates and communities. The Grand Rapids Griffins and the rest of the AHL, are making efforts locally to provide much-needed support.
At the end of the day, we're all on the same team. We all want a cure and we're all fighting for one.
Stand with the hockey community as we come together to fight for a cure #HockeyFightsCancer
I am a Detroit Red Wings prospect journalist for Access Hockey MI covering the Grand Rapids Griffins and Toledo Walleye prospect development. Draft analyst for USHL hockey with the Muskegon Lumberjacks.