The last major trade the Pittsburgh Penguins made was acquiring Phil Kessel during the last offseason. The five time 30-goal scorer was expected to light the world on fire while playing with either Sidney Crosby or Evgeni Malkin. However, through 51 games, Kessel has just 15 goals. This puts him on pace to finish the season with roughly 25 goals, below his career average of 27 goals per season.
The Penguins did not start the season playing well by any definition of the word. Former head coach Mike Johnston preached defensively sound hockey with an offensive minded club and the two did not mix. After a 3-2 overtime loss to the Los Angeles Kings, Johnston had this to say.
We have to get better defensively
This fundamental difference between roster construction and coaching strategy was why the Penguins had such a poor start to the year. With Crosby, Malkin, Kessel, Patric Hornqvist and Kris Letang accounting for 51.12% of the salary cap, offense is the name of the game.
Pittsburgh Penguins Trade History Under Jim Rutherford
General manager Jim Rutherford began his reign in Pittsburgh by trading the former 40 goal scorer James Neal to the Nashville Predators for Patric Hornqvist and Nick Spaling. That was just the beginning and he's shown a willingness to wheel and deal all the way up to the trade deadline.
Here's all of the Penguins who have been traded under Rutherford:
James Neal
Philip Samuelsson
Rob Klinkhammer
Zach Sill
Simon Despres
Robert Bortuzzo
Kasperi Kapanen
Scott Harrington
Nick Spaling
Brandon Sutter
Adam Clendening
Rob Scuderi
David Perron
And here's who the Penguins still currently have from those trades:
Patric Hornqvist – Neal trade
Phil Kessel – Kapanen, Harrington, Spaling, 2016 first round pick
Carl Hagelin – Perron and Clendening trade
Trevor Daley – Scuderi trade
Ian Cole – Bortuzzo trade
Ben Lovejoy – Despres trade
Nick Bonino – Sutter trade
That's a lot of player movement in just two years. Are the Pittsburgh Penguins better off than when Ray Shero left? That's certainly debatable and there are supporters on both sides, but what Rutherford has proved is that he's willing to make trades, and a lot of them.
But that does not mean he should be making trades for the sake of making trades. A huge criticism of Shero was his "win now" mentality, that Rutherford has seemed to adopt, at the sake of ruining their future.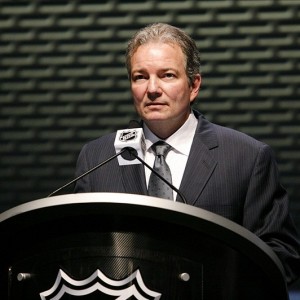 The problem is that the Penguins were built by not having a future, and let me explain. Crosby, Malkin and Fleury were all first or second overall picks. Adding Letang, who fell to the third-round, and you have the Penguins core.
It's very rare that a team is able to contend for the playoffs annually, unless you're the Detroit Red Wings and have phenomenal drafting. Look at the Chicago Blackhawks, from 1997-1998 to the 2007-08 season their team made the playoffs one time. They stock piled draft picks and now have started a dynasty.
The point is that most NHL teams go through cycles of contending before falling in the standings to get high draft picks again. Circling back to the Pittsburgh Penguins, it might be time to stop aggressively trading away draft picks and prospects. Crosby, Malkin, Fleury, Kessel and Letang are all in their late 20's or early 30's. They cannot play forever and draft picks are going to become relevant again.
Shero traded countless draft picks for rental players at the trade deadline and Rutherford has done so as well. Moving past the future of the Penguins, look at the state of the NHL. There already have been quite a few trades and the deadline might actually be relatively quiet this season.
There are currently 10 teams in the playoff race with less than $4 million in cap space and the Penguins are one of them. According to General Fanager, Pittsburgh has $1,659,143 in salary cap space. This lack of cap space prohibits any significant trades for the Penguins, but the other thing to consider is the lack of trade targets.
NHL teams are all looking for the same assets, and in Pittsburgh's case, their biggest weakness is a top-four defender. Though outside of Dustin Byfuglien, and his $5.25 million cap hit, that also expires this year, there aren't a lot of defenders capable of making a significant impact.
When you add everything up, the Penguins should be a rather quiet team at the trade deadline this year. I'm still expecting Rutherford to make a move or two, but with all of the limitations surrounding his team, including no first-round draft pick, it's hard to conceive that they make any big waves.
Last season's "five defensemen fiasco" is another factor to consider when discussing the outlook of Penguins trade plans. The lack of cap space will be under a lot of scrutiny and you can bet they won't make that mistake again.
Thanks for reading! Feel free to leave your comments below or tweet me anytime @MPityk_PIT