The Pittsburgh Penguins only have one true rival, and that's the Philadelphia Flyers. But there are a few teams — the Columbus Blue Jackets being one of them — able to make a strong case for consideration. The Penguins and Blue Jackets will meet Tuesday night to battle for second place in the Metropolitan Division and ultimately, home-ice advantage for round one of the postseason when these two contestants inevitably meet.
The table is set for Pittsburgh to test the Blue Jackets in a big way.
Pittsburgh is getting healthy, slowly but surely. They likely won't see the return of Evgeni Malkin or Kris Letang until the playoffs start, and the same goes for Trevor Daley, Olli Maatta, and Carl Hagelin. Of course, recent reports seem to suggest Letang may have suffered a setback — prolonging his absence even further — but head coach Mike Sullivan downplayed it when asked. After Jake Guentzel and Ron Hainsey returned to the lineup last week and the Penguins recovered from their recent four-game slide with two consecutive wins, one could argue that things are aligning nicely for the defending champs with only four games remaining in the regular season.
One could also look at Columbus and argue that Pittsburgh has them right where they want them.
Ailing Opponents
In a heated battle with the Washington Capitals on Sunday night, the Blue Jackets lost one of their most valuable assets in rookie Zach Werenski when he was hit by Capitals captain Alex Ovechkin.
Here's the Ovechkin hit that sent Zach Werenski to the locker room. #CBJ pic.twitter.com/FyGHOYpDxo

— 1st Ohio Battery (@1stOhioBattery) April 3, 2017
John Tortorella suggested that Werenski is currently day-to-day when he discussed the injury on Monday. If this turns into a long-term injury that bleeds into the postseason, Columbus will struggle mightily trying to fill that void. He's arguably as important to the Blue Jackets right now as Letang is to Pittsburgh, but there's one major difference if both defenders are missing from their respective lineups…
The aforementioned Malkin, and a guy by the name of Sidney Crosby won't be facing the Penguins' shorthanded blue line. That'll be a tough task for a dinged up Columbus defensive corps.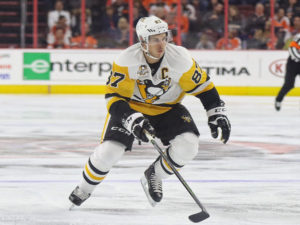 The Blue Jackets are a vulnerable team right now. A group well-known for their relentless forecheck and puck pursuit has been dominated on the possession side of things over their last 10 games, and that's beginning to catch up to them. They're 5-3-2 throughout that stretch, winning just two of their last seven. Sergei Bobrovsky deserves an immense amount of credit for keeping them afloat with his .962 save percentage dating back to March 2, but if they don't figure things out in a hurry, they'll find themselves staring at PPG Paints Arena to start the postseason, and a healthy Penguins group poised to defend their Cup title.
Of course, the Penguins have plenty of work to do as well.
A Statement Game
Despite injuries to key players, a tough stretch of hockey and whatever other adversities the Blue Jackets may be facing, there's something different about this team when they play the Penguins. It may not be an actual hockey rivalry (yet), but it's certainly comparable to sibling rivalry and Columbus really wants to beat their older sibling that always gets the attention for winning so often.
When the Penguins host Columbus at PPG Paints Arena on Tuesday night, Pittsburgh's last home game of the 2016-17 regular season, things will get heated in a hurry. As previously mentioned, there's a lot at stake right now for these two clubs when it comes to seeding and the right to host the first round. The Blue Jackets are hungry to make their stamp on the playoffs and take another step toward hockey relevancy, while the Penguins are looking to continue their recent winning ways into the postseason in order to spark a run like last spring.
Winning this one will go a long way for whichever team leaves victorious.
The question will be whether or not Pittsburgh can match Columbus' enthusiasm. This isn't just another regular season game for them, it's an opportunity to send a message to the Penguins. It's a chance to give Pittsburgh a glimpse of what to expect when the two teams clash in a few short weeks to start the playoffs. And the Penguins have to take the same approach.
Make no mistake, the Penguins are limping into the playoffs and hoping that their final few missing compadres can heal in time to join them during the most important time of the year. They'd like to have some momentum heading into the tournament, and beating Columbus in Pittsburgh as the regular season nears its end is a huge step toward building that. Considering their recent struggles, the Penguins could put the Blue Jackets on notice with a statement performance and considering the paths of these two teams, they'll be best served if they do exactly that.