Late last week, the Colorado Avalanche announced they would be sending down highly-touted prospect Chris Bigras to the team's American Hockey League affiliate, the San Antonio Rampage.
After a fairly impressive preseason that saw Bigras provide a stable presence on the Avs' backend, it seemed a peculiar move that Bigras found himself heading back to San Antonio. On a team that allowed over 32 shots per game in the NHL last season, surely they could find a spot for a big defenseman who can move the puck in the defensive zone and move bodies from the front of the net.
As new Avs' head coach Jared Bednar explains, 'it's about experience'. In the long-term, Bigras' playing minutes and being a leader in San Antonio will help him bring those same qualities that made him a star in the Ontario Hockey League and at the AHL level to the NHL when he's ready.
"He needs to go play big, important minutes down there (in San Antonio)," Bednar told reporters after Friday's practice. "I like what I see from him."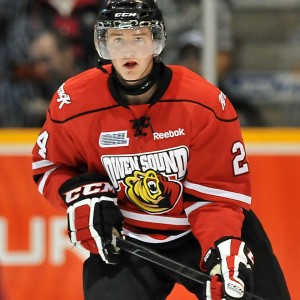 Avalanche Are Thinking Longterm
Bigras was a second-round pick in the 2013 NHL draft, adding some much-needed defensive depth to the talent pool in Colorado. He made his mark in the OHL with the Owen Sound Attack where he had 154 points in 234 games, including a remarkable 71 points in 62 games in the 2014-2015 campaign where he served as the team's assistant captain. He showed great strides last season at the AHL level, adding up 23 points in 44 games and being a reliable defender that helped the team move the puck and shut down other teams' scoring.
Colorado's growing depth on the back end made finding Bigras a roster spot difficult. With the re-signing of Tyson Barrie, the trade deadline addition of Eric Gelinas and the offseason signing of Fedor Tyutin, there wasn't room on for Bigras and that's a good thing.
Related – Colorado Avalanche 2016-17 Season Preview
He's considered a valuable part of whatever this team's future holds and rushing him into the NHL could only hurt his progress. While he did show signs of promise in his short stint in the NHL, it was clear that he wasn't ready for a full-time role.
Coach Bednar and the rest of the organization are aware of what Bigras brings and this move to the AHL should do little to stifle that. Putting up 25 minutes as a leader in the AHL will help his progression more than a third-line role in the NHL. He'll play on the penalty kill and likely the power play for the Rampage — opportunities he wouldn't be afforded at the NHL level.
It was a mature move from a franchise that hasn't made many of them in the past few seasons. Finally, the team seems ready to plan for the future.