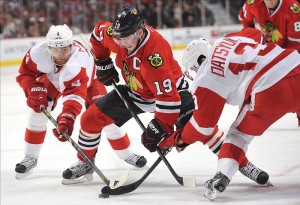 It is official, with Detroit's gutsy Game 7 performance it sets up a Blackhawks vs. Red Wings second round matchup. This is the final season that these two storied franchises will be in the same conference once realignment is made official next season. To meet in the playoffs seems like the perfect way to end one of the best Western Conference rivalries, however Chicago shouldn't look too far ahead as Detroit has been relishing in the underdog role ever since mid-April. Here is the second round preview of the Blackhawks and Red Wings.
Chicago had swept the season series this season and included in that was the 7-1 loss March 31st. Ever since that lopsided loss Detroit had been playing in desperation mode just to make the playoffs. Many expected it to be a rebuilding year in Detroit but in typical Red Wings fashion they stunned the #2 seeded Anaheim Ducks to advance.
Offence:
Blackhawks captain Jonathan Toews escaped round 1 not getting a point until the 5th and final game of the series, do not expect that trend to continue. Toews is a perfectionist and no one demands more from his game than himself, after going quiet in round 1 expect Jonathan Toews to make some noise in round 2.
On the flipside is Detroit's newly anointed captain Henrik Zetterberg, who has 8 points in 7 games, has been leading by example. With his team facing elimination Zetterberg came out and scored the overtime winner to force Game 7 and had a goal and assist in Game 7 to eliminate the Ducks.
Chicago holds the advantage in secondary scoring, Sharp, Hossa, Keith and Kane have provided the majority of the offence in round 1 but Chicago must get more from players like Toews, Stalberg and Saad to be able to roll 3 effective offensive lines.
The Red Wings offence mainly relies on its two big guns Henrik Zetterberg and Pavel Datsyuk alongside Johan Franzen. All 3 players averaged over 20 minutes a game in round 1 so fatigue could be factor when trying to match up against a deep Chicago team.
Defence:
With the loss of Lidstrom in the offseason Detroit has had to rely on a more balanced group of minutes for all 6 defenders this season. In Round 1 Niklas Kronwall proved he could effectively handle the big minutes and not have it wear on his game, Kronwall average 25:20 per game. The sixth defenceman spot has been a rotating door for Detroit in the playoffs as we have seen Colaiacovo, DeKeyser and Lashoff all take their turns.
Chicago has managed the minutes of their two star defenceman Duncan Keith (23:21) and Brent Seabrook (20:46) quite effectively. Johnny Oduya and Michal Rozsival have had strong first round series and both managed over 20 minutes a night.
Keith is the straw that stirs the drink in Chicago and he leads the offense from the back end as well, averaging a point per game so far in the playoffs and leading all Blackhawks defenceman with 12 shots.
Offence from the blueline seems to have all but evaporated for Detroit with only 1 goal from the back end. Detroit sorely misses having a player who can thread the puck up ice or lay a perfect break out pass but must have someone step up offensively on the back-end if they want to reach the Conference Finals.
Goaltending:
This is the area that Chicago usually has the weakness but the standout play of Corey Crawford in round one against Minnesota gives him the direct advantage over Jimmy Howard. Both of these goaltenders share a lot of similarities coming up around the same time after their teams won Stanley Cup's with other goaltenders.
Crawford sits tied with Ottawa's Craig Anderson for league lead in save percentage with an outstanding .950 average, and has played with a sense of calmness that was lacking from his game the previous two trips to the post season.
Jimmy Howard comes in with average statistics but has been playing with desperation and gaining more and more experience every game. Jimmy Howard faced elimination twice already and with each victory has come out more confident.
When two teams with an established rivalry meet in the post season it can be magical, no first few games of teams getting a feel for each other or building up hatred. Things are expected to be intense right from the puck drop for Game 1. The Blackhawks have the advantage on paper but it remains to be seen if they will execute the game plan that made them so successful during the season, or become the second team to fall prey to this underdog Detroit team.
Creator of the Bettman Stand Up hockey blog. I cover the Chicago Blackhawks for The Hockey Writers, In Hossa we trust! I also write for publications such as Arbitrage Magazine and Elite Sports Blog. You can follow me on Twitter @RickEmrith