On June 4, 2008 Daniel Cleary made history with the Detroit Red Wings when he became the first player from Newfoundland and Labrador to get his name on the Stanley Cup. This feat was accompanied by five more years of success in Detroit, however that time in the winged wheel may soon be coming to an end for Dan Cleary.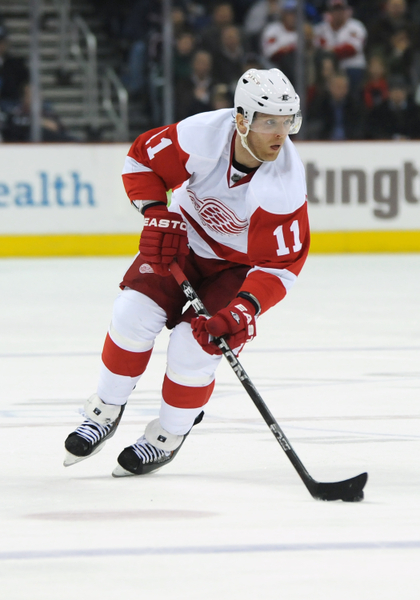 With all the young rookies starting to crack the Detroit lineup, Cleary may be the odd man out, as he is the only Detroit veteran whose contract will be up this summer.
The Red Wings still have to re-sign regulars Valtteri Filppula, Drew Miller, and possibly Ian White. They also have to pony up for rookies Damien Brunner, Gustav Nyquist, Brendan Smith, Jakub Kindl, and Joakim Andersson. All of whom have earned raises with the proficiency of play they've shown at the NHL level.
With all these raises, even if a few other regulars walk instead of re-signing, there won't be much cap space for Dan Cleary this summer. It will really all come down to what Cleary's asking price is in the off-season.
How Much Is He Worth?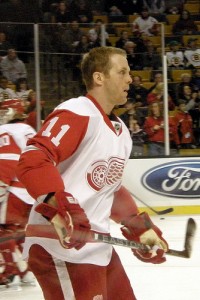 When comparing Cleary to other Detroit forwards in terms of salary and production two names come to mind: Bertuzzi and Samuelsson. Both play comparable styles to Cleary, and both are veterans like Cleary.
Due to injury Todd Bertuzzi only played in 7 regular season games this year, so it would be more accurate to look at his 2011-12 season performance for a comparison. That year he scored 38 points in 71 games on a 2 million dollar cap hit.
Samuelsson, like Bertuzzi, was injured for most of this years regular season. However, when he signed his 3 million per year deal with the Red Wings last summer he was coming off 31 points in 54 games.
How does Cleary compare? If we're going off recent production, 15 points in 48 regular season games, the numbers point to him being about the same value as Bertuzzi, around $2 million a season. That's a better value than his current $2.8 million cap-hit, but with all the young guns looking for raises this summer it may still be a price that the Red Wings cannot afford.
Can Cleary Be Retained?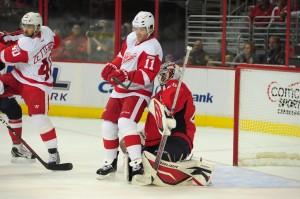 There are a few situations in which the Newfoundlander's services could be retained.
Cleary could stay on if his fellow forward Valtteri Filppula decides to hit free agency, where the Finnish forward would likely get a loftier paycheck in this years thin market. However, Filppula has under-performed this season in a contract year, with just 17 points in 41 regular season games. A far cry from last years 66 points in 81 games. This means Filppula's rumored asking price of 5 million a season will likely come down, and Detroit will be more likely to re-sign the 29 year old forward. A more youthful option than Cleary.
Cleary could also take a hometown discount and stay with the team, but that would still likely leave the Red Wings right up against the cap. Not exactly a desirable situation for a team rebuilding on the fly.
Despite Detroit's plethora of forwards, Cleary is also certainly a guy that general manager Ken Holland would love to keep around. He's stated on multiple occasions that he considers Cleary to be a crucial role model for Detroit's younger players and an important cog in the winged wheel. Holland is also notorious for his loyalty to Red Wing veterans, so it wouldn't be surprising to see him maneuver the roster to fit Cleary in.
At the end of the day hockey is a business. Regardless of Cleary's role with the team, it may be time to put aside loyalty and make the business decision to cut him loose. When there's an influx of youth there will be causalities, and Cleary could very well be the first.
Is it time for Cleary to go? Share your thoughts below.
Detroit Red Wings writer for The Hockey Writers and Michigan State hockey writer for spartanavenue.com