Hockey Night in Simcoe County is an annual charity hockey game hosted by provincial Conservative Leader Patrick Brown, MPP for Simcoe North. For the last eight years, the annual event has been raising funds for the Royal Victoria Hospital (RVH), and this year's game is benefiting several more recipients.
Previously known as Hockey Night in Barrie, the event is in its ninth year in operation and has become quite a success. That's why its name has been changed to 'Hockey Night in Simcoe County', "We're able to support more health care services now," says Brown of the popularizing fundraiser, which has raised $1.6 million to date. The money raised at this year's game will not only go to support the RVH, but also Midland's Georgian Bay General Hospital, Orillia's Soldiers Memorial Hospital, and the Barrie Colts Charitable Foundation.
Proud to launch ticket sales for Hockey Night in Simcoe County IX benefiting local hospitals. Save the Date 08/11/16 pic.twitter.com/969qT31z1C

— Patrick Brown (@patrickbrownont) February 26, 2016
Participants of This Year's Hockey Night in Simcoe County
Hockey Night in Simcoe County is expected to have another great turnout because more NHL players are participating. The game will take place on August 11th, 2016 at 6:30p.m. at the Barrie Molson Centre, home to the Barrie Colts, and will feature some of the NHL's fan-favourites, both current and retired.
"We anticipate it will be bigger and better this year," says Brown of the semi-disclosed rosters. "We wait to send out the announcements a couple weeks before the game," so make sure to follow @brownbarrie on Twitter for weekly updates on featured roster additions, or go to www.hockeynightinsimcoecounty.ca to stay in the loop.
Of the players who are confirmed to play on August 11th, you'll see Mike Gartner (retired), Aaron Ekblad (Florida Panthers), Darcy Tucker (retired), Shayne Corson (retired), Gary Leeman (retired), Alan Thicke (Canadian actor, songwriter, and game/talk show host), Garrett Wilson (Florida Panthers), Matt Beleskey (Boston Bruins) and Tanner Pearson (Los Angeles Kings).
Yes, Tanner Pearson, the guy who played a huge role in helping the Los Angeles Kings win the 2014 Stanley Cup Championships. Make sure you wish him a happy belated birthday if you see him at the game. The ex-Barrie Colt is turning 24 on August 10th and wants to celebrate his birthday on the ice. Talk about hockey fandom!
North Simcoe vs South Simcoe 2016 Hockey Challenge
Hockey Night in Simcoe County has another new feature that hasn't been part of its regular activities in previous years. "There's a pre-event in Midland," says Brown, "North Simcoe verses South Simcoe." It's taking place on August 10th and starts at 7:30 p.m. at the North Simcoe Sports & Rec Centre in Midland. The 'North Simcoe vs South Simcoe 2016 Hockey Challenge' will feature NHL Legend Dan Maloney, Simcoe County Warden Gerry Marshall and Orillia Mayor Steve Clarke for Simcoe North, and Hall of Famer Dale Hawerchuk, MP John Brassard and Barrie Fire Fighter Kevin White for Simcoe South.
Will McDavid Make His Third Appearance?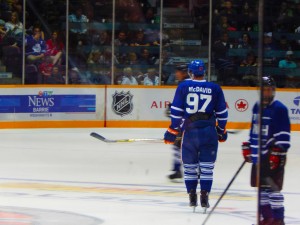 If you're wondering about Connor McDavid returning for his third time, "he's trying to make it happen," Brown says of the 2015 No. 1 Draft pick. The event has always pulled in some big names, so don't forget to get a signature after this year's game because you'll never know when your next chance will come around.
Tickets for the game can be purchased for $12, $16, $21 and $25 at ticketpro.ca. Don't wait until it's too late!