The Colorado Avalanche have a decision this trade deadline — whether or not they trade former first-round pick Matt Duchene. The New York Islanders have an even more important decision: do they trade away pieces of their valued defensive core and youth in order to get him?
The Isles have one of the deepest defenses in the NHL, depth at the AHL level and plenty of youth on the forward lines. They have the pieces to make a play for Duchene. But what does Isles general manager Garth Snow give up to provide the team with the dynamite number two center they haven't had since Michael Peca?
Here are a pair of possibilities:
Travis Hamonic, Ryan Strome and a First Round Pick for Matt Duchene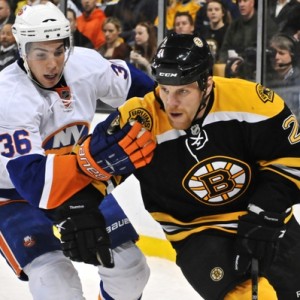 This may be a steep price to pay for Islander fans, but it works. It gives the Islanders a much-needed dynamic player on offense. One they need. One that can play alongside John Tavares, or on the second line with Brock Nelson.
That's a role Strome should be able to fill. However, inconsistency on both ends of the ice over the last two seasons has made it clear Strome needs a change of scenery.
The Islanders can afford to give up Hamonic. Ryan Pulock and Devon Toews are all shining at the AHL level — they might even be the team's top two prospects, period.
The Islanders depth on defense extends to the NHL level as well. In the case of Scott Mayfield and Adam Pelech, they are already proving themselves at the NHL level. As a result, the Islanders can afford to give up Hamonic.
Much like the epic trade that sent Dave Lewis and Billy Harris to the Los Angeles Kings for Butch Goring in 1980, getting Duchene will cost the Islanders a lot. At the same time, it could change the entire dynamic of their team.
Simply put, players like Duchene are rare ones. Although he doesn't have the playoff pedigree of Goring, he's a dynamic talent nonetheless. If the Islanders can get him and only give up a defenseman they can replace and a forward that has never lived up to his potential, it's a chance worth taking.
Jaroslav Halak, Thomas Hickey and Ryan Pulock for Matt Duchene
This could work. Colorado has no idea what their goaltending situation will be moving forward. Halak was mediocre for the Islanders this season, but he's been hot as hell in the AHL.
Calvin Pickard and the often-injured Semyon Varlamov aren't going to get the Avs back to the playoffs — obviously not this year, but probably not next year either. At just 30, Halak still has plenty of minutes left to burn. He can be a number one goalie in the NHL again. He's an immediate improvement.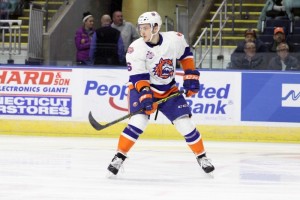 Pulock is a top-flight prospect and Hickey is a former first rounder who has been nothing short of stellar for the Islanders. He blocks shots, kills penalties and takes the body.
If Avalanche general manager Joe Sakic is looking to rebuild his defense, getting Hickey and Pulock is a pretty damn good start. With Nikita Zadorov and Erik Johnson already there, they have the foundation of a well-rounded defensive core.
Can Duchene Be Had?
Both of these deals are a risk for the Isles and the Avs, but isn't that what the trade deadline is all about? With a last-place finish all but assured at this point for the Avalanche, trading Duchene says they are ready to rebuild. For the Islanders, bringing in Duchene would affirm that they are ready to attempt to do more than make the playoffs.