The New York Islanders have 31 games remaining this season. They are three points behind the Philadelphia Flyers for the last playoff spot in the East, with three games in hand. While Thomas Greiss and John Tavares have put the team on their backs, backup goaltender JF Berube has been mediocre.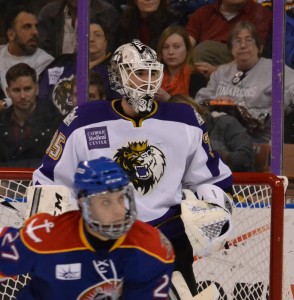 Often appearing overmatched or lacking confidence, Berube could benefit from more time in the AHL. At just 25, he's been robbed of nearly two seasons of development by an Islanders team that would rather have him watch from the bench than play.
At this point, it's obvious that the three goaltender experiment that Islanders general manager Garth Snow has insisted on for two seasons is a failure. It's time for Jaroslav Halak to rejoin the team and the Berube chips to fall where they may. With Ilya Sorokin continuing to tear up the KHL, the Islanders can afford to turn the page on Berube and maximize their playoff chances.
The Islanders Made an Investment
Halak signed a contract to be the team's number one goalie and up until this season, he played like one. He helped guide the Islanders back into the playoffs and set a franchise record for wins in a season in his first year with the team. In that short time, he reestablished himself among the NHL elite before an injury last year changed everything.
Against the Panthers in the first round of the playoffs last season, Greiss stepped up. But after his play at the World Cup of Hockey, Halak proved he isn't exactly spoiled goods. Neither Berube or Halak are in the team's long-term future. But Halak's salary demands he's on NHL ice. That's why Halak needs to play and Berube needs to go to the AHL or let go via waivers.
No Takers Right now
Halak went unclaimed when the Islanders put him on waivers to start the year. That had everything to do with his 6-8-5 record, 3.23 GAA and .904 save percentage. In Bridgeport, with the Isles' AHL-affiliate, Halak has been a revelation, going 7-1-1 with a 2.03 GAA and .927 save percentage.
If the Isles sent Halak to teach him a lesson, it worked. He proved he could get his act together and now it's time for him to rejoin the team. With plenty of games left and a handful of back-to-back affairs, the Isles are better with Halak in the crease than Berube. Those small games could be the difference in solidifying a playoff spot.
Halak is Better Than JF Berube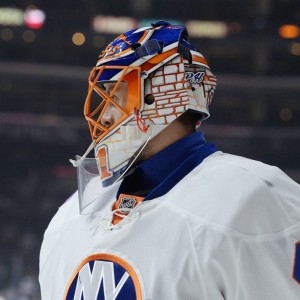 Coincidentally, Berube and Halak's stats are similar this season. In seven games, Berube is 1-2-2 with a 3.27 GAA and a .896 save percentage. Unfortunately, neither one of them, as it stands have the numbers the Isles need from their backup. But with his Olympic pedigree and record of success, it makes more sense for the Islanders to let Halak play anywhere from 5-7 of the team's last 32 games if they are serious about making the playoffs this season.
In a race that will come down to inches, do you take a risk on an unproven goaltender? Or one that, away from this season, has been solid? While the team's ultimate choice in who backs up Greiss doesn't seem like it could cost them a playoff spot, it may.
Over the past ten years as a working journalist, Patrick Hickey Jr. has covered the New York Islanders, New York Rangers and New Jersey Devils, as well as the Brooklyn Aces of the former EPHL, contributing pieces and/or holding Editorial positions at NBC, New York Sports Day, NY Sportscene Magazine and the New York Times. During that time, he has interviewed NHL stars the likes of Brendan Shanahan, Bernie Nicholls, Bob Probert, Martin Brodeur and Zach Parise. He is also the first winner of the New York Islanders Blog of the Year Award, for his work on TheDriveForFive.com in 2008.