As Adam Larsson waved to the crowd, everyone in attendance at the Times Union Center in Albany, NY knew what it meant.  Goodbye to one season and hello to a new NHL campaign.  Such is the life of an AHL fan, from Albany to Abbotsford they know the drill.  Though as bittersweet as it is to see players leave, the natural order of  the hockey world has been restored and ultimately that's a great thing.
Players go up and down and back and forth and for a good few months fans got to witness some of the top young prospects in North America.  Watching players like Larsson, Bobby Butler, Adam Henrique, Jacob Josefson and Stephen Gionta, along with countless young stars from around the league, has been a real treat.  If it was his last game in an Albany Devils sweater, Larsson went out with an exclamation point, potting the winner in a 5-2 victory over the intrastate rival Binghamton Senators.
It was a nice bow to put on a team that has been gaining traction of late.  Albany posted convincing wins on home ice against the aforementioned B-Sens and the first place Springfield Falcons, running their winning streak to three and their overall record to 13-11-1-6 (33 points).  Now some of their players along with those of 29 other AHL clubs, will be moving up and so too will players from the ECHL and other leagues.  Players will now make adjustments to new and different roles with new and different teammates.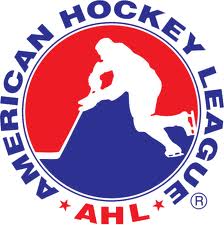 From what I've seen, I can tell NHL fans that you're in for a lot of fun with these young players who are lighting up the AHL.  You no doubt know the names gracing the league leader-boards.  If you don't, you'll soon learn.  It will be interesting to see how players with nearly a 40-game jump start will impact the makeup of NHL teams.  Also intriguing will be to see how clubs will take form for the second half of the AHL campaign.  Oh yeah and I think you'll enjoy touch up icing too.
While I'll continue to attend AHL games in Albany, I'm sure I speak for a lot of people when I say how thrilled I'll be to have the NHL on TV in crystal clear high definition.  Gone are the "halcyon days" of streaming delayed KHL games on ESPN 3 or watching World Juniors games at all odd hours just to get a fix.  So too will be the scanning of box scores, wishing those sick point totals were being accumulated by our players.  No more pretending to try to like the NBA or any other alternative sport of your choosing.  Best of all, no more lockout.
So while there have been a good many players and leagues to pique our interest, all of that talent of the highest level will be concentrated in one location.  We'll keep tabs and stay in touch but the NHL is starting and we're already in the homestretch.  Game on.
***
On an additional note, I'd like to thank all of the readers and hockey fans out there who have stuck with us at The Hockey Writers.  Although from the coverage over the past few months our motto has seemingly been "what lockout?" it has been a challenge at times to conjure up some creative stories at times to keep ourselves entertained.  Not to pat ourselves on the back but I'd like to give a shout out to my fellow colleagues here for keeping me motivated to write during the lockout, I've also been greatly entertained and informed as well.  I hope you all continue to read and support the site as the NHL resumes play and we ramp up our coverage full throttle.  Good day, good hockey!