Even though the start of NHL training camps are over a month away, players are already starting to get professional tryout (PTO) invites to team camps in September. With a decent group of free agents still left, numerous players figure they'll have to take their chances at a next contract by playing for one in camp.
Despite not inviting anyone to last year's camp, the Philadelphia Flyers may send out a couple for this year's. For one, the team has a little bit more cap space this season and will already have tired, but in-game shape bodies with eight players ready to suit up in the World Cup.
But before looking at options, it's important to narrow down where Philly could use some help. The goalies are set. No one will or needs to challenge Steve Mason or Michal Neuvirth.
There's already seven defensemen from last year on the roster and Ivan Provorov figures to compete for a spot on the blue line also. At forward, there are a possible 12 players that could vie for a spot on the bottom two lines and the extra forward spot.
Among the top six, there are five guaranteed players. The last spot will be up for grabs among the 12 also competing in the bottom six. However, there may be options outside the organization and on the open market that fit that role better.
Jiri Hudler
If you've read any list naming the top free agents left on the market, you've already heard Hudler's story. From 76 points in 2014-15 to a much-less-impressive 46 last season.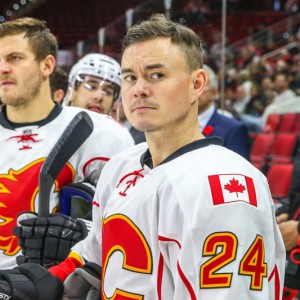 The down year encouraged the Calgary Flames to trade the pending UFA to the Panthers near the trade deadline. The dismal season coupled with a 32-year-old age tag has discouraged teams from signing the Czech native.
At that age, it's unlikely Hudler will rebound. Plus he played with linemates like Johnny Gaudreau and Sean Monahan in Calgary. Not every team has that skill to put with Hudler.
However, the former Red Wing's biggest knock is his speed, which has decreased with age.
With the Flyers though, it's possible he could shuffle around with linemates like Claude Giroux, Jake Voracek and Brayden Schenn. Plus Giroux and Voracek proved their linemates don't need great speed when Scott Hartnell piled up points playing with them.
Hudler's a scorer first, which the Flyers could use. He's also one of the top remaining free agents. If he's looking for a camp invite, there should be plenty and Philadelphia may not be the best option.
Brandon Pirri
A surprise UFA after the Ducks didn't send him a qualifying offer, Pirri is still on the market despite having a 20-goal season under his belt at the desirable age of 25.
The issue there is that he scored 22 goals with the Panthers in 2014-15 when the team didn't have as much skill and there was more ice time for Pirri. He also contributed just two assists that season.
Despite that, he had 14 goals and 15 helpers splitting time with the Panthers and Ducks. Like Hudler, Pirri probably needs to be on a line with players who can get him the puck.
His worth proved to be not much at the trade deadline when Florida shipped him to Anaheim for a sixth-round pick. Maybe it's not so surprising that he hasn't latched on to another team yet.
After former Flyer Sam Gagner signed with the Blue Jackets, Pirri became the new under-30 free agent with skill. Some team will give him a shot and may find a 10-15-goal scorer.
Radim Vrbata
Another veteran like Hudler, Vrbata is 35-years-old, or practically ancient in today's NHL. However, except for this past season he's been a consistent scorer.
He's put up 50 points or more four times in his career, including a career-high 63 points playing with the Sedins two years ago. When Vancouver took him off that line last season, Vrbata floundered amassing just 27 points.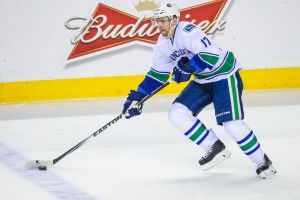 Clearly, he's not a driver for a line like he was in Phoenix, but can help when paired with some talented players. Vrbata isn't fast either and if Hudler's age has scared off teams, the former Coyote can't have suitors lining up.
However, he's been more of a consistent scorer than anyone left on the market and that may just help a team believe there's something left in him. Especially if they have extra room in the top six.
Of the guys left, there's a trait that all of them need to be playing with skilled players to produce. That's not uncommon with the crop of free agents left at the beginning of August.
The important thing to remember with training camp invites is that they mean little. A team could just be trying to drum up some competition. It doesn't mean the player has a great chance at making the team.
But every now and then a surprise gem is waiting for a training camp invite.