The day of the NHL draft, otherwise known as Christmas for hockey fans. General Managers from all 30 teams pick their favourite prospects, wrap them in fancy paper, and place them under the tree for us to open later tonight.
Assuming the Toronto Maple Leafs retain their spot picking 8th overall, they will likely be in a position to choose from a pool of very promising players. Here are a few talents the Maple Leafs will be lucky to pick up at number 8…
Nicholas Ritchie  – Left Wing
If we are lucky, Nick Ritchie will fall gently into Toronto's lap. Again, that is if we're lucky. He is powerful and mean, yet possesses the rare scoring touch. Ritchie stands at 6'2, 226 and is not someone you want to play against. He is a true power forward and could add some much needed muscle to our current top six forwards. Unfortunately, something tells me our good friend Brian Burke might pick him up for Calgary at number 4.
*Toronto native bonus*
William Nylander – Right Wing
The next Mats Sundin? Probably not, but I think Toronto fans are ready for another Swedish saint in their system. William Nylander is a highly skilled prospect; he has incredible puck-control with elite level vision. If Willy falls to number 8, the Leafs must pounce on the opportunity.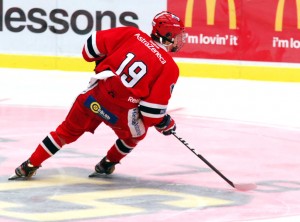 Jake Virtanen – Left Wing
A 6 foot tall forward who can put up 45 goals this season in the WHL? Any team who picks up Jake Virtanen has certainly found themselves in a safe place. He has a very strong stride with an eye for the net, making him a serious threat every time he hits the ice. The Leafs can do no wrong with a pick like this, and Jake might just land right around the 8th.
Robby Fabbri – Center
Fabbri can skate like the wind, allowing him to be explosive entering the offensive zone. His shot release is lethal, as if he has gun powder coursing through his veins. However, at 5'10, Robby is constantly knocked for his height, which might make NHL scouts shy away from taking him within the top 10. Despite his size, he battles with a fierce edge to his game. Robby Fabbri is a natural winner and the Leafs may regret letting him slide through their fingers.
*Toronto native bonus*

Nikolaj Ehlers – Left Wing
Just like Calder trophy winner Nathan Mackinnon, Nikolaj Ehlers will be drafted out of Halifax from the QMJHL. In many ways, the two hockey players share a similar style. Ehlers uses his quickness to blow by opponents down the wing. He then applies his sharp edge work, allowing him to cut into the middle to create scoring chances. If Ehlers can one day be anywhere near the player Nathan Mackinnon has beocme, then the Leafs can make a smart investment tonight.
Joshua Ho-Sang – Right Wing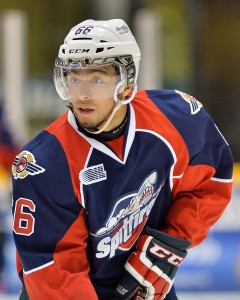 Perhaps choosing Joshua Ho-Sang with the 8th overall pick is a little risky, but the Leafs can use a little risk at this point. Ho-Sang has scared away many NHL teams with his over the top confidence and seemingly inability to make the easy play during tight games. Without question, Josh is one of the most skilled players eligible for the draft, if not the most. He knows how to get the fans going with jaw-dropping dangles, but highlight reel plays don't win championships. He certainly believes he is the best in this draft, and if the Leafs look past him, let's hope he's not right.
*Toronto Native Bonus*
The draft will air at 7pm Eastern Time, so keep your eyes open for these gifted players. If Toronto decides to take a pass on them, do not fret; just like our friends over at the NBA, they might know about some underground player — The Brazilian Sidney Crosby.