In this week's edition of Predators Prowl, we discuss the three games played by the Predators this week, a home-and-home against the St. Louis Blues that bridged American Thanksgiving and a home game with the Anaheim Ducks. It's an important time of the season as Thanksgiving generally represents the first time the standings are looked at and taken seriously. Going back to the 2005-06 season, 77.3 percent of teams in a playoff position at American Thanksgiving went on to play postseason hockey.
Related: Predators Prowl – Road Woes Lead to Home Cooking
For the Predators, that's great news as they have a sizable lead in the division and conference and continue to play great hockey. In their three games since the last Predators Prowl, they went 2-1-0, splitting their games with the Blues and defeating the Ducks. This came after they entered the week ending an abysmal road trip with two home wins.
They wrapped up their pre-Thanksgiving schedule with a 4-1 home defeat of the Blues in which they controlled 69 percent of high danger chances and outshot the Blues by five. They finished up the home-and-home with a Black Friday road matchup against the Blues and were dominated 6-2. Juuse Saros struggled once again as he let in five goals for the second straight start, this time on 15 shots, before he was pulled at the 31-minute mark. The Predators were outshot 28-34 and controlled a season-low percentage of high danger chances.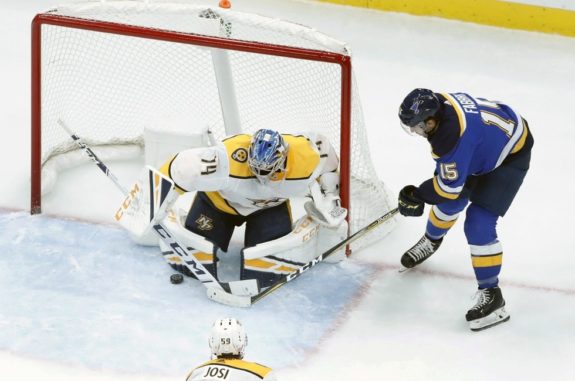 To finish up the week, the Predators returned home to Nashville with a decisive 5-2 victory over the Ducks. They had a plus-14 advantage in the shot column and were plus-seven in high danger chances. Pekka Rinne was stellar in net and the team never trailed. Austin Watson provided depth scoring with his first career hat trick, which brings us to our first theme of the week.
The Moral Dilemma of Austin Watson
Let's get this out of the way: Watson is a highly conflicting player. He recently returned from a domestic violence suspension that lasted 18 games after it was reduced from the original 27-game suspension he received. I find what he was accused of and suspended for to be horrific and the Predators had every right to cut him, and perhaps should have. However, they didn't, and he served his suspension and is a member in good standing with the league. So for the sake of this Predators Prowl, I'm focusing on his on-ice performance.
Not only did Watson register a hat trick against the Ducks, he also netted his first career power play goal. But that's not the extent of his production this week. He also had a goal in the team's first game against the Blues to give him four over the past week and attempted multiple shots in the week's final two games. His offensive explosion in recent games has only continued what he has done this season.

Since returning from his suspension, he has six points in six games. He is playing a career high in ice time and, at five-on-five, he is experiencing personal bests in goals and points per-60. He is also generating his highest levels of offense with career highs in individual scoring chances and high danger chances per-60. That's great output from a depth winger as he's brought unexpected production at a time when the Predators need it most given their injuries.
Special Teams Stepping Up
In their three games the past week, the Predators scored three power play goals on 11 opportunities. That 27.3 percent conversion rate has raised their season rate to 15.2 percent and they no longer possess the league's worst power play. They scored goals on the man advantage in two of the three games and it took less than 10 seconds to score two of the goals.
All three power play goals were scored in the same manner: work the puck to a defenseman at the point, he rifles a shot towards the net, and either traffic in front of the net impedes the goalie's vision or a rebound is generated that results in a goal. They got stronger on the man advantage in each game as they increased their shots for and scoring chances for per-60 in all three matchups to the point that, in their most recent game, they had season highs of 103.9 shots for per-60 and 112.5 scoring chances for per-60.

The penalty kill was a similar story. They killed off 11 of 12 power plays for a 91.7 percent success rate. This raised their season-long penalty kill to 82.1 percent, seventh-best in the league. The only power play goal they allowed since last Monday came against the Ducks, a game in which the Predators were shorthanded five times.
Production From Everyone!
There is disagreement with what team structure works best: having a team with a few elite players but little depth versus being absent of high-end talent but having a productive bottom-six. The Predators are structured in the latter way. Filip Forsberg and Ryan Johansen are their most talented, and productive, forwards, yet only Forsberg is among the best at his position. Therefore, they have to rely on production across all four lines to succeed, and when they get depth scoring like they did over the past week, it's a dream come true.
In their games against the Blues and Ducks, 15 Predators earned points and eight had at least two points. Seven netted goals with two scoring multiple, Nick Bonino and Watson. All three of the team's power play goals were scored by different players and two players had shorthanded goals. 17 players attempted at least one shot while nine attempted five or more and four players shot better than 20 percent.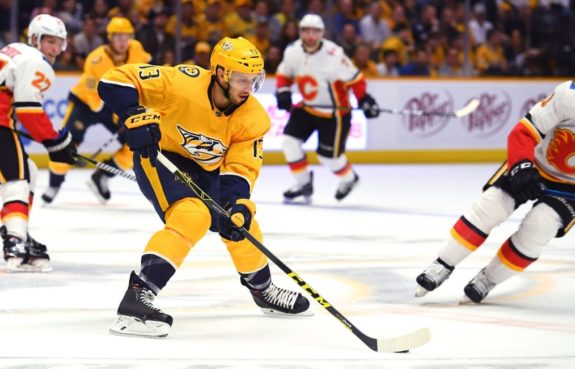 Finally, all six of the team's defensemen who played in the three games registered a point, unsurprising as this is the league's most productive blue line. Meanwhile, Johansen, tied for the team-lead in points, had just one in the three games. It's a further example of the Predators succeeding as a team rather than relying on elite, top-tier forwards.
News, Top Performers, and the Week Ahead
The injury report keeps getting longer for the Predators. Joining Viktor Arvidsson and P.K. Subban on injured reserve this week was Kyle Turris, who left the team's second game against the Blues after only 3:39 of ice time. Listed as an undisclosed injury, there is no telling when Turris will return to action. In response to his injury, the team recalled Rocco Grimaldi from the Milwaukee Admirals.
Related: Predators Quarter-Season Check-Up
In the first game against the Blues, Rinne once again set an impressive mark for his career. This time, he became the winningest Finnish netminder in league history with his 320th victory. Already with nearly every franchise record for the position and a host of others among goalies hailing from Finland, it's no surprise that the 36-year-old reigning Vezina Trophy winner keeps checking off boxes as he continues his illustrious career.
Top Performers
Austin Watson – 4 goals, 1 power play goal, 1 game-winning goal
Nick Bonino – 2 goals, 1 assist, 1 power play goal, won 58.9 percent of his 19 faceoffs
Pekka Rinne – 2 starts, 2-0-0, 4 goals allowed on 67 shots, .940 save percentage, 1.62 goals against average
This Week's Games
Nov. 27 – vs. Colorado Avalanche
Nov. 29 – vs. Arizona Coyotes
Dec. 1 – vs. Chicago Blackhawks
Dec. 3 – vs. Buffalo Sabres
A Note to Readers
Hit me up in the comments below with your thoughts on how the Predators performed this past week or so far this season. I'd also like to hear what you want to read in future Predators Prowls or of any questions you have regarding the team. Thanks for reading.
*All stats came from Hockey-Reference and Natural Stat Trick