BUFFALO, N.Y. — Erik Karlsson tells a small group of reporters waiting near his locker that the only topic they really want to discuss — his impending return to Ottawa as a member of the San Jose Sharks later this week — is off limits.
"When I go up there, I'll talk about it," the former Senators defenceman says politely. "I won't talk about it now."
But pressed gently about what will no doubt be a raucous welcome Saturday afternoon in the nation's capital, Karlsson briefly opens up.
"Going back to Ottawa will be special," the 28-year-old shared Monday following practice at Buffalo's KeyBank Center. "It's going to be different and weird.
"We'll see what type of emotions there will be when the day comes."
There are sure to be plenty.
Traded to San Jose at the start of training camp in an eight-player blockbuster deal that brought an end to months-long speculation about the two-time Norris Trophy winner's future, Karlsson was a fan favourite in Ottawa for the better part of a decade.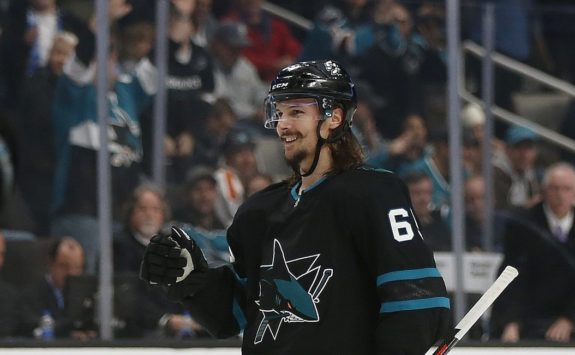 "It's been a big adjustment," he said of relocating to northern California. "It's taking some time, it's still taking some time, but I've been enjoying my time. I've been getting as much help as I possibly can.
"There's nowhere else to go but up. I'm looking forward to that. I'm not the kind of guy who dwells on the past and looks back on 'what ifs?'"
RELATED: The Latest NHL Rumors
The same probably can't be said for a large number of Senators fans.
The 15th overall pick in the 2008 draft went from skinny unknown teenager to superstar in Ottawa, registering 126 goals and 392 assists for 518 points in 627 regular-season games.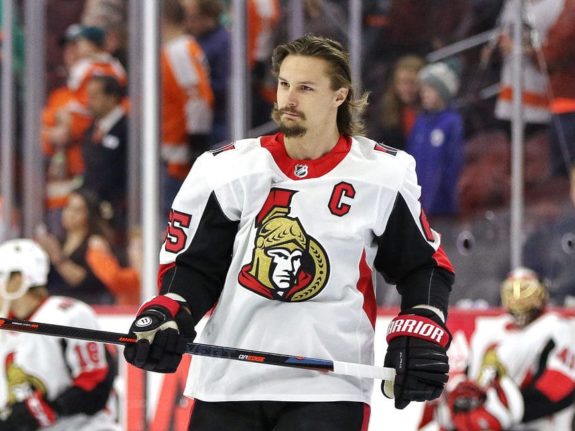 Karlsson added 37 points in 48 playoff contests, including 18 on an injured foot and ankle — surgery was eventually required — during the Senators' magical run to the 2017 Eastern Conference final that ended in a heartbreaking Game 7 double-overtime loss against the Pittsburgh Penguins.
"(Karlsson) was attached deeply to that community and that team," San Jose head coach Peter DeBoer said. "(He) really felt for most of the time there that he was going to spend his whole career there."
But things quickly unravelled on and off the ice.
Senators owner Eugene Melnyk issued a since-rescinded threat last December that he might move the franchise if ticket sales didn't improve, while rumours surrounding Karlsson's future swirled ahead of February's trade deadline as the club tumbled down the standings.
The Ottawa captain wound up staying put for the time being, but tragedy struck in March when Karlsson and his wife Melinda announced their first child, a son they named Axel, was stillborn.
After the club's miserable season finally came to an end, Karlsson's wife accused the fiancee of then-teammate Mike Hoffman of cyberbullying. Hoffman was subsequently traded.
Management was adamant throughout it would offer Karlsson a new contract on July 1 — he was, and still is, set to become an unrestricted free agent next summer — but revealed after dealing the Swede that the decision to start a rebuild was made in February.
While the young Senators have been a pleasant surprise at times this season thanks to an exciting, offensive-minded approach, negative stories away from the action have persisted since Karlsson left town.
In one instance, a group of players were surreptitiously videotaped bad-mouthing an assistant coach inside an Uber, while Melnyk made the bombshell announcement last week that he's suing his business partner over a development deal aimed at bringing a new arena downtown.
Karlsson didn't go any further Monday when talking about his former team or what might be coming his way later this week, but he was emotional in his farewell to Ottawa immediately after the trade.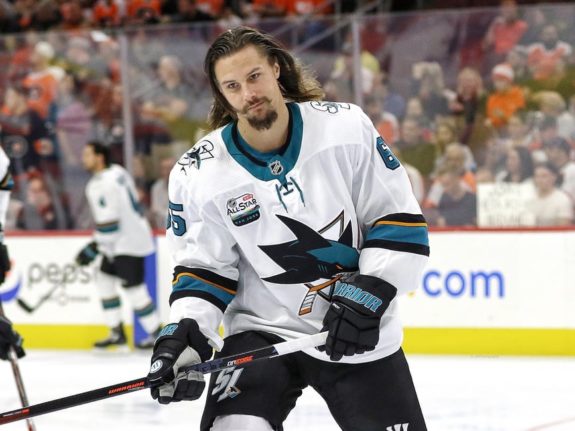 DeBoer expects something similar on Saturday.
"You just want to kind of get through it," he said. "Once it's over with, it's almost like closure."
Following some early struggles in San Jose, Karlsson has two goals and 13 assists in 24 games. With a shooting percentage of 2.9 (well below his career average of 6.8) accompanied by an even-strength shot differential of 59.32 per cent heading into Tuesday's game in Buffalo, a breakout could be on the horizon for the slick defenceman.
"He creates a lot of looks that not many guys can," Sharks centre Logan Couture said. "The biggest thing is finding lanes for him to pass to you."
Karlsson will suit up with San Jose for the first time in Canada when the Sharks visit Toronto on Wednesday before Saturday's matinee at Canadian Tire Centre — five years to the day since close friend and fellow former Senators captain Daniel Alfredsson returned to Ottawa after signing with Detroit.
"I'm excited to move forward," Karlsson said. "I feel great, body feels great. The game is starting to take form. I haven't really worried too much about the individual parts.
"We're trying to build something here for the remainder of the season. I'm excited about that part."
His new team full of outgoing veteran characters like Joe Thornton and Brent Burns has also provided an escape in the wake of a trying year.
"This is my work, this is what I do," Karlsson said. "It's nice to come into the rink every day and everybody else is normal. You kind of forget about things for a while.
"I depend on hockey a lot — not only in my professional life, but my personal life."
—
Follow @JClipperton_CP on Twitter
Joshua Clipperton, The Canadian Press