The Nashville Predators are shopping 29-year-old forward Viktor Stalberg for a trade and, should they not find a dancing partner, they're prepared to buy him out, according to Adam Vignan of The Tennessean.
Via Vignan:
"We're talking to a couple teams about possibly making a trade," [Predators GM David] Poile said. "Thought that if that was going to happen, it might have happened (Saturday). We might pursue that (Sunday) and there's also the possibility that we could buy him out."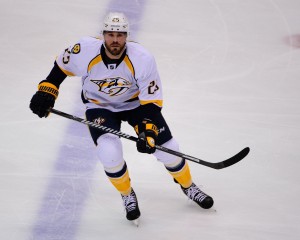 If the Preds find someone to take Stalberg, it will likely involve retained salary or additional assets, as the Predators waived both Stalberg and Rich Clune earlier in the week. Stalberg passed through waivers unclaimed. Since then the Predators placed Clune on unconditional waivers with
the intention of buying out
his contract. Stalberg may be destined for the same situation.
Stalberg was signed as a free agent after winning a Cup with the Chicago Blackhawks in 2013, a casualty of cap troubles there. He was given a hefty contract that he's been unable to deliver on. Nashville has clearly been frustrated with his play, having placed him on waivers during the season and send him to the AHL twice last season.
The Predators signed him to a four-year deal with an AAV of $3 million. It paid out $2.5 million in actual cash in the first two years and will pay out $3.5 million in the remaining two. A buyout would spread that over four years with a $666,666 cap hit in the first two and a $1,166,666 cap hit in the final two, with an actual cash cost of $1,166,666 in each of those four seasons.
In the end, he played 25 games for Nashville, producing two goals and eight assists. While it didn't always look great, it was a 2.1 P/60 last season, a tie for the second best scoring pace of his career at even strength. He's also posted positive relative possession numbers every year of his career except his rookie year, even if those numbers are just barely into the positive range.
RELATED: The Risks and Rewards of Viktor Stalberg
[catlist categorypage="yes" numberposts=3 excludeposts=this]
Dustin Nelson writes about news and the Minnesota Wild for The Hockey Writers.