The Expansion Draft is less than a week away and the NHL is ready to officially welcome its 31st franchise – which still sounds a little odd – the Vegas Golden Knights.
By this point in the process, most teams have likely decided, at the very minimum, if they're taking the 7-3-1 protection format (seven forwards, three defencemen and a goalie) or 8-1 format (eight skaters and a goalie). Regardless of the format, they've also likely figured out the can't-miss protections and are losing sleep over that seventh forward or eighth skater.
Fortunately for Ottawa Senators General Manager Pierre Dorion, the makeup of his roster doesn't leave him with such head-splitting decisions with the blue line being the only point of contention. I recently took part in THW's expansion draft, filling Dorion's shoes, and chose to take the 7-3-1 format while protecting the following players:
Forwards: Bobby Ryan, Mike Hoffman, Derick Brassard, Mark Stone, Kyle Turris, Jean-Gabriel Pageau, Zack Smith
Defencemen: Erik Karlsson, Dion Phaneuf, Cody Ceci
Goalie: Craig Anderson
The Logic
Most of the aforementioned players don't need an explanation as to why they're on the list – those who do will be addressed in due time – but the Expansion Draft will be as much about who wasn't protected as who was. One of the names not on the list is the polarizing Alex Burrows, but at 36 years old with a two-year contract at $2.5 million per year starting next season, there's no risk of losing him to the Golden Knights.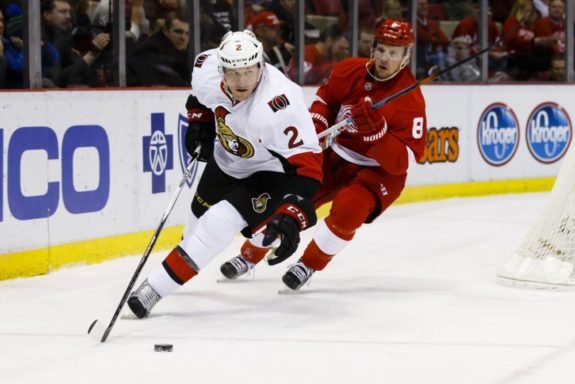 Another name missing from the list, ironically by virtue of his bad luck, is Clarke MacArthur. Thanks to his inability to meet the minimum games played requirement, a consequence of post-concussion recovery that kept him out of the lineup from October 2015 until April of this year, MacArthur is exempt and cannot be selected.
Other notable names not on the list who are sure to generate some buzz are Tom Pyatt, Ryan Dzingel, Tommy Wingels, Viktor Stalberg and Chris Neil (contracts notwithstanding). Most of these players didn't play major roles for the Sens in 2016-17, but being dismissed behind a player like Ryan is sure to catch some flack.
The Ryan Conundrum
Most people, Sens fans or otherwise, can agree that at least six of the seven forwards above are worthy of a coveted protection slot, but the inclusion of Ryan remains a hot-button issue in Ottawa. His Senators career hasn't gone the way anyone wanted or hoped, but a tremendous 2017 postseason performance reconciled those underwhelming first three seasons in an Senators uniform.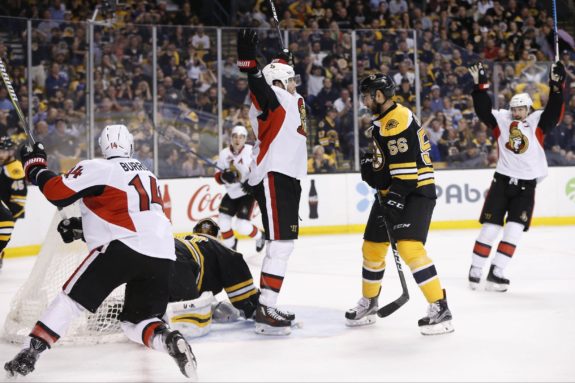 But one point that has been raised – and it's a fair point that even Ryan has made in self-deprecating fashion – is that no team would willingly take on his enormous cap hit of $7.25 million. Assuming George McPhee is of the same mindset, the Sens could take the protection spot they had earmarked for Ryan and use it on the younger Dzingel or resilient veteran Pyatt.
The issue, of course, is there's no guarantee McPhee and the Golden Knights stay away from Ryan if he's left exposed, even with his cap hit. They need to hit the cap floor some way, but more importantly, if this postseason is any indication of the kind of production they can expect from him, it would be a lot easier to swallow that contract (even at 30 years old).
From the Senators' perspective, it would be a huge blow to lose their most productive playoff performer at the forward position, along with the chemistry he found with Brassard. But, if he regresses to the kind of production Sens fans have seen since 2013-14, it'll be a long five years as Ryan plays out the remainder of his contract.
Methot's Rise
Though he wasn't one of the three defencemen I protected, that doesn't mean Methot is going to be left exposed when the time comes for the Golden Knights to select their roster. The Senators could, as I did, make a side deal with McPhee to guarantee Methot doesn't get selected (I traded goalie prospect Marcus Hogberg for the right to keep Methot).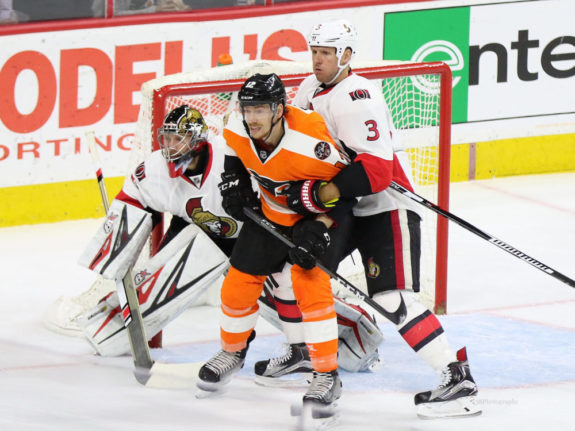 It's a far cry from the pre-season predictions that had Karlsson, Phaneuf and Ceci slotted in as the shoe-ins to be protected, while Methot was given little to no chance of swapping out anyone in that trio. But he showed his value throughout the season, not just as the guy who lines up beside Karlsson but as a strong shutdown defenceman.
Many fans thought his play cemented his spot as part of the future, but grappled with the question of who to expose in response. Ceci was the logical choice, with Karlsson guaranteed to be protected and Phaneuf's no-movement clause to work around, but if Dorion could convince Phaneuf to waive that NMC and guarantee he wouldn't be selected that would produce a more favourable outcome for Ottawa.
Older and more expensive than Methot, it would likely cost the Sens a lesser prospect to negotiate the right to keep Phaneuf than it would to keep Methot. But there's no guarantee the Sens could come to terms on such a deal for Phaneuf – or Methot for that matter – but the loss of Phaneuf would hit harder than losing Methot.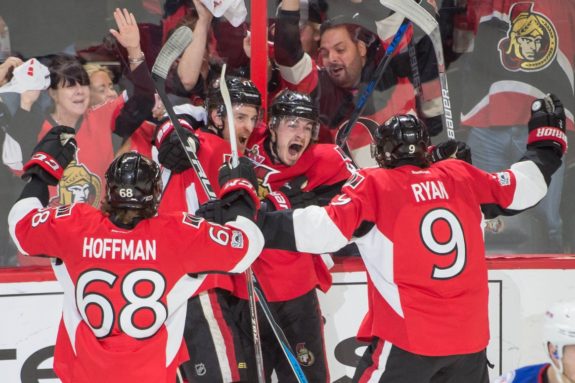 Dorion's Full Plate
Dorion may not have many difficult decisions to make with regards to the protection debate, but that doesn't mean the next week will be without its share of hair-losing moments. He still has to get forwards under contract in order to be able to expose the minimum two players, and Pageau still needs a contract to be protection eligible.
Burrows would satisfy one of the two exposure requirements, and Dorion could offer a one-year contract to someone like Pyatt or Wingels, who could be scooped up but who also wouldn't be a burden on the roster if he stays. No matter how he makes it work, one thing is for sure, the lead-up to the Expansion Draft is going to be a roller coaster of emotions.