A cruel and unfortunate Vancouver Canucks season took another nosedive during the NHL Draft Lottery. The Canucks fell three spots to fifth overall, missing out on one of the two stud centremen that sit at the top of the draft rankings.
It's not the end of the world with some stellar players available at the number five slot. Much of the talk going into this draft is about how it is weaker than years past. That point of view seems a bit overblown. There are many players available who should go on to carve out useful NHL careers.
When the Canucks sat in the same spot last year, most people expected them to take Matthew Tkachuk. They surprised everyone by picking Olli Juolevi instead. There should be more debate heading into the fifth pick this year, with not much separating the players who might be available.
Here are five players the Canucks could select at fifth overall. I've ranked my selections from least likely to most likely.
Casey Mittelstadt
Casey Mittelstadt has been rumoured to be targeted by the Canucks ever since Jim Benning was spotted scouting him back in the spring. The Canucks have an obvious need for a number one centreman, and Mittelstadt has that potential.
Spending part of this season playing high school hockey apparently hasn't hurt his draft stock too much. That's partly because he was a force when playing in the USHL. He led the league in points-per-game, with 30 points in 24 games. He also played a smart, clean game with only two penalty minutes on the season.
While most scouts think Mittelstadt is a potential top five selection, it's possible that's he's being rated too highly. He's a legitimate first-round prospect, but there might be better options for the Canucks at number five.
Gabe Vilardi
For a top prospect, there have been some up and down reviews on Gabe Vilardi, mainly related to the fact that his skating wouldn't translate to the NHL level. As the season progressed, those doubts seem to have been erased. He's cemented himself as a top-five selection.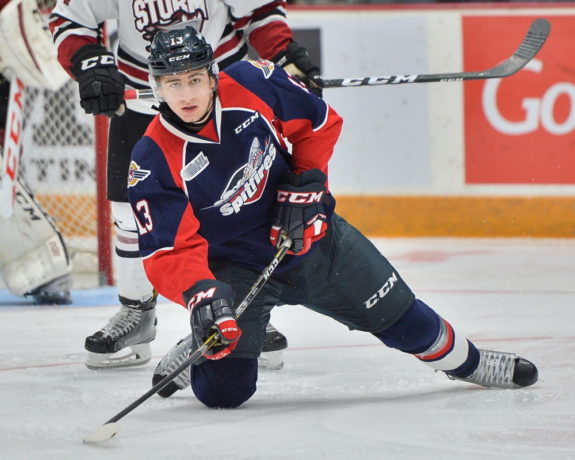 Vilardi had a strong Memorial Cup Final, where he had seven assists in four games. He showed poise in all three zones and projects as a solid two-way centre with excellent puck skills. His combination of size, skill and defensive smarts have him on track to be a top-six forward at the NHL level.
There's a strong likelihood that he could be off the board by the time the Canucks pick at number five, which is fine for the organization. There are some higher-risk, higher-reward picks in this draft, while Vilardi is a safer bet.
Cale Makar
The young defenceman out of the Alberta Junior Hockey League has been turning heads, and he's arguably the top defensive prospect in this draft, along with Miro Heiskanen. He represents a growing trend among defencemen who have elite skating and puck-moving abilities despite their smaller stature.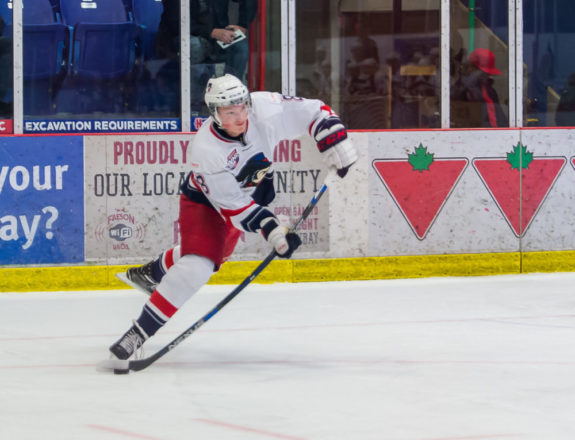 While the Canucks desperately need a number one centre, there's a chance that they could decide Makar's upside as a number one defenceman trumps that. If they believe highly in both Makar and Olli Juolevi, the Canucks could have a formidable top pairing on defence for years to come.
Makar represents an interesting option for the Canucks at number five. Only two players in the AJHL's history have been selected in the first round of the NHL Entry Draft. They were Joe Colborne (1st round, 16th overall in 2008) and Brent Sutter (1st round, 17th overall in 1981). Makar should become the highest-drafted player in the League's history.
Elias Pettersson
Grabbing Elias Pettersson at fifth overall might be a bit of a reach, but the Canucks could justify doing so. The young Swedish centre had a breakout year for Timra IK in Sweden's second-best league, Allsvenskan. He was successful while playing alongside Canucks prospect Johnathan Dahlen.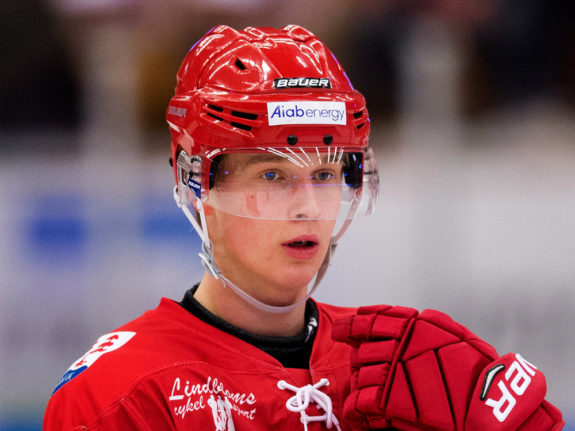 Although Pettersson and Dahlen were only 17 and 18 years old respectively to start the season, they led their team in points by a large margin. Dahlen led the team with 45 points in 44 games, while Pettersson had 40 points in 43 games.
Pettersson wasn't just known for his offence. Scouts applauded his ability to play effectively in all three zones. He has some obvious filling out to do since he only stands at 150 lbs, but he has potential as a first line NHL player. The Canucks may draft him with visions of him and Dahlen becoming the next great Swedish duo in Vancouver.
Cody Glass
If he's available at number five, Cody Glass should be the apple of the Canucks' eye. He exploded for 94 points during his sophomore WHL season, which has vaulted him up draft lists. His 63 even-strength points were best among all draft eligible players in the WHL. With 0.68 primary points at even-strength per game, he's only behind Owen Tippett, Gabe Vilardi, Kailer Yamamoto and Nico Hischier for all draft-eligible CHL players.
He's been compared favourably to two bonafide first-line NHL centres: Ryan Johansen and Mark Schiefele. Glass's points-per-game bested both of those players in their draft eligible seasons. He's on track to be just as good as those players, as long as he improves his strength. Given his age, he has the potential to be better than those players.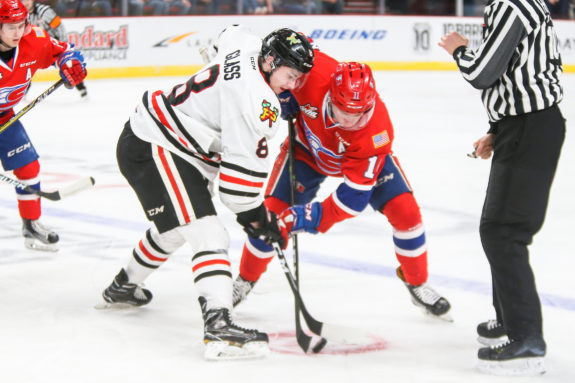 Glass has already been applauded by his head coach Mike Johnston for his two-way game along with his offensive ability. He was an offensive leader and a top penalty killer for the Portland Winterhawks. His point totals per game are better than projected first-overall pick Nolan Patrick in a number of categories. He also compares favourably to other past draft picks from the WHL.
The combination of Glass and Bo Horvat should give the Canucks a solid 1-2 punch down the middle for years to come. If Glass is still available at number five, he's the best option available for the rebuilding Canucks.