The Detroit Red Wings will roll into the TD Garden Tuesday evening to take on the Boston Bruins for the third time in 2016-17. The clubs split the previous two contests with the Bruins taking a 1-0 win on Oct. 29 and the Red Wings capturing a 6-5 victory on Jan. 18.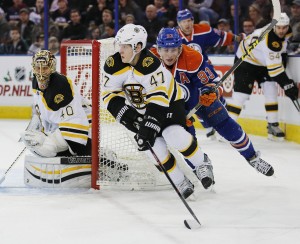 The Bruins will be looking to redeem themselves in front of their home crowd from the recent loss to the Red Wings. In the loss, the Bruins led by three goals on two separate occasions but ultimately fell in a shootout. A win will not only redeem the bad loss but will also end a four-game losing streak that began on Jan. 16 against the New York Islanders.
The Red Wings have started to claw their way back into the Eastern Conference playoff race by recording points in nine of their last 12 games. Despite being faced with numerous injuries all season, the Wings are only four points out of a playoff spot in a tight race.
---
Detroit Red Wings at Boston Bruins
TD Garden-7:00 p.m. E.S.T
Broadcast Channels-NESN, SN, FS-D, 98.5 The Sports Hub
2016-17 Season Series: Tied 1-1
Detroit Red Wings-20-19-8- 48 Points
Road Record: 10-9-4
Hot Players: Frans Nielsen, Mike Green, Gustav Nyquist
Key Injuries: Brendan Smith, Jimmy Howard, Thomas Vanek, Dylan Larkin
Projected Lines:
Forwards
Gustav Nyquist-Henrik Zetterberg-Anthony Mantha
Andreas Athanasiou-Frans Nielsen-Tomas Tatar
Justin Abdelkader-Riley Sheahan-Tomas Jurco
Steve Ott-Darren Helm-Luke Glendening
Defense
Dan DeKeyser-Mike Green
Jonathan Ericsson-Xavier Ouellet
Niklas Kronwall-Nick Jensen
Goaltender
Jared Coreau
[irp]
Boston Bruins-23-21-6- 52 Points
Home Record: 10-12-0
Hot Players: Torey Krug, David Krejci, Patrice Bergeron 
Key Injuries: Kevan Miller, Colin Miller
Projected Lines:
Forwards
Brad Marchand-Patrice Bergeron-Frank Vatrano
Tim Schaller-David Krejci-David Backes
Ryan Spooner-Riley Nash-David Backes
Matt Beleskey-Dominic Moore-Austin Czarnik
Defense
Zdeno Chara-Brandon Carlo
Torey Krug-Adam McQuaid
Joe Morrow-John-Michael Liles
Goaltender
Zane McIntyre
[irp]
Game Notes
[miptheme_dropcap style="normal" color="#222222″ background=""]1)[/miptheme_dropcap] In the Bruins last outing on Sunday, goaltender Tuukka Rask left the game in the second period due to a migraine. The team is not sure if Rask will be available against the Red Wings making backup goalie Zane McIntyre the possible starter for the contest. McIntyre, a 24-year-old rookie, has played in seven NHL games this season posting a 0-3-0 record with a 3.95 GAA and a .860 save percentage.
[miptheme_dropcap style="normal" color="#222222″ background=""]2)[/miptheme_dropcap] The Red Wings have had a tough time shaking the injury bug from their locker room in 2016-17. On Sunday, versus the New York Rangers, Dylan Larkin and Thomas Vanek both went down with injuries and will miss Tuesday's game. This is a big blow to the Red Wings because Larkin and Vanek are tied for the team lead in goals with 12 each. Vanek also leads the team in points with 31 and has had a lot of success against the Bruins in the past.
[miptheme_dropcap style="normal" color="#222222″ background=""]3)[/miptheme_dropcap] Bruins defensemen Colin Miller and Kevan Miller both practiced with the team on Monday after being sidelined with injuries. Colin Miller has missed the past six games with a lower-body issue and was cleared for full-contact on Monday while Kevan Miller has spent the past four games recovering from a concussion. With both players being evaluated after practice, it appears they may return to the lineup against the Red Wings.
[miptheme_dropcap style="normal" color="#222222″ background=""]4)[/miptheme_dropcap] Tomas Jurco will be making his return to the Red Wings lineup after being a healthy scratch for the past eight games. Jurco has played 11 games for the Wings this season, but has struggled and has not recorded a point in 2016-17. Last season, Jurco posted six points in 44 NHL games. This will be his first NHL game action since Jan. 4 against the Anaheim Ducks.
[miptheme_dropcap style="normal" color="#222222″ background=""]5)[/miptheme_dropcap] Torey Krug has been picking up his game for the Bruins over the past 16 games. In this 16-game stretch, Krug has recorded 15 points, including an assist against the Red Wings on Jan. 18. He will be looking to add to his point total and lead his team to much-needed victory.
The Bruins and Red Wings have met twice this season with both games being decided by just one goal and with a playoff spot on the line, this matchup will most likely come down to one goal yet again.
If the Bruins hope to secure a victory and end their four game losing streak, they will have to play a complete 60-minute game. In their last outing against the Red Wings, the Bruins were dominate in the opening period and scored four goals, but were unable to maintain their high level of play and ended up losing.
The biggest problem facing the Red Wings is the loss of Dylan Larkin and Thomas Vanek, their leading goal scorers. While they are sidelined, the Red Wings will be looking for different players to step up and produce goals. Goals have been hard to come by for the team this season, but there is plenty of firepower in the lineup with Henrik Zetterberg, Gustav Nyquist and Anthony Mantha for them to still be dangerous.