Tonight's contest between the New York Islanders and the Vancouver Canucks is really a tale of two coaches.
Since the Islanders fired Jack Capuano on Jan. 17, Dought Weight has led this team to a 14-6-3 record, vaulting them back into the playoff picture. John Tavares has looked like his old-self under Weight, and he is tied for fifth in the NHL with 24 points since Jan. 17. Free agent signing Andrew Ladd also looks reinvigorated with 10 goals in 20 games during that time span.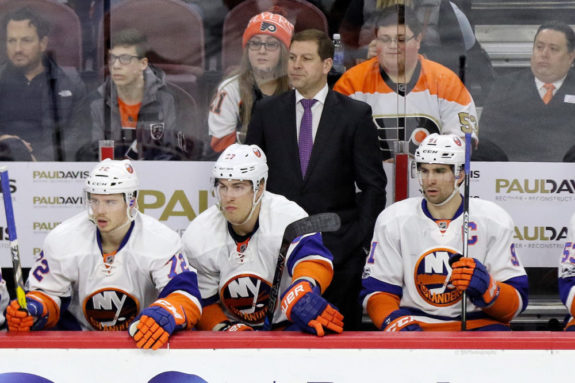 The Islanders recent stretch of games has them temporarily clinging onto the last Wild Card spot in the Eastern Conference, although four other teams are nipping at their heels. Despite their victories, there are some blemishes on Weight's resume. His team suffered two brutal losses, a 7-1 defeat to the Toronto Maple Leafs and a 7-0 walloping delivered by the Columbus Blue Jackets.
The Canucks haven't been obliterated in any games recently, but Willie Desjardins' ragtag group of players have plodded along to a 7-11-2 record since Jan. 17. Trevor Linden caused a media firestorm when he was asked about Desjardins future during a TSN 1040 radio interview on Tuesday. Last year at this time, Linden backed Desjardins, basically guaranteeing his job security. This time around, he said that the coach "would be assessed at the end of the season."
It will be a tough call for management to make, with Desjardins having both successes and downfalls during his three years in Vancouver. He often makes maddening roster decisions and seems to favour players who haven't earned ice time. Players such as Linden Vey, Matt Bartkowski, and Jayson Megna come to mind. Vancouver's special teams play has also plummeted after they were solid during Desjardins' first season. Since the beginning of the 2015-16 season, Vancouver has the 22nd ranked penalty kill and the league's worst power play.
However, Desjardins does a good job of commanding respect from his players. Despite their weak roster, the Canucks manage to hang around in most games. The development of young players such as Bo Horvat, Sven Baertschi, Ben Hutton, Troy Stecher, Markus Granlund, and Nikita Tryamkin also looks good on Desjardins' resume.
Tonight, we will watch one coach push his team to fight for their playoff lives. You could argue that the other team is doing the same but realistically, it's Desjardins' fighting for his job.
---
New York Islanders @ Vancouver Canucks
Thursday, March 9, Rogers Arena, 7:00 p.m. PST
Broadcast Channels: SNP, MSG
2016-17 Season Series: Nov. 7 – Canucks 2 – Islanders 4
New York Islanders: 31-23-11, 73 Points, 8th in Eastern Conference
Hot Players: John Tavares (10 points last 10 GP), Josh Bailey (7 points last 7 GP)
Key Injuries: Shane Price, Johnny Boychuk, Adam Quine, Casey Cizikas
Projected Lines
Forwards
Anders Lee – John Tavares – Josh Bailey
Andrew Ladd – Ryan Strome – Jason Chimera
Stephen Gionta – Brock Nelson – Joshua Ho-Sang
Nikolay Kulemin – Anthony Beauvillier – Cal Clutterbuck
Defence
Nick Leddy – Adam Pelech
Calvin de Haan – Travis Hamonic
Thomas Hickey – Dennis Seidenberg
Starting Goaltender
Thomas Greiss
[irp]
Vancouver Canucks: 28-30-8, 64 Points, 11th in Western Conference
Hot Players: Bo Horvat (5 points last 4 GP)
Key Injuries: Loui Eriksson, Jacob Markstrom, Nikita Tryamkin (questionable), Nikolay Goldobin (flu), Jack Skille, Erik Gudbranson, Derek Dorsett, Anton Rodin
Projected Lines
Forwards
Daniel Sedin – Henrik Sedin – Markus Granlund
Sven Baertschi – Bo Horvat – Reid Boucher
Brendan Gaunce – Brandon Sutter – Jayson Megna
Joseph Cramarossa – Michael Chaput – Alex Biega
Defence
Alex Edler – Troy Stecher
Luca Sbisa – Chris Tanev
Ben Hutton – Philip Larsen
Starting Goaltender
Ryan Miller
---
Game Notes
[miptheme_dropcap style="normal" color="#222222″ background=""]1)[/miptheme_dropcap] Canucks fans might remember this gem of a game, which happened almost three years ago to the day.
If it wasn't already the case, this was definitely one of the games that spelled the end of John Tortorella's tenure. The Canucks gave up an unruly seven goals in the third period, after leading by three goals heading into the second intermission. With Desjardins on the hot seat, we couldn't see another Canucks coaching tenure end against the Islanders, could we?
[miptheme_dropcap style="normal" color="#222222″ background=""]2)[/miptheme_dropcap] It's almost not impossible not to address the story that came out of the Irish Times today. Irish hurler Lee Chin was in town as part of Irish TV show Toughest Trade, where amateur hurlers spend a week with top professional sports organization. Chin spent his week with the Canucks organization. He stated that after a bad stretch of games, management requests that a player goes through a "change-up," where they spend the night drinking 20 pints while sleeping with a couple women, in hope that they can forget their troubles on the ice.
It was a bombshell of a story that seems almost too juicy to be true. In fact, it is probably too good to be true. Chin spent most of his week with the Vancouver Canucks alumni, and reportedly spent  only one lunch with current Canucks players. In all likelihood, he was probably spoon-fed this story by one of the Canucks alumni.
I am looking forward to the movie they're making about the Canucks, I won't lie pic.twitter.com/Ldmvm8MqIp

— Wyatt Arndt (@TheStanchion) March 9, 2017
[miptheme_dropcap style="normal" color="#222222″ background=""]3)[/miptheme_dropcap] Jason Botchford of The Province mentioned that Philip Larsen made a joke saying he would have had "2,000 pints" by now under the change-up philosophy. It's been a rough season for Larsen, who could come back into the lineup tonight if Nikita Tryamkin hasn't fully recovered from mumps. Alex Biega should slot in as a forward, with Nikolay Goldobin out with the flu. Biega has passed Larsen on the depth chart, and he has a strong performance against Montreal on Tuesday.
[miptheme_dropcap style="normal" color="#222222″ background=""]4)[/miptheme_dropcap] Ryan Strome is seems to be one player benefiting from the head coaching change in Brooklyn. He has 14 points in 23 games since the coaching change, although his scoring is streaky. He's only registered points in two of the last 11 games, but in both those games he had three points. There was a three-game gap between the two games where he got three points. It's also been three games since he last registered three points. Still following? If there's a pattern here, watch for him to get on the score sheet tonight.
Here's my piece on Boucher from January https://t.co/iUgjRQkOtx #Canucks #THW

— Trevor Beggs (@TrevBeggs) March 2, 2017
[miptheme_dropcap style="normal" color="#222222″ background=""]5)[/miptheme_dropcap] With Goldobin out with the flu, I have Reid Boucher penciled in on the second line. Last time he was up there, he played a strong game with Bo Horvat and Loui Eriksson. However, he doesn't seem to have the coaches trust. Linden also mentioned in his interview on Tuesday that Boucher is on the same conditioning plan that Tryamkin was on earlier in the season. Here's hoping the offensively-minded winger gets a chance to play with Horvat, but don't be surprised if Joseph Cramarossa gets another look beside the Canucks' best player.
KPU Journalism Graduate. Trevor has been writing for The Hockey Writers since October 2014. He has contributed articles related to the Ottawa Senators, Vancouver Canucks, and other issues/stories regarding the game of hockey. Trevor currently lives in White Rock, B.C.