With 2016 coming to a close, I decided to put myself through one of the toughest exercises of 2016: Finding the ten most positive Canucks storylines in 2016.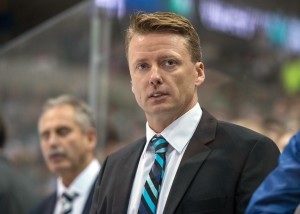 To be blunt, 2016 was not an easy year for the Vancouver Canucks. They were the third-worst team in the NHL during the 2015-16 season, and they haven't improved on that position, currently ranked 28th overall in the NHL. The Canucks lost out big time on the draft lottery, and have watched perennial laughingstocks such as the Edmonton Oilers and Toronto Maple Leafs overtake them in the standings.
Still, there must be some reasons why Canucks fans are still avidly watching the team. Despite the fact that ticket sales are dropping, the Canucks are ranked as the seventh most valuable team in the NHL, according to Forbes and there is still an undying thirst for hockey in this city, despite all the troubles that the Canucks are enduring.
With that being said, let's be positive for a moment and check out ten positive storylines from the Canucks in 2016.
10. Canucks Draft Juolevi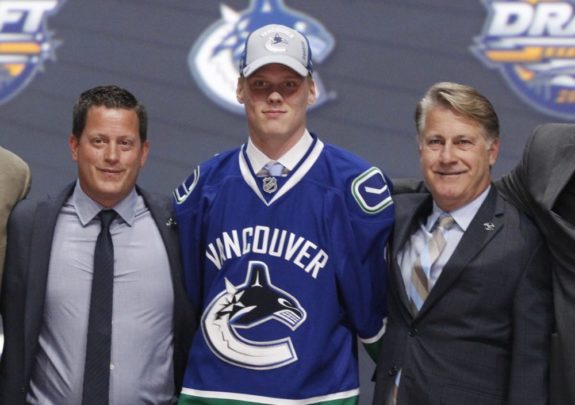 It's almost hard to consider this a positive storyline for the Canucks, especially since they fell out of the top three in the draft despite having the third-worst record. They watched a superior Winnipeg team leapfrog them and select Finnish sniper Patrik Laine, while the Canucks missed out on both Jesse Puljujarvi and Pierre-Luc Dubois. Their selection of Olli Juolevi has also come under fire with sixth overall pick Matthew Tkachuk exceeding expectations in Calgary.
Nonetheless, the selection of Juolevi should be exciting for the Canucks. He is projected as top-two defencemen with elite playmaking ability. If that comes to fruition, then no one will question Jim Benning's selection.
9. Burrows Rediscovers Himself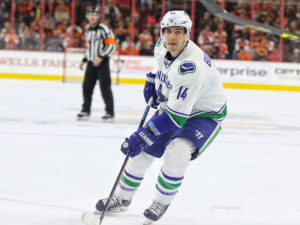 After a dismal 2015-16 campaign, many believed that Alex Burrows was going to be bought out by the Canucks. Burrows had one year left on his contract with a $4.5 million cap hit, making him a prime buyout candidate. Instead, Benning and Trevor Linden decided to keep Burrows around, citing that his strong leadership abilities were vital for the increasingly young Canucks locker room.
Their good faith has been rewarded this season. While Burrows isn't necessarily lighting the lamp offensively, his line with Bo Horvat and Sven Baertschi clicked offensively when the trio was put together in November.
Burrows looks like a sure bet to surpass his 22 points from last season, as he slowly climbs up the Canucks all-time points list. He has set himself up for another contract with the Canucks, albeit with a smaller price tag. Keep track of his name as the trade deadline approaches; it wouldn't be surprising if a few teams were interested in his services.
[irp]
8. North Dakota Wins National Title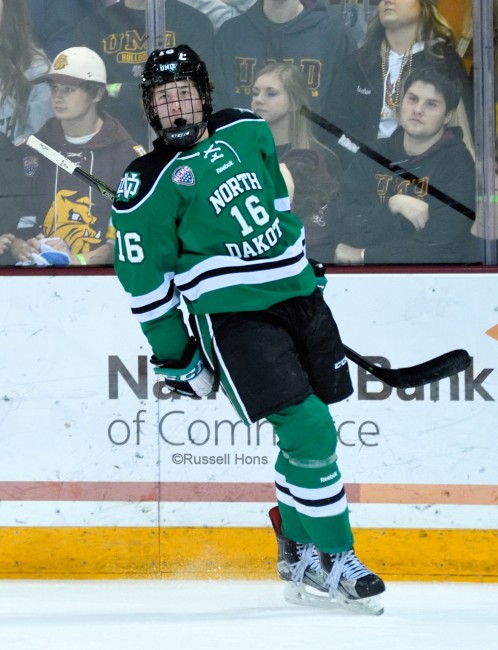 Okay, so Canucks fans weren't going out to the bar to celebrate after North Dakota captured the NCAA hockey title (or were they?), but there are reasons to be excited. The Fighting Hawks were in part led by Brock Boeser, the best offensive prospect that the Canucks have in their organization. In the final Frozen Four game against top-ranked Quinnipiac, Boeser led the way with a goal and three assists. His efforts have scouts drawing comparisons to Joe Pavelski.
There was also a stalwart on defence for North Dakota that the Canucks would later sign as a free agent. Although many teams pursued Troy Stecher, he chose to sign with his hometown Canucks. His praise for Benning during the negotiations painted a better picture of the maligned Canucks general manager.
7. Hutton Earns Raise
Ben Hutton was easily the biggest surprise of the 2015-16 training camp. He not only cracked the roster but led all Canucks defencemen in points. Although he has hit a bit of a snag in his sophomore year, he earned a two-year, $5.6 million extension, as locking up another piece of an emerging defence core was a priority for Benning, especially considering Hutton's potential.
Hutton has struggled with Erik Gudbranson this season in a pairing that Willie Desjardins refused to split up. However, he has looked better recently while playing with Chris Tanev. His point totals for the season are down, but he is on pace for nine goals this season after getting just one last year. His penalty shot goal in overtime against the Coyotes might just be one of the best Canuck goals of 2016:
6. Towering Tryamkin Carves Out Role
With the Canucks drearily playing out the rest of the 2015-16 season, sleepy fans awoke when the towering 6'7 Nikita Tryamkin signed a contract in March. He scored a point in his NHL debut and played 13 games for the Canucks that season.
When the 2016-17 season started, Tryamkin sat in the press box without a spot in the lineup. When Benning tried to send him down to the minors for a conditioning stint, Tryamkin flexed the out-clause in his contract and denied the demotion. The clause in his contract states that he can return to Russia if the Canucks try to send him down to the minors.
It turned out that Tryamkin was worthy of NHL playing time, even after a lacklustre preseason. Injuries meant that the young Russian was able to crack the lineup, and he has shown a strong defensive game by using his size and his incredibly long reach. Tryamkin is still on a learning curve, but it looks like the Canucks have a legitimate NHL defender on the rise.
5. Granlund Helps Canucks Get Over Shinkaruk Trade
The straight up trade of Hunter Shinkaruk for Markus Granlund was both shocking and groan-inspiring when it went down. There weren't too many Canucks critics, myself included, who were happy to see Shinkaruk shipped out of Vancouver.
It just goes to show you why judging a trade at its outset is a redundant task. Shinkaruk was in the midst of a breakout year in the AHL when Benning traded him for the 23-year-old Granlund. The hope was that the Canucks would receive an NHL ready player who was responsible at both ends of the ice.
The trade which initially looked like a steal for Calgary has tilted in Vancouver's favour. Granlund has proved to be an effective top-nine NHL player, although he needs to show more consistency. Shinkaruk however, looks like a player who can dominate at the minor league level but can't seem to get it together at the NHL level.
Perhaps Shinkaruk is a little less Jeff Skinner or Patrick Kane, and a little more Linden Vey?
4. Baertschi Flashes Top Six Potential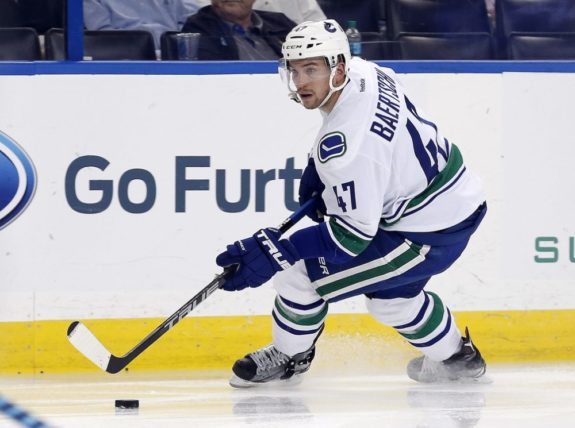 In another trade with the Flames, Benning acquired Sven Baertschi from Calgary back in 2015. After a slow start to the 2015-16 season, Baertschi scored at a 25-goal pace throughout the rest of the year. He formed a legitimate second-line threat with Bo Horvat, and for the first time in a while, it looked like the Canucks had some solid secondary scoring options.
Baertschi had another slow start to this season but is currently the Canucks leader at points per 60 minutes at even-strength. Like most of the young players on the Canucks, he still needs to find his consistency. However, he is making Benning look smart for taking a gamble on the former first round pick. Baertschi picked up his game in the second half of last season, and the Canucks will be looking for more of the same heading into 2017.
[irp]
3. Hansen Reaches Triplet Status
Move over Burrows, the Sedins have found a new triplet.
After spending most of his career in a bottom-six role, Hansen found himself playing regularly with the twins for the majority of the 2015-16 season. Hansen set new career highs in both goals and points, and he has become one of the Canucks' most reliable goal scorers. That may say more about the Canucks than it does about Hansen, but Vancouver should be happy to have his services for only $2.5 million per season.
Because of injuries and a lack of production from Loui Eriksson, the Sedins have seen a revolving door of linemates all season long. Still, their most effective linemate this season has been Hansen. Sorry, Brandon Sutter.
2. The Emergence of Troy Stecher
The native of Richmond was the apple of Trevor Linden's eye at the Canucks prospect development camp in July. He boasted about how Stecher's leadership abilities were above and beyond his peers at the time. Canucks fans got to see a glimpse of what Linden was talking about when training camp started in September.
In Ben Hutton-like fashion, Stecher had a fantastic preseason. Although he was initially sent down to Utica before the beginning of the regular season, there was no question that he was one of the Canucks' best six defencemen from camp.
After earning his first recall just a week and a half into the season, fans were gushing over Stecher's performance. Stecher-mania officially engulfed Vancouver just days after his arrival. He didn't show any sign of nerves in his first game and essentially replaced Chris Tanev on the Canucks' back end. That's no easy job, but Stecher stepped into the lineup, playing a whopping 22:35 in his first matchup.
His first career goal was a memorable one. With the Canucks trailing the Stars, Stecher ripped one past Kari Lehtonen to tie the game, before Granlund scored the winner in overtime. Welcome to the NHL, kid.
Stecher has shown incredible poise for a rookie so early in his NHL career. He is already smashing the narrative that some players are too small to make it in the NHL. He has 10 points in 27 games this season, and between himself, Tanev, Hutton, and Tryamkin, the Canucks look like they have a bright future on defence.
1. Horvat Becomes Canucks Best Forward
One area where the Canucks' future looks murkier is up front on offence. Can you imagine where they would be without Bo Horvat?
In his third NHL season, Horvat is truly coming into his own as a top-six forward and a potential first line centre. There is no perfect succession plan for the Sedins in Vancouver, but having Horvat on the roster should at least inspire fans with some hope.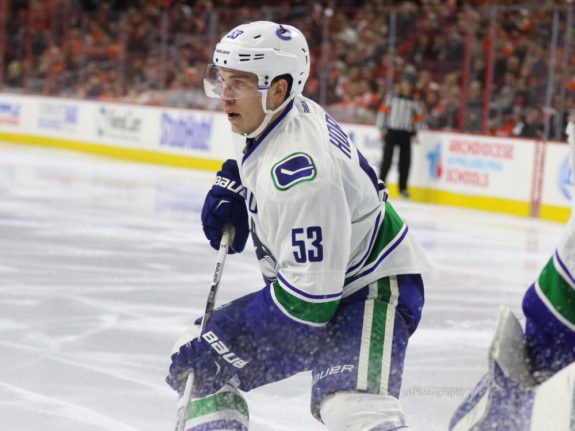 Horvat had a brutal end to his 2015 year and entered 2016 in the midst of a 26 game goal drought. He then struggled with extra minutes after an early injury to Sutter.
His goal drought finally snapped on January 4th against the Arizona Coyotes and he exploded for three more goals in the next two games. He forgot about his brutal start by putting up 14 goals and 29 points the rest of the way.  If we add that to his totals from this season, Horvat had put up 25 goals and 27 assists in 80 games over the last calendar year. At only 21, those are strong second line numbers.
With the Sedins at the dusk of their careers and Horvat still improving with each game, there's no question that he is the best Canucks forward at the moment. He plays the completest game of anyone on the roster, and he gives his organization hope heading into the future.
---
It might not have been easy, but there are your feel-good Canucks stories of 2016. If you believe I missed something from the Canucks' glowing plethora of positivity from 2016, mention it in the comments below, or reach me on Twitter @BeggsTHW
KPU Journalism Graduate. Trevor has been writing for The Hockey Writers since October 2014. He has contributed articles related to the Ottawa Senators, Vancouver Canucks, and other issues/stories regarding the game of hockey. Trevor currently lives in White Rock, B.C.