The Los Angeles Kings will try to avoid losing back-to-back games when they host the Minnesota Wild Saturday afternoon.
The Kings opened a seven-game homestand against the Detroit Red Wings on Thursday night. They stumbled out of the gate and allowed three goals in the game's first period, which coupled with a 34-save performance by Detroit's Jared Coreau added up to a 4-0 loss to open the seven-game stretch.
It was the fifth time Los Angeles has been shut out this season, something that happened only four times last season.
The importance of this homestand is apparent in the Kings' locker room. "Yeah, we obviously love playing at home here in front of our home fans, and we feel comfortable here and we feel like we need to string wins together," said Drew Doughty via LA Kings Insider. "So we're going to start doing that as of the next game."
The Wild, on the other hand, will be on game two of their trip through California. The trip started on Thursday in San Jose where Minnesota fought back from being down two goals in the third period for a 5-4 win. Mikko Koivu and Eric Staal both scored twice and accounted for all three of Minnesota's third-period goals in the comeback effort.
Going into the game on Saturday afternoon, the Wild have won 13 of their last 14 games and sit in second place in the Central Division. The Kings, however, have not been as hot going 4-4-2 in their last ten contests. When the two teams last met, all but two of Minnesota's skaters registered at least one point in a 6-3 win for the Wild.
The two teams will meet one final time in Minnesota to conclude their 2016-17 season series on Feb. 27.
[irp]
Minnesota Wild at Los Angeles Kings
Staples Center – 1:00 p.m. PST
 Broadcast channels – NHL-N, FS-W, FS-N
2016-17 Season Series: Oct.18– Wild 6 – Kings 3
Los Angeles Kings – 19-16-4 – 42 Points
Home Record:11-5-1
Hot Players: Jeff Carter
Key Injuries: Tyler Toffoli and Jonathan Quick
Projected Lines:
Forwards
Gaborik – Kopitar – Brown
Pearson – Carter – Setoguchi
Clifford – Dowd – Lewis
King – Shore – Nolan
Defense
Forbort – Doughty
Muzzin – Martinez
McNabb – Gravel
Starting Goaltender
Budaj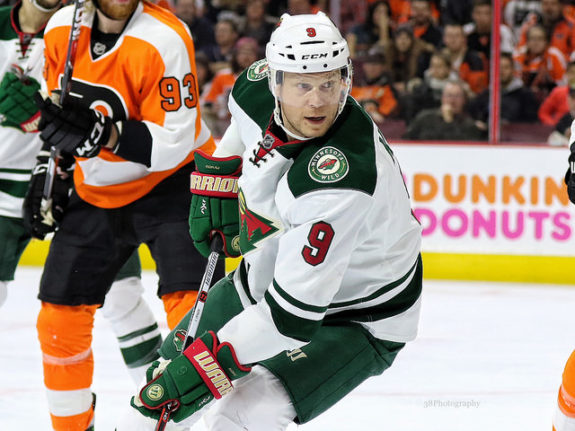 Minnesota Wild – 24-9-4 – 52 Points
Away Record: 11-5-4
Hot Players: Mikael Granlund and Mikko Koivu
Key Injuries: Victor Bartley
Projected Lines:
Forwards
Parise – Staal – Pominville
Zucker –Koivu –Granlund
Niederreiter – Haula – Coyle
Stewart – Graovac – Schroeder
Defense
Suter – Spurgeon
Brodin – Dumba
Scandella – Folin
Starting Goaltender
Kuemper
[irp]
Game Notes
[miptheme_dropcap style="normal" color="#222222″ background=""]1)[/miptheme_dropcap] Darcy Kuemper will be between the pipes for the Wild. Devyn Dubnyk, who has been having a stellar year, will get the night off as a result. Although it is a small sample size, Kuemper has performed well when facing the Kings.
Darcy Kuemper at Staples Center: 2-0-1 in four goals with a 0.98 GAA and .967 SV%#mnwild

— Michael Russo (@Russostrib) January 6, 2017
[miptheme_dropcap style="normal" color="#222222″ background=""]2)[/miptheme_dropcap] Going into the game, the Wild sported the Western Conference's best goal differential with a plus-38 and 118 goals scored. The Kings, a team that has been starving for any kind of consistent offensive production outside of Jeff Carter, could use some of those goals and have only scored 94 goals and sport a minus-two goal differential.
[miptheme_dropcap style="normal" color="#222222″ background=""]3)[/miptheme_dropcap] Jumping off of the point above, Minnesota and Los Angeles find themselves at two opposite ends of the spectrum when it comes to offensive contributions. While the Wild have scored 118 goals the production has been evenly distributed across the board. Six players have scored nine or more goals including four who have eclipsed at least ten goals for Minnesota. The Kings, on the other hand, have only Jeff Carter (21) and Tanner Pearson (10) with ten or more goals to their name.
[miptheme_dropcap style="normal" color="#222222″ background=""]4)[/miptheme_dropcap] While Los Angeles ranks third in the Western Conference in goals against, their offensive output of 94 goals in 39 games is better than only two other teams in the conference. The two have practically cacnelled each other out and kept the Kings from putting together any consistent play.
[miptheme_dropcap style="normal" color="#222222″ background=""]5)[/miptheme_dropcap] The Kings are 25-19-13 all time against the Wild and are 13-9-6 when facing Minnesota on home ice.