Near the end of November, I reexamined what the Oilers would do when it came to protecting their players from Las Vegas in the 2017 NHL Expansion Draft. I'd noted that the potential list created internally by the Oilers would be consistently changing as the season unfolded and transactions that might happen within the organization would create change. At the 20-game mark, in my eyes, the overall direction Edmonton would take into the expansion draft was altered dramatically from where it sat at the start of the season.
The Lists
Prior to the Start of the Season: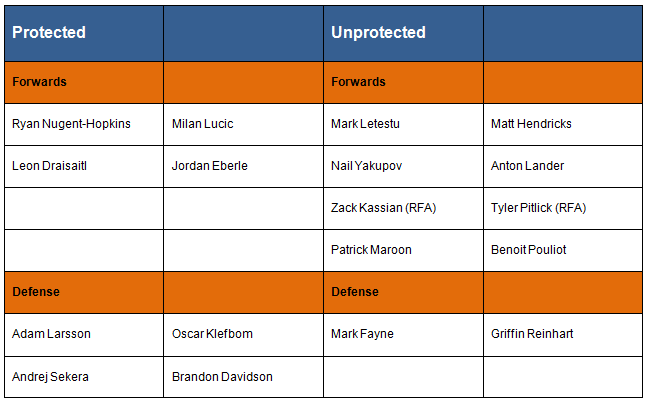 20 Games Into the Season: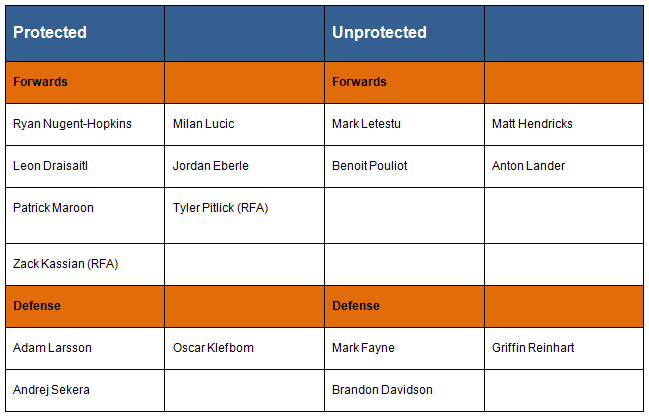 As you can see, Edmonton went from a team likely to select eight players for protection at the start of the year (keeping their four key defensemen) to protecting seven forwards and three defensemen (Davidson's injury and some key play by some developing forwards had altered the dynamic).
What Changed?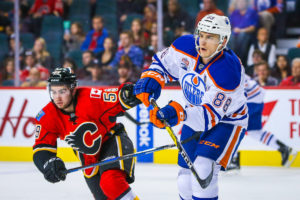 Outside of the aforementioned injury to Brandon Davidson, some of Edmonton's forwards — forwards who weren't really expected to be huge keys to the Oilers victories this season — started to cement themselves as key parts of the Oilers going forward. So too, some of the on the cusp depth pieces like Nail Yakupov and Benoit Pouliot were either traded or had performed so poorly, they became nothing but afterthoughts in the expansion draft conversation.
The biggest factor from the zero-game mark to the 20-game mark was the potential for Edmonton to go into the expansion draft protecting only three defensemen and come out without much damage. Davidson hadn't had a chance to prove his value and with other NHL defenders out there for Las Vegas, the odds Davidson would be selected had gone down.
After 40 Games
20 more games in a season can change a whole lot. In a matter of only six weeks, Davidson has returned but still isn't 100 percent healthy, Kris Russell might be extended, Tyler Pitlick has been injured for the remainder of the season, Pouliot has gotten worse (hard to believe that was possible) and Patrick Maroon has tied himself for the team lead in goals. All of these things has the potential to impact what the Oilers look to do as the expansion draft moves closer.
Defense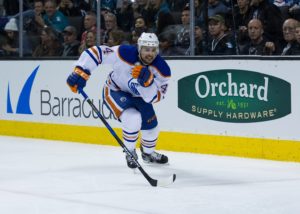 If we start at possibly the biggest item, it would be the potential dominoes that come from adding a fourth defenseman under contract that the Oilers want to hang on to. By extending Russell to a new long-term contract, the Oilers potentially move back to the eight-player protection plan or risk losing one of Davidson or Russell.
The thing about protecting seven forwards and three defensemen was that only three defensemen under contract appeared attractive to Las Vegas. With Davidson hurt, only Andrej Sekera, Oscar Klefbom and Adam Larsson needed protecting. At best, Davidson was a 50/50 for selection and the longer he missed game action, the less desirable he'd look.
With Davidson still playing less, but working his way back into the lineup, he may become a more valuable piece. If he does, it would be a shame to lose him. If he doesn't, Russell may be a lock for expansion selection and do the Oilers want to risk losing Russell after newly extending his deal?
Edmonton Oilers will soon make contract offer to Kris Russell.

But will they make right offer?

Will he take it?https://t.co/OJceWScSiw pic.twitter.com/dve0MQpeoc

— David Staples (@dstaples) December 28, 2016
Maybe that's their plan all along. Maybe Edmonton wants to get Russell under contract, stay with the seven forwards protected a draw attention off of Brandon Davidson. Yes, maybe that's the plan. But, it probably isn't.
The Oilers seem to have a real soft-spot for Russell and if they do offer him an extension, they will likely protect him. They'll also likely give the Alberta-native some kind of no-movement clause that mandates his protection during NHL expansion.
Forwards
I know I sound like I don't like Kris Russell. That's actually not the case. I just think signing him to an extension before the end of the season poses issues at the forward positions for Edmonton. Issues I think the Oilers should avoid.
If the Oilers make a mistake and if Russell signs early and gets protected, the Oilers are faced with a major dilemma. One of their best forwards over the past 20 games has been Patrick Maroon. If given the opportunity, Las Vegas would surely snatch him up. That's one of Edmonton's most versatile forwards, on a very cap-friendly contract, gone.
Alternatively, if Russell is protected and Las Vegas somehow passes on Maroon, the Oilers also can't protect Mark Letestu. Arguably, Letestu is an expendable piece, but this season, he's played a pivotal role for the Oilers and ideally isn't someone Edmonton would like to part with. He's taken almost every key faceoff for the Oilers, he plays penalty kill situations, has added scoring depth and turned Edmonton's power play into a weapon on many nights.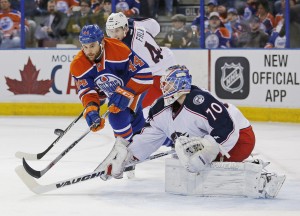 A little farther down the ladder, but still important is Zack Kassian. Kassian has turned himself into a valuable asset and, should Las Vegas lose their minds and skip over Maroon and Letestu, in Kassian, the Oilers would lose intangibles that don't necessarily show up on the score sheet.
Theoretically, Kassian can be replaced. Still, his play and effort level would be missed by coaches and fellow players. Even when not contributing offensively, he's been a trooper for an Oilers team that wants to be known as more than a one-dimensional group of skilled youngsters.
The Good News
Of course, Las Vegas can't take everyone. Only one player per roster is available and the Oilers won't lose something so important they can't move forward. But, what has become clearer after 40 games is that Edmonton has an opportunity to make things very difficult for themselves. The real test will be if they can avoid making a mistake.
Technically, at the 40-game mark, Russell hasn't been extended. Outside of protecting Letestu instead of Pitlick, this means no real changes from the 20-game mark. Can Edmonton avoid the pitfalls of treating this season like any other? Can they resist signing a player too early? Can they avoid trades that hand-tie their ability to make moves? In 20 more games, we should have a better idea.