Well, things just haven't been getting any easier for the Philadelphia Flyers since their 10-game winning streak was snapped way back on December 14. Since then they have gone an abysmal 1-5-2 over the next eight games and are beginning to rings the bells of concern. Prior to their streak, the Flyers were floating around the .500 mark, having only won more than two games in a row once before the run.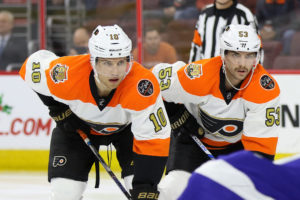 The fear, once the streak was snapped, was the question of what kind of team they really were. Would they continue to win games in all different fashions like they had been doing or would they revert back to the up and down team that they had shown prior?
As a result of the recent downturn, head coach Dave Hakstol shook up his forward lines quite drastically at practice on Friday — perhaps to spread more balance throughout the lineup now that Sean Couturier is back, who had been out due to injury prior to the streak.
As for the Lightning, they are now nipping at the heels of the Flyers in the chase for the second wild-card spot in the Eastern Conference. However, they have dropped two in a row in dismal fashion to the tune of 6-4 and 6-1. It won't be any easier on the home team Flyers to come away with a victory this afternoon as the Lightning will be looking to right their ship.
Nothing angers a head coach more than a porous defense. Lightning head coach Jon Cooper will certainly have his team ready to play and will look to bog down the Flyers' forward attack in what has the makings of two desperate teams looking to get back on the right track.
---
Tampa Bay Lightning vs. Philadelphia Flyers
Wells Fargo Center – 1:00 p.m. EST
Broadcast channels – NHL Network, SN1, CSN Philadelphia; 97.5 The Fanatic
2016-17 Season Series: Tampa Bay leads 2-0
Tampa Bay Lightning: 19-17-4 – 42Points
Road Record: 8-10-2
Hot Players: Nikita Kucherov, Tyler Johnson, Victor Hedman
Key Injuries: Ben Bishop (lower-body), Brian Boyle (lower-body), Brayden Point (upper-body), Steven Stamkos (right knee)
Projected lines:
Forwards:
Ondrej Palat  – Tyler Johnson  – Nikita Kucherov
Ryan Callahan – Valtteri Filppula  – Jonathan Drouin
Alex Killorn  – Vladislav Namestnikov  – Adam Erne
Cedric Paquette – Matthew Peca – J.T. Brown
Defense:
Victor Hedman – Anton Stralman
Jason Garrison – Andrej Sustr
Slater Koekkoek – Braydon Coburn
Starting Goaltender:
Andrei Vasilevskiy
[irp]
Philadelphia Flyers: 20-15-5 – 45 Points
Home Record: 12-6-3
Hot Players: Jake Voracek, Claude Giroux
Key Injuries: Mark Streit (shoulder)
Projected lines:
Forwards:
Michael Raffl – Claude Giroux – Matt Read
Travis Konecny – Sean Couturier – Jakub Voracek
Nick Cousins – Brayden Schenn – Wayne Simmonds
Chris VandeVelde – P-E Bellemare – Boyd Gordon
Defense:
Andrew MacDonald – Ivan Provorov
Shayne Gostisbehere – Brandon Manning
Michael Del Zotto – Radko Gudas
Starting Goaltender:
Michal Neuvirth
---
Game Notes
[miptheme_dropcap style="normal" color="#222222″ background=""]1)[/miptheme_dropcap] As with most speedy teams in recent years, the Lightning have given the Flyers fits over the last handful of seasons. Faster teams have always feasted on the Flyers' lack of mobile defenseman and elite skating forwards. Times are beginning to change now that the Flyers are starting to put the pieces together athletically with players like Shayne Gostisbehere, Ivan Provorov and Travis Konecny. However, their time hasn't come just yet, as the Lightning handled the Flyers quite easily in their first two matchups this year by scores of 3-0 and 4-2.
[miptheme_dropcap style="normal" color="#222222″ background=""]2)[/miptheme_dropcap] Look for Michal Neuvirth to get his first taste of action in the crease for the Flyers since he went down to injury against the Minnesota Wild on November 12. Steve Mason was a pillar for the Flyers during their winning streak but has taken a step back along with the rest of the team recently. It also didn't help that he left Sunday night's game against the Anaheim Ducks with an injury and just didn't seem himself giving up four goals to the New York Rangers on Wednesday.
[miptheme_dropcap style="normal" color="#222222″ background=""]3)[/miptheme_dropcap] Tampa Bay is coming off a five-game homestand prior to their trip to Philadelphia today in which they didn't fare all too well on. They went 2-2-1 in front of their home crowd and now have the daunting task of going on the road against a Flyers team that plays fairly well in front of the home crowd. Coming in with a two-game losing streak, the Lightning need to turn it around quickly or their playoff chances will begin to fade.
[miptheme_dropcap style="normal" color="#222222″ background=""]4)[/miptheme_dropcap] The Lightning have been doing their best this season to stay competitive in overcoming the loss of superstar Steven Stamkos. Add the injury to standout goaltender Ben Bishop and it's a wonder how this team is where it is. However, they still find themselves in the thick of the playoff hunt. Credit general manager Steve Yzerman, who over the years has continued to find ways to stockpile his team with depth talents such as backup goalie Andrei Vasilevskiy and forwards Alex Killorn and Nikita Kucherov.