For Toronto Maple Leafs' head coach Mike Babcock, the NHL season is broken up into five-game segments in which his team needs to accumulate six points per segment. So far, in 24 games, the Leafs have collected 25 points.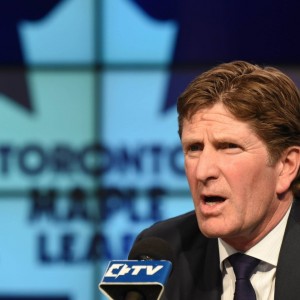 On Wednesday, the Leafs will look to add to that total and finish their fifth five-game segment of the season averaging 5.4 points per segment. It's a feat they will have to put to the test against a surging Minnesota Wild team in a game that Babcock has tapped as a must-win game for the young Leafs squad.
Part of grabbing the two big points from the Wild will be convincing the team that it's a must-win matchup – something it seems the Leafs young players have already bought into.
The second meeting between these two clubs this season, the Maple Leafs will look to avenge a 3-2 loss in Minnesota back on October 20. In that game, the Leafs saw a 2-1 second period lead get swallowed up by two third period goals by the Wild – including Eric Staal's second of the game.
The Leafs will look, once again, to their young goal to provide some offence for the club and will likely have Andersen back between the pipes after the team's three-day layoff. On the other side of the puck, the Wild will rely heavily on experience veterans as they look to climb their way up the Western Conference standings.
---
Minnesota Wild at Toronto Maple Leafs
Air Canada Centre – 7:30 p.m. EST
Broadcast channels – SN and FS-N
2016-17 Season Series: October 20 – Wild 3 – Maple Leafs 2
Minnesota Wild – 12-8-4 – 28 Points
Road Record: 5-5-4
Hot Players: Charlie Coyle, Nino Niederreiter and Devan Dubnyk
Key Injuries: Zac Dalpe
Projected Lines:
Forwards
Nino Niederreiter-Eric Staal-Charlie Coyle
Jason Zucker-Mikko Koivu-Mikael Granlund
Zach Parise-Erik Haula-Jason Pominville
Chris Stewart-Tyler Graovac-Kurtis Gabriel
Defense
Ryan Suter-Jared Spurgeon
Jonas Brodin-Mathew Dumba
Marco Scandella-Nate Prosser
Goaltender
Devan Dubnyk
[irp]
Toronto Maple Leafs – 10-9-5 – 25 Points
Home Record: 8-3-0
Hot Players: James van Riemsdyk, Auston Matthews and Nazem Kadri
Projected Lines:
Forwards
Leo Komarov-Nazem Kadri-Nikita Soshnikov
James van Riemsdyk-Tyler Bozak-Mitch Marner
Zach Hyman-Auston Matthews-Connor Brown
Matt Martin-William Nylander-Ben Smith
Defense
Morgan Rielly-Nikita Zaitsev
Jake Gardiner-Martin Marincin
Matt Hunwick-Roman Polak
Goaltender
Frederik Andersen
---
Game Notes
[miptheme_dropcap style="normal" color="#222222″ background=""]1)[/miptheme_dropcap] Leafs' Frederik Andersen has played three career games against the Minnesota Wild with a record of 2-1-0 with a 2.67 goals against average and .904 save percentage over that span.
[miptheme_dropcap style="normal" color="#222222″ background=""]2)[/miptheme_dropcap] Wild goaltender, Dubnyk, has played in seven games against the Maple Leafs over his career. He holds a 4-1-1 record with 16 goals against, a 2.53 goals against average, a .918 save percentage and one shutout over that time.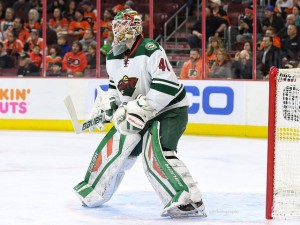 [miptheme_dropcap style="normal" color="#222222″ background=""]3)[/miptheme_dropcap] The Wild and Leafs have faced off 17 times since Minnesota came into the league in 2000. The two teams have split the head-to-head match-ups with the Leafs holding an 8-8-1 record. While they've split the games in terms of win-loss record, they've combined for an average of 4.5 goals per game with the Leafs outscoring the Wild 39-37.
[miptheme_dropcap style="normal" color="#222222″ background=""]4)[/miptheme_dropcap] The Leafs will have Antoine Bibeau on the bench – backing up Andersen – after the team placed Jhonas Enroth on waivers earlier this week. Bibeau has yet to suit up in an NHL regular season game, but has 49 wins in 85 AHL games with the Marlies.
[miptheme_dropcap style="normal" color="#222222″ background=""]5)[/miptheme_dropcap] Staal has 17 points (5g-12a) in 24 games in his first season with the Wild. He's on pace for a 58 point season which will be his most since he recorded 61 with the Hurricanes in 2013-14.
[miptheme_dropcap style="normal" color="#222222″ background=""]6)[/miptheme_dropcap] The Maple Leafs could be in tough if they can't score early and often against Dubnyk. While he's 10-6-3 in 19 games so far this season, the Wild goaltender ranks first in the NHL in goals against average (1.63), first in save percentage (.946) and first in shutouts (4). He's also perfect in the shootout so far this season having stopped all six shots he's seen so far.
---
The Leafs are coming off a shootout loss to the Vancouver Canucks in their last outing while the Wild will look for their second win in a row after a 2-1 victory over the Edmonton Oilers on Sunday. With a win, not only will the Leafs meet coach Babcock's five-game point challenge, but the Leafs will jump back to within four points of a playoff spot. The Leafs should be able to use their speed and rest to jump on the Wild early, but they will need to find a way to protect any lead they might grab in this contest.