Habs' Galchenyuk & Desharnais Out 6 to 8 Weeks
The Montreal Canadiens will be without forwards Alex Galchenyuk and David Desharnais for six to eight weeks with knee injuries, the club announced on Wednesday.
MEDICAL UPDATE: Alex Galchenyuk & David Desharnais (knee injuries) are expected to miss 6-8 weeks. DETAILS-> https://t.co/inFJXTdMKo pic.twitter.com/vBpzAmclls

— Canadiens Montréal (@CanadiensMTL) December 7, 2016
The news is a devastating blow to a Habs team that's lost three of their last four games, despite boasting a 17-6-3 record and currently being in first place in the Atlantic Division. The Canadiens are also eight in the league with an average of 2.9 goals scored per game.
Here's the Galchenyuk injury #Habs pic.twitter.com/y8HohlgFyQ

— Joey Alfieri (@joeyalfieri) December 4, 2016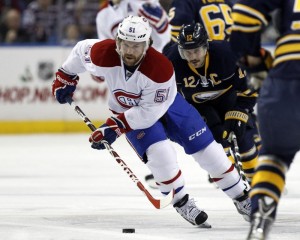 Galchenyuk, 22, leads the Canadiens with nine goals and 23 points in 25 games this season. He's been skating alongside Alexander Radulov and has formed one of the NHL's best offensive duos in the early part of 2016-17. Radulov has tallied 21 points in 24 games after signing with the team as an unrestricted free agent in the offseason.
Desharnais, 30, has compiled three goals and six assists in 25 contests and is averaging 13:04 of ice time per game. The seven-year veteran plays in a depth forward role with the club and his loss, together with Galchenyuk's injury, creates two major holes for the club at the center position.
The Canadiens return to action against the New Jersey Devils on Thursday.
Rangers' Nash Out 1 Week
Rick Nash is expected to be sidelined one week after undergoing an MRI on his injured groin, the New York Rangers announced on Wednesday.
The 32-year-old left winger was injured during the Rangers' 4-2 loss to the New York Islanders on Tuesday. He's gotten off to a strong start to the season, tallying 11 goals and seven assists in 27 games, as part of a Rangers' offense that's currently averaging 3.60 goals per game — first in the NHL.
Nash (groin), Puempel (concussion), Grabner (personal), Vesey (upper body) all not skating today, in addition to Zibanejad and Buchnevich.

— New York Rangers (@NYRangers) December 7, 2016
The Rangers have been one of the league's early season surprises, as their high-powered offense has helped lead them to a 17-9-1 record. They are tied with the Pittsburgh Penguins for first place in the Metropolitan Division with 35 points.
The Blueshirts have been battling injuries to many key players and it's beginning to take it's toll on the club, as they've dropped six of their last 10 contests.
AV says @19Vesey (upper body) is day-to-day but will travel with #NYR to Winnipeg and Chicago.

— New York Rangers (@NYRangers) December 7, 2016
Canucks' Larsen Released From Hospital
Vancouver Canucks defenseman Philip Larsen was released from the hospital and medically cleared to return to Vancouver, according to an announcement by the team on Wednesday.
Wishing Philip Larsen a happy birthday and quick recovery.

Larsen was discharged from hospital & medically cleared to return to Vancouver. pic.twitter.com/Zx2nb8jdqg

— Vancouver #Canucks (@Canucks) December 7, 2016
Larsen's release comes hours after he was stretchered off the ice after being on the receiving end of a check from New Jersey Devils forward Taylor Hall. The hit came near the early part of the second period of the Canucks' 3-2 loss on Tuesday.
Larsen was carrying the puck behind the Canucks' net when Hall's shoulder made contact with his chest, in what was a legal, but hard check that sent the blueliner to the ice motionless. In a scary series of events, Larsen was tended to by medical personnel before being stretchered off the ice.
Hall, who played with Larsen on the Edmonton Oilers during the 2013-14 season, said he does not regret making the hit, but that he never wants an outcome like that on a physical play and he hoped his former teammate was alright. Hall's hit was viewed as a clean one by the referees and he was not assessed a penalty, but it was the sort of play that showed the potential and unintentional dangers players face in today's fast-paced game.
Coach Desjardins provides his thoughts regarding the Taylor Hall hit on Philip Larsen and updates his injury status. pic.twitter.com/L3h77ojOBD

— Vancouver #Canucks (@Canucks) December 7, 2016
The Danish-born defenseman turned 27-years-old on Wednesday and has registered four points and 17 games this season.
Coach Desjardins talked to Larsen today and he's in good spirits. All his movements are fine and he was positive about the situation.

— Vancouver #Canucks (@Canucks) December 7, 2016
Odds and Ends
— The Toronto Maple Leafs have won an arbitration hearing with former defenseman Jared Cowen on Wednesday, according to TSN's Bob McKenzie. The dispute between Cowen and the Leafs revolved around whether or not the blueliner was eligible to have the final year of his contract bought out. Cowen's position was that the team could not buy out his contract, as he was still recovering from hip surgery, which meant he was injured. However, the arbitrator did not agree and he remains bought out by the club.
https://twitter.com/FriedgeHNIC/status/806550198524739584
— The Chicago Blackhawks' Jonathan Toews donated $1 million to the Dakota Children's Centre in Winnipeg, Manitoba. It's the largest-ever private donation to a community center in the history of the province.
— DakotaCC (@DakotaCCWpg) December 7, 2016
— Winnipeg Jets forward Patrik Laine scored a goal and an assist in the team's 4-3 overtime loss to the Detroit Red Wings on Tuesday. Although the Jets were eventually unsuccessful in the shootout that followed overtime, Laine stuck with the same move that worked in his first career shootout attempt. Have a look!
Patrik Laine's first two career shootout goals: Identical pic.twitter.com/4crINYreht

— Brady Trettenero (@BradyTrett) December 7, 2016
— John Scott, the 2016 NHL All-Star Game MVP, announced his retirement from hockey on Wednesday, through an article he wrote for The Player's Tribune. 
Proud to announce my memoir, #AGuyLikeMe! On sale Dec. 27, pre-order here: https://t.co/doxwh42Yj4 pic.twitter.com/9NCHpYIAfG

— John Scott (@johnscott_32) December 7, 2016