The New York Rangers' torrid start to the season featured a markedly improved on-ice product, even if their record was just slightly worse than the 16-3-2 start last season's paper-tiger version of the Blueshirts yielded.
Over the past few weeks however, some concerns have emerged, as the team is a mediocre 5-4-1 in its last 10 contests and has been getting outplayed over long stretches of those games. The Rangers' recent quality of play is very reminiscent of last season, where a poor process ultimately caught up with them in a five-game beat-down delivered by the eventual Stanley Cup Champion Pittsburgh Penguins.
Poor Possession
The Rangers came out of the gates flying this season, scoring at an absurd rate of over four goals per game well into November. While their possession numbers (i.e., Corsi) were not outstanding during that stretch, they were in the middle of the pack, with the fact that they were frequently blowing teams out playing somewhat of a role in bringing those overall numbers down.
Now, however, the Rangers' possession numbers have taken a nosedive. Through this past Sunday's games, the Rangers sit all the way down at 27th in the league in 5-on-5 Corsi-for percentage, with a mark of 46.4%. Last season, they were 26th in the league with a 47.4% Corsi-for percentage. The month of November is what has brought these numbers down.
Here is a list of teams who have been worse than NYR in shot attempts since November 1st.

Arizona Coyotes
New York Islanders

— Adam Herman (@AdamZHerman) November 28, 2016
Of course, other factors like the quality of shots/chances and the aforementioned score effects need to be taken into consideration, especially on a game-to-game basis. But the Rangers' recent two-game stretch against Pittsburgh and Philadelphia, where they were outshot by a combined 80-40, is alarming when considering context. The Pittsburgh game, in which the Rangers were soundly beaten 6-1, was eerily reminiscent of last season's lopsided playoff series – especially Game 4 of that series, a 5-0 home loss for New York. One would have figured that a strong, inspired bounce-back performance against a middling Flyers team in Philadelphia on Black Friday was likely to follow that embarrassment.
http://gty.im/625366100
Alas, that was not really the case. While the Rangers escaped Philly with a 3-2 victory, they did not generate much offensively and got outshot 42-23. Without Henrik Lundqvist's outstanding 40-save performance, that would have been another loss. That narrative sounds similar to last season, doesn't it? What was worse was that the team seemed to be satisfied with its effort following the Pittsburgh disaster.
AV: "This is a very proud group that in my mind is very accountable. We knew that we needed to come up with a better effort." #NYR

— New York Rangers (@NYRangers) November 25, 2016
This line of thinking needs to change if the Rangers want to be a contending team this season. They cannot rely on scoring with relatively few shot attempts, nor can they rely on incredible goaltending every night – even with Henrik Lundqvist on their roster. Their league-high PDO (the sum of team save percentage and team shooting percentage) of 104.6, combined with their possession struggles, suggests that their foundation for winning games is very tenuous. Last season, the Rangers led the league in PDO for the early part of the season before dropping down to a more normal score of 101.4, which was still third in the NHL. Between that and poor possession, they did not last long in the playoffs when they had to play an elite team in the Penguins.
This unreliable formula for winning is starting to reflect in the Rangers' record, especially at home, where they have dropped four in a row. They need to get back to controlling more of the play on a more consistent basis.
Injuries Playing a Role
Of course, the Rangers are dealing with two key injuries: Mika Zibanejad has missed the past four games and is out for another five to seven weeks with a broken fibula, and Pavel Buchnevich has missed the past eight games with back spasms and subsequent conditioning required. He will miss another one to two weeks.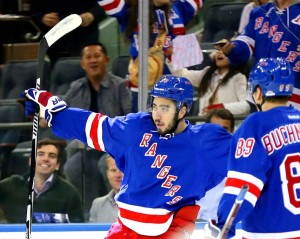 Missing those two players takes a lot of skill out of the Rangers' lineup, and with that, strong ability to drive puck possession. The duo has also been missed on the power play, where the Rangers have tallied just one goal in their last 15 attempts. In the four games Zibanejad has missed through Monday, the Rangers have averaged just 2.3 goals per game after averaging 4.0 in the season's first 19 contests. While Zibanejad's absence has occurred over a small sample size to this point, the negative effects are noticeable.
When Zibanejad suffered his injury, I wrote that the Rangers' depth would be tested, especially during the two-to-three week period when Buchnevich would also be out of the lineup. So far, J.T. Miller and Kevin Hayes have continued to produce, combining for five points in the past four games. Rick Nash and Derek Stepan have three points each in that span as well. Michael Grabner also continues to be an offensive threat with his speed and instincts.
Outside of that though, the Rangers are not getting a ton of consistent production from players like Chris Kreider (no goals in the past four games), Mats Zuccarello (no goals in the past six games) Jimmy Vesey (no goals in the past eight games), and Brandon Pirri (no points in the past six games). Pirri in particular has seen an expanded role in Zibanejad's absence, but the Rangers are still looking for him to really grab hold of that bigger opportunity.
Not having Zibanejad and Buchnevich has undoubtedly contributed to the Rangers' recent speed bumps and resemblance to last season's disappointing team. Until they return though (and after they do), the team must elevate its level of play and prove that this recent downturn is just a normal stumbling block in a long season – not a complete regression to the 2015-16 Rangers.