We're under a year away from the 2016 World Cup of Hockey, where the best players in the world battle for international supremacy. The United States, Canada, Russia, Sweden, Finland, the Czech Republic will play for their respective countries pride. The tournament will also feature combined teams of Europe and North American stars under age 23.
The Nashville Predators will figure prominently in the tournament with their international roster. Some players figure to be already locked in, while some will have to fight for their place on the club.
DISCLAIMER: Please keep in mind these rosters can change due to performance or injury. These are only early projections.
Locks
Canada
D- Shea Weber: The Predators captain has plenty of international experience and medals to back up his place on the team. Weber has two Olympic gold medals and World Championship and World Junior golds to go with them. He's a veteran that will anchor the already loaded Canadian defense. He's bounced back from a playoff knee-injury and looks like his old self again so far this season.
Europe
D- Roman Josi: Weber's defensive partner has carved out his own little place in the international spotlight and has impressed in international competitions. He was named the most valuable player the 2013 IIHF World Championships that got him noticed. Josi has inserted himself into the Norris Trophy last year and early this season. He'll probably be on the top pair for Team Europe.
Finland
G- Pekka Rinne: International competitions are where Rinne loves to shine. Rinne has been excellent at numerous World Championships, where he picked up MVP honors in 2014 and was named the best goalie in the 2015 tournament. He set the all-time shutout mark at the 2015 tourney, and loves playing for his country. The only question is will it be or Boston Bruins goalie Tuukka Rask will get the majority of starts.
North America
D- Seth Jones: The U-23 North America roster may be full of young players, but there is a lot of explosiveness on the roster. Seth Jones is expected to be one of the anchors a defense that might be an X-factor at this tournament. Jones seems to be really gaining a lot of experience by playing with Barret Jackman, and will be allowed to work on his offensive game. Jones may have to be on the third pair because there are so many right-handed shots on the team.
http://gty.im/472040338
Sweden
D- Filip Forsberg: "Prince" Filip has really come into his own the last two seasons in North America. He had an excellent rookie season, and is someone who hopes to shatter the dreaded "Sophomore Slump." Forsberg is proof that the youth system in Sweden is cranking out some really good talent. He'll be expected to be a quick and shifty offensive weapon.
Fighting for Spots
Canada
F- James Neal: The race for the spot on the bottom six is going to be hard one. Even the most experienced international players like James Neal is going to have a hard time making the roster. Neal may not be scoring at the pace in Nashville like he did with the Pittsburgh Penguins, but he could still prove to be valuable. He'll need to step up his production in order to get considered.
Czech Republic
G- Marek Mazanec: The Milwaukee Admirals goalie might face tall order for to crack the roster, but he's in the mix. Petr Mrazek and Ondrej Pavalec are almost locks for the Czechs, but Mazanec could sneak in and make it difficult for who does get the last goalie spot.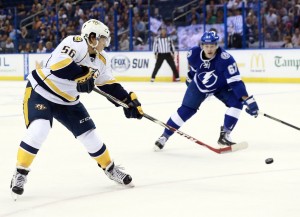 Europe
F- Kevin Fiala: The young Swiss forward was hopeful at making the Predators roster, but just missed out. He's still adjusting to the North American game, but this could be a chance for him to break out if he does make the team.
Sweden
D- Mattias Ekholm: I haven't seen him on any projections or even on the bubble at some of the media outlets that are diving into the whole prediction thing. However, I'd love to see him get a shot because he's represented Tre Kronor at world championship tournaments. He's a smooth puckhandler, and deserves a shot.
USA
F- Craig Smith: The young winger has gotten off to a solid start in the first four games of the season, and he also has international experience. Smith has done well at the worlds getting at least three goals in 2011, 2012 and 2014. He's a hard worker and can be a good depth player for the Americans.
F- Colin Wilson: He's much like Smith, Wilson is a young winger that would love a shot on the Team USA roster. He was listed to be on the bubble by The Hockey News in their latest projections. He is a fringe choice like his teammate Smith, but hasn't been on Team USA since 2009. He'll need to step up to be in the conversation for a roster spot.
Surprise
Finland
G- Juuse Saros: You'd think a team like Finland that has goalies like Antii Niemi and Kari Lehtonen would be the obvious choices to battle for the third goalie spot behind Rinne and Rask. However, the Finns could go in a different direction and groom the Predators' prospect for the future. Saros shut out Slovakia at the 2015 Worlds and shows a lot of promise.
Is there anyone I missed? Do you think I rated someone too high or too low? Let me know in the comments below.
Dan Mount is a Nashville Predators staff writer for The Hockey Writers. You can follow him on Twitter, @DanMountSports. You can email him at drm7191980@yahoo.com.
Covered hockey since attending SUNY Oswego in Upstate New York in the early 2000s. Has written about college, major junior and professional hockey for the last five years.
Resides in Watertown, NY.