If nothing else, the five Montreal Canadiens victories to open the 2015-16 season reaffirm how the Habs won't be selling off any critical pieces along the way.
The five games, during which Tomas Plekanec has scored four goals (admittedly including two empty-netters), also show he's one such critical piece. His brand new two-year, $12-million extension further proves he's not going anywhere… at least not right now.
Added Pleksability
Without the extension, this potentially would have been Plekanec's last season with the Canadiens. While one can legitimately argue he's not worth his current salary with linemate Max Pacioretty's cost-effective cap hit of $4.5 million, losing him for nothing come next summer would have been nothing short of a (low-scale) disaster. Think trading away Patrick Roy for essentially nothing as a '10.' This would be a '2.'
This way, regardless of how the dollar amount grabs you ($7 million next season, $5 million in 2017-18), the Habs at least secure an asset for the foreseeable future. Turning 33 this Halloween, Plekanec may not be old, but the two-year term is definitely easily digestible as well… that is if it's even an issue.
As the deal, according to the Montreal Gazette, lacks a no-trade clause (his current one includes a limited NTC), it's potentially more so a means to an end than a sign Plekanec stays a Canadien his entire career, because, while he may not realistically figure into their long-term plans, he definitely does in their short-term ones.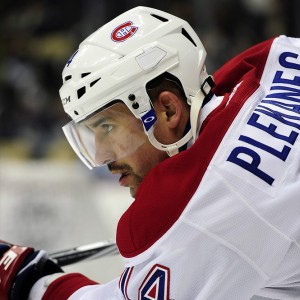 Now potentially trading away a key cog during a potential Presidents' Trophy or championship run is a moot point. Not only do the Habs no longer have to, out of fear of getting nothing in exchange. They may not even want to.
The fact of the matter is Plekanec, especially based on his 60-point output from last season (playing primarily on the second line, no less), is worth the $6-million average salary he'll be making in today's NHL, if not more.
Pacioretty's deal being among the best in the league should not be held against him. If Pacioretty were earning the $8-9 million he could be in this, the prime of his career, a definite case can be made that Plekanec places in just about the right range with his new contract.
Don't blame Plekanec. Blame Pacioretty's agent at the time (who's since been fired).
"No. 1" or "Not" Canadiens Center Material?
Granted, the deal ending up a good one for Montreal depends on Plekanec continuing to put up the numbers. He has been notoriously inconsistent in his career, once going from a 69-point season in 2007-08 to scoring just 39 the very next campaign.
Add in a general inability to produce during the playoffs, and there is a very legitimate concern Plekanec should have been allowed to walk away at the end of this season or even shipped out ahead of schedule. However, the results don't lie and everything seems to be working out with him on the first line.
No, Plekanec is not the team's No. 1 center of the future or even maybe later this season, should Alex Galchenyuk continue to develop as he has early on. However, Plekanec brings with his scoring ability several intangibles including leadership and defensive awareness.
Really, there's no sane general manager of a stacked contender out there who wouldn't welcome him with open arms onto their third line at the very least. There's also no good reason why that hypothetical GM can't be Marc Bergevin, because the early reviews are in and the Canadiens are playing as well as anyone else.
Plekanec is and will continue to be a big part of that. At least for this year.