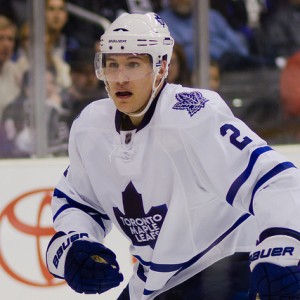 Some people are considering this years' defence group to be the best in recent history for the Toronto Maple Leafs. It is young, big, and powerful, yet much of it is still developing.
The Leafs have eight NHL defencemen─not including Jeff Finger─ready to compete for six spots at training camp this September. What does that mean Leafs fans can expect? Plenty of competition, making for an exciting training camp and interesting regular season.
Some, however, might be considered as locks to make the team. Dion Phaneuf and Luke Schenn─who still has yet to sign─are perhaps the two biggest guarantees to make the team.
John-Michael Liles is another one of those guys, who, with 46 points, could fit in nicely on the Leafs' power play unit.
Sitting on the edge are Keith Aulie, Carl Gunnarsson, and Cody Franson. All three have certainly proven that they can play at the NHL level, but we have seen countless players who show plenty of poise and promise in the first few seasons of their careers before crumbling and becoming a career minor-leaguer.
While many are predicting those six─Liles, Schenn, Phaneuf, Aulie, Gunnarsson and Franson─to make up the Leafs' six defence when they open up the regular season on October 6, there are still a few more defencemen who could fit into the Leafs' lineup at some point in the season.
Let's take a look at where everyone could stack up come opening night.
Line 1: Aulie – Phaneuf
Aulie and Phaneuf played together for much of the 40 games Aulie appeared in last season. Both of them played strong, steady defence and, when on the ice together, were considered two of the Leafs' best.
Aulie, 22, scored two points, both of them goals, for the Leafs last season. His minus-1 rating could easily be considered impressive considering he was a rookie averaging 19:07 of ice time per game on the league's ninth-worst team.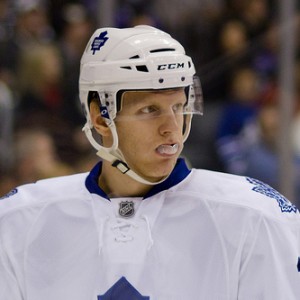 Phaneuf, a native of Edmonton, Alberta, scored eight goals and 30 points in 66 games last season. In the 24 games after Tomas Kaberle was dealt to the Boston Bruins, Phaneuf really took charge by scoring six goals and 15 points.
Assuming they can repeat their success from last season, there is no reason why Aulie and Phaneuf shouldn't make up the Leafs' top defence pairing for a second straight season.
Line 2: Gunnarsson – Schenn
Gunnarsson and Schenn both took strides in development last season; Schenn had a career year.
Gunnarsson, who is entering his third season in the league, saw his numbers drop slightly last season. However, some might be quick to point to the fact that the 24-year-old played in 25 more games than he did the season before.
While he still made the odd mistake, Gunnarsson did make some improvements over the course of last season.
Schenn, meanwhile, tied his career-high of five goals, but posted five more assists than his previous high of twelve. He is also becoming more disciplined each season, with his total amount of penalty minutes having dropped to 34, 10 of which were accumulated over two fights.
Line 3: Liles – Franson
Liles and Franson are both new to the Leafs this year.
Liles, who came from the Colorado Avalanche, scored 46 points in 76 games last season. There are some people who are worried about his defensive play, but at a cost of a second-round draft pick he is a good addition to the teams' third defence pair.
Franson played in his first full season in 2010-2011. In 80 games, the Salmon Arm, British Columbia native set career highs in goals (8), assists (21) and points (29). Like Liles, some are concerned about the defensive side of his game, however at 23, he still has some developing to do.
Two good defencemen with offensive upside, one of them standing at 6'5″ and weighing in at 213 lbs, makes for a good third pairing.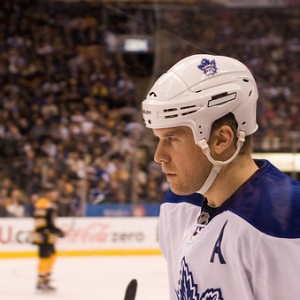 Extras: Komisarek, Lashoff, Finger
While two of the three are likely to find themselves in the American Hockey League, Mike Komisarek, Matt Lashoff and Jeff Finger are all good options to have. Who stays and who goes still has yet to be decided, however.
Komisarek, 29, had 10 points and went minus-9 in 75 games with the Leafs last season. His $4.5 million cap hit certainly makes him one of the most overpaid players in the league, while his no-movement clause makes him that much tougher to move.
Finger, also overpaid, didn't play in a single game in the NHL last season. Instead, he tallied five assists in 23 games with the AHL's Toronto Marlies.
Perhaps Lashoff is the only viable option if the Leafs want to have as much cap space as possible. However, Komisarek's aforementioned no-movement clause is likely to keep him in the NHL, possibly leaving both Lashoff and Finger in the AHL.
It is clear that with a little less than two months before the pre-season begins, both management and the coaching staff have some important decisions to make about the teams' defence.
Only time will tell what is going to happen.