Over the next few weeks, a handful of General Managers will finally get the opportunity to take a breath and maybe even a vacation for one of the only times all year.  Others will still be hard at work trying to get important, young players signed.
Salary arbitration hearings begin on Wednesday and go through August 4.  Many hearings never come to fruition as teams and players are free to negotiate a new contract right up until the hearing takes place.
This summer's slate features two of the biggest names in recent memory.  Zach Parise and Shea Weber were taken to arbitration by their respective teams and are still without a contract.  Both will command big money based on prior year performances, but it's hard to imagine either player ending up in a hearing.
Taking your franchise star in front of an arbitrator to pinpoint all the real and perceived weaknesses in his game isn't a very savvy management move.  We can probably expect both players to sign just moments before heading into the hearing.
Be sure to bookmark this page as we'll be updating with salary arbitration results and other signings as they occur.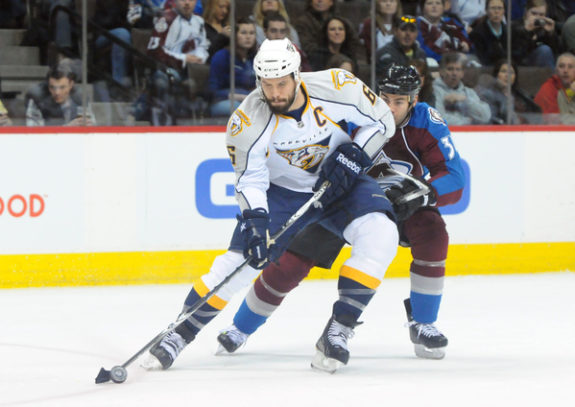 ______________________________
[Note: Players in blue have signed with their respective teams prior to an arbitration hearing]
Lauri Korpikoski (Phoenix) – July 20, 2011 (SIGNED: 2 years x $1.80m cap hit)

Teddy Purcell (Tampa) – July 20, 2011 (SIGNED: 2 years x $2.36m cap hit)

Viktor Stalberg (Chicago) – July 20, 2011 (SIGNED: 2 years x $875k cap hit)
Andrew Cogliano (Anaheim) – July 21, 2011 (SIGNED: 3 years x $2.39m cap hit)
Brad Richardson (Los Angeles) – July 21, 2011 (SIGNED: 2 years x $1.175m cap hit)
Brandon Dubinsky (NY Rangers) – July 21, 2011 (SIGNED: 4 years x $4.20m cap hit)

Ryan Wilson (Colorado) – July 22, 2011 (SIGNED: 1 year x $1.275m cap hit)
Andrej Sekera (Buffalo) – July 25, 2011 (SIGNED: 4 years x $2.75m cap hit)
Brian Boyle (NY Rangers) – July 25, 2011 (SIGNED: 3 years x $1.70m cap hit)
Kevin Porter (Colorado) – July 26, 2011 (SIGNED: 1 year x $850k cap hit)
Sergei Kostitsyn (Nashville) – July 26, 2011 (SIGNED: 1 year x $2.50m cap hit)
Alec Martinez (Los Angeles) – July 27, 2011 (SIGNED: 2 years x $737,500 cap hit)
Josh Gorges (Montreal) – July 28, 2011 (SIGNED: 1 year x $2.50m cap hit)

Ryan Callahan (NY Rangers) – July 28, 2011 (SIGNED: 3 years x $4.28m cap hit)

Derek Joslin (Carolina) – July 28, 2011 (SIGNED: 2 years x $700k)
Jannik Hansen (Vancouver) – July 29, 2011
Shea Weber (Nashville) – August 2, 2011
Chris Campoli (Chicago) – August 3, 2011 – Club walkaway, Campoli now UFA

Blake Wheeler (Winnipeg) – August 3, 2011 (SIGNED: 2 years x $2.55m)
Zach Parise (New Jersey) – August 3, 2011
Mark Fraser (New Jersey) – August 4, 2011 (SIGNED: 1 year x $550k cap hit)

Dan Sexton (Anaheim) – August 4, 2011 (SIGNED: 2 years x $550k)
Blake Comeau (NY Islanders) – August 4, 2011