The 2020 NHL Entry Draft kicked off on Tuesday night with 31 young players officially becoming NHL prospects. Another 186 players will hear their name called today as the final six rounds will be completed. The top three picks of the draft went as expected and the top of the draft class is excited to officially have their new homes.
Lafreniere Lands on Broadway
Alexis Lafreniere was the consensus top player heading into the draft and now he will get a chance to shine on a big stage. The youngster was taken first overall by the New York Rangers and will play for an "Original 6" franchise in one of the biggest sports markets in the entire world.
"I'm really excited to join the New York Rangers and can't wait to see the fans," Lafreniere said shortly after being drafted. "I heard a lot of good things about the fans and about the building (Madison Square Garden), so I'm really excited to arrive in New York in the next couple months, maybe. I hope we're going to have a good season. I'm really honored."
Lafreniere led the Quebec Major Junior Hockey League (QMJHL) with 77 assists last season and he could possibly be playing with a pure sniper like Artemi Panarin. There is little doubt that he will fit in well with the Rangers.
The buzz surrounding the Rangers is quite loud these days and even a former member of the organization are chiming in.
"He loves hockey, he loves winning, he enjoys people and he has zero issues being in the limelight," former Rangers coach Tom Renney, who oversaw four Canadian national teams that included Lafreniere, told The Post. "From his hockey ability to his personality, he's almost made for New York. It's a really good fit."

From "Alexis Lafreniere has ex-Rangers coach drooling: 'Made for New York'" by Larry Brooks – New York Post – 10/6/20
It shouldn't take Lafreniere very long to show NHL fans exactly why he was taken first overall. The future on Broadway is very bright.
Byfield Makes History
The Los Angeles Kings were on the clock after the Rangers' pick and they had a tough choice between two talented players. Ultimately, they went with Quinton Byfield out of the Ontario Hockey League (OHL). Even though the Kings have four top prospects at center, Byfield was just too good to pass up.
"Quinton is an exceptional young man and talented player with a very bright future," said Kings' general manager Rob Blake. "We're proud to be adding him to our organization and look forward to the next stages of his development and a promising career in LA."
Byfield became the highest-drafted black player in NHL history by going second overall. That distinction was previously shared by San Jose Sharks forward Evander Kane and Columbus Blue Jackets forward Seth Jones, who were both taken fourth overall in their respective draft years.
"[Being the first Black player chosen] is something super positive," Byfield said. "I just want to continue to spread positivity and awareness to that subject."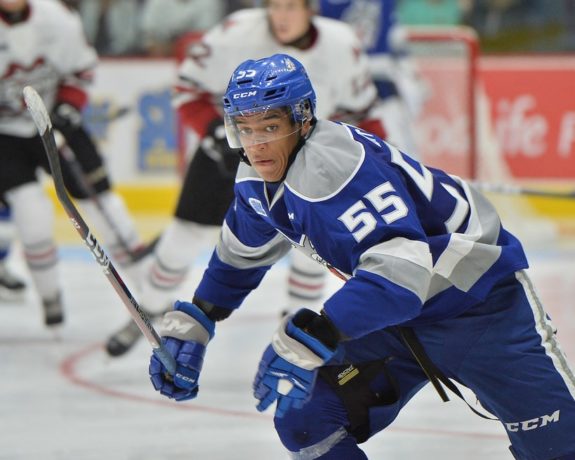 The Kings, much like the Rangers, appear to have some brighter days ahead of them with some exciting young talent moving its way through the pipeline.
Stützle Gets a Warm Welcome
The Ottawa Senators used their first of two top-five picks to select forward Tim Stützle out of Germany. He scored seven goals and 34 points last season playing in Germany's top professional league as an 18-year-old.
General manager Pierre Dorion shared his excitement shortly after making his three first-round picks, which included defenseman Jake Sanderson and center Ridly Grieg.
"I think it's one of the biggest nights in this franchise's history," Dorion said. "When you add the quality of the No. 3 pick that we added, a player who's offensive upside is unlimited, a player we felt was the best defenseman in the draft and then you combine with the character and talent that Ridly Greig brings, we're really excited."

From "Ottawa Senators GM Pierre Dorion says 'it's one of the biggest nights in franchise history' by Bruce Garrioch – Ottawa Sun, 10/7/20
The Senators took full advantage of the virtual aspect of the draft and hired Jeopardy host Alex Trebek to make the announcement of the pick.
Trebek recorded three different versions of this video just in case Lafreniere or Byfield was their choice.
"It's a big honor to be [picked] by the Ottawa Senators," Stuetzle said. "But, in the end, I want to make the team. This was my first step right now. I want to make the team as soon as possible and try to show my best every day."
The Senators grabbed three first-rounders last night and then acquired goaltender Matt Murray from the Pittsburgh Penguins this morning. Dorion and company are making things happen this week!
The rest of the 2020 NHL Entry Draft is taking place this afternoon. Stay right here for more of our top-notch draft coverage throughout the day. Then, catch your breath and prepare for the start of free agency Friday morning.
---