Peterborough Petes forward and a top prospect heading into the 2021 NHL Entry Draft, Mason McTavish has secured a loan to EHC Olten in the Swiss League. Nashville Predators prospect Eeli Tolvanen recorded his first goal of the season in his first game. Finally, the Hobey Baker Award nominees have been announced, which includes 21 NHL-affiliated prospects.
McTavish Secures Loan to Switzerland
In November, Mason McTavish attempted to secure a loan to EHC Olten but was denied because he did not have a Swiss passport and was not allowed to enter the country from Canada despite that he was born in Rapperswil, Switzerland, where his dad played professional hockey for 10 seasons. McTavish was expected to be able to join the team once the pandemic situation improved. Well, that time has come, and he is now in Switzerland training with the team.
He was drafted fifth overall by the Petes in the 2019 OHL Priority Selection and amassed 29 goals and 13 assists for 42 points in 57 games played during his rookie season. THW's Josh Bell summarized McTavish's skill set in his "5 OHL Players to Watch" article earlier this year:
The 6-foot-1, 196-pound centreman gets ahold of the puck and never lets it go. He uses his body to protect the puck extremely well, rarely giving up turnovers. He'll maintain this while driving to the net, deep in traffic, and still manage to get a shot off. Yeah, he's pretty impressive. He also uses his body to knock players off the puck, showing that he knows how to use his size very well. And then there's his shot. Oh boy, that shot. McTavish can rip it like no one's business, getting all of his weight behind his wrist shot and firing off an extremely accurate chance. 29 goals for a rookie don't lie. 
McTavish led all 2003-born players in both goals (29) and points (42) during the 2019-20 OHL season. He joins fellow OHL forward and 2021 draft-eligible talent Brennan Othmann, who secured his loan to EHC Olten in November. McTavish joins a long list of OHL players, especially those eligible for the 2021 NHL Entry Draft, who have travelled overseas to play hockey this year.
Tolvanen Grabs Goal in Season Debut
Predators fans have been waiting a lifetime for top prospect Eeli Tolvanen to crack the roster. Drafted 30th overall in the 2017 NHL Entry Draft, he has spent that last two seasons primarily in the American Hockey League with the Milwaukee Admirals. During the 2019-20 season, he amassed 21 goals and 15 assists in 63 games played, a slight improvement on the 35 points he recorded during the 2018-19 season. Heading into last night's game against the Tampa Bay Lightning, Tolvanen had played seven NHL games, with one goal and one assist.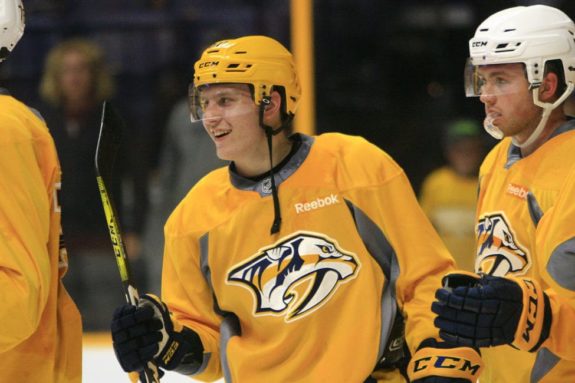 It was the first game of the season for Tolvanen, who had been on loan to Jokerit of the KHL at the start of the year. His goal came early in the third period when the Predators were down 4-0. Fellow Finnish forward Erik Haula fed him the puck from behind the net, and he blasted a one-timer past Lightning goaltender Andrei Vasilevskiy. The Predators rank 27th in the league in goals-per-game and could desperately use a breakout season from Tolvanen.
Hobey Baker Nominees Announced
21 NHL Prospects have been nominated for the 2021 Hobey Baker Award in the NCAA. The list is as follows:
Ottawa Senators prospects Jakov Novak and Shane Pinto
Florida Panthers prospects Spencer Knight and Logan Hutsko
Minnesota Wild prospects Matt Boldy and Nick Swaney
Tampa Bay Lightning prospects Cole Koepke and Nick Perbix
Detroit Red Wings prospect Keith Petruzzelli
New Jersey Devils prospect Tyce Thompson
Nashville Predators prospect David Farrance
Philadelphia Flyers prospects Cam York, Noah Cates and Ronnie Attard
Montreal Canadiens prospect Jordan Harris
San Jose Sharks prospect Alex Young
Carolina Hurricanes prospect Jack LaFontaine
New York Islanders prospect Alex Jefferies
Chicago Blackhawkd prospect Josiah Slavin
Winnipeg Jets prospect Nate Smith
Toronto Maple Leafs prospect Veeti Miettinen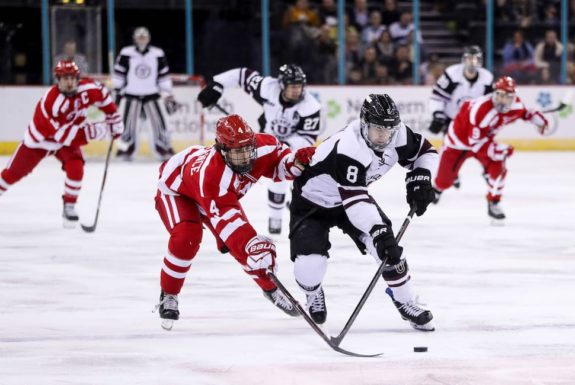 Among the 50 nominees, there are two players eligible for the 2021 NHL Entry Draft: University of Michigan forward Kent Johnson and defenseman Owen Power. The voting is open now, and the top ten finalists will be announced on Mar. 17. That list of ten will be reduced to a top three on Apr. 1, and the winner will be announced on Apr. 9.
---
---