The Ottawa Senators signed their third-overall pick from the 2020 NHL Entry Draft Tim Stuetzle to an entry-level contract. Montreal Canadiens prospect Jayden Struble continues to impress for Northeastern University and we recap an eventful slate of game on Day 3 of the 2021 World Junior Championship (WJC).
Stuetzle Signs With Senators
The Senators announced on Sunday that they've agreed to a standard three-year, entry-level contract for Tim Stuetzle. Drafted third overall in the 2020 NHL Entry Draft, he spent the 2019-20 season in the Deutsche Eishockey Liga in Germany playing for Adler Mannheim. He amassed seven goals and 27 assists for 34 points in 41 games played, winning DEL Rookie of the Year. He was also the youngest full-time player in the DEL that season. He represented Germany during the 2020 WJC, recording five assists in five games played.
In a press release by the team, Senators general manager Pierre Dorion had this to say about Stuetzle's potential.
Tim possesses an exceptional blend of both speed and skill and a playmaking ability that our fans are going to enjoy watching for several years to come. He's a dynamic forward who we expect to become a key piece of our roster as we continue trending towards icing an eventual elite-level team.
Stuetzle is currently attending the 2021 WJC with Germany. He was named captain of the team for this year's tournament and currently has one goal and one assist in two games played. Germany's roster has been significantly reduced due to a COVID-19 outbreak. Now that Stuetzle has been granted release from Mannheim, he will be free to head to Ottawa and participate in NHL training camp after his time at the World Juniors is up.
Struble Putting Up Points in NCAA
Not long after bagging his first NCAA goal last week, Canadiens prospect Jayden Struble has continued to put up points for Northeastern University in the NCAA. Over his last three games, he registered three assists including a two assist effort in Northeastern's 2-2 tie against Vermont. Drafted 46th overall in the 2019 NHL Entry Draft, Struble amassed three goals and seven assists for 10 points in 21 games played during his freshman season. He is now up to one goal and six assists for seven points in six games played this season.
It's great to see Struble taking a significant step forward during his sophomore season, especially after he didn't make Team USA for the 2021 WJC despite attending their Summer Showcase. USA has looked good since their opening-day 5-3 loss to Russia, but it's hard to argue that they couldn't use a defenseman of Struble's abilities right now. Either way, Canadiens fans should be excited about the young defenseman on the way, which also includes Russian defenseman Alexander Romanov.
World Junior Championship Day 3
We are now three days into the 2021 WJC with every team having at least played one game and the majority having already played two. The first game of the day saw Finland take on Switzerland, with the former looking to win their second game and the latter looking to pick up their first win of the tournament.
Switzerland actually got on the board first through a power-play goal from Attilio Biasca, but that would be as close as they would get. Finland scored four unanswered goals to earn the 4-1 victory and outshot the Swiss 43-14. Florida Panthers prospect Anton Lundell and Los Angeles Kings prospect Kasper Simontaival both finished the game with one goal and one assist on the night.
Also, 16-year-old forward Brad Lambert picked up his first career WJC points with assists on Juuso Parssinen and Aku Raty's power-play goals. Nashville Predators prospect Parssinen was named Finland's player of the game after picking up the game-winning goal and Ray Fust was Switzerland's player of the game. Switzerland returns to action on Tuesday against Canada, while Finland has to wait until Wednesday to play against Slovakia.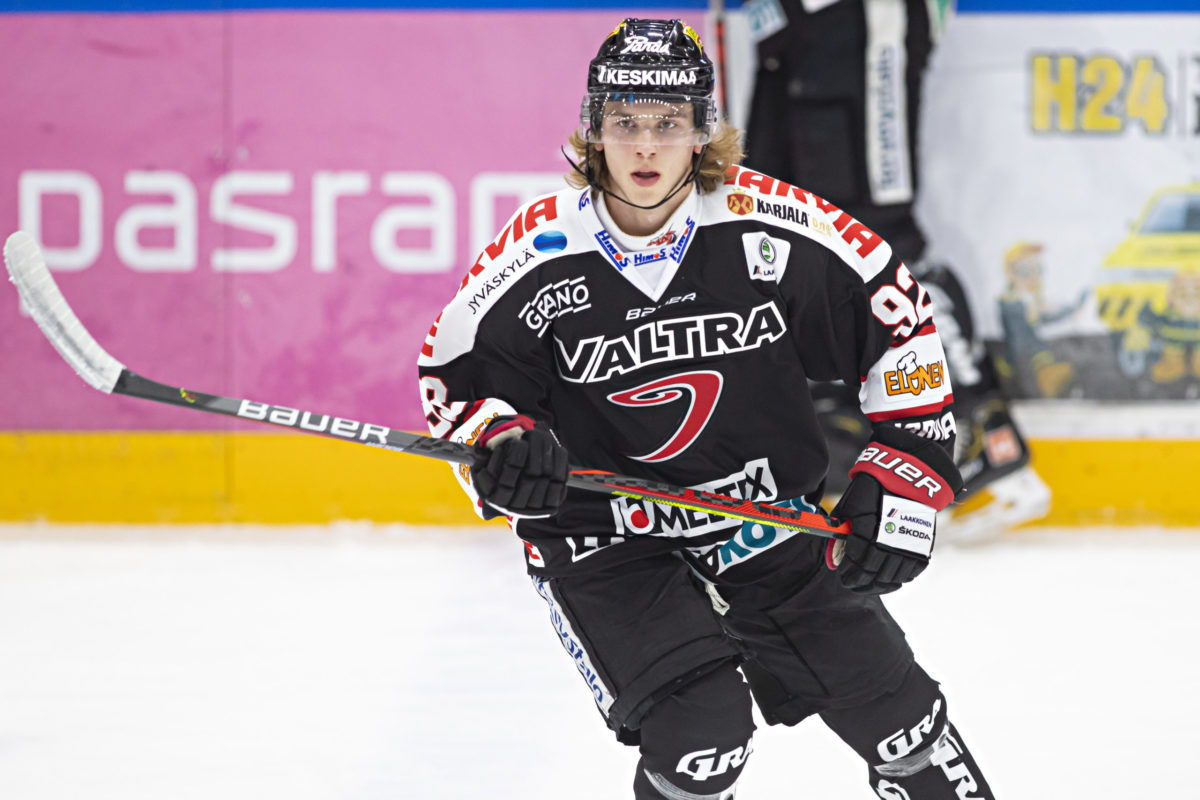 The second game of the day saw Canada return to the ice a day after the dominated a severely weakened German team 16-2. Slovakia also won their first game of the tournament, a 1-0 victory over Switzerland. Canada was without New York Rangers prospect Braden Schneider who was suspended one game for a check to the head.
It wasn't exactly smooth sailing for the Canadians this time around. Kings prospect Jordan Spence got Canada on the board early in the first period, but they would have to wait until late in the third period to grab their second through Predators prospect Philip Tomasino.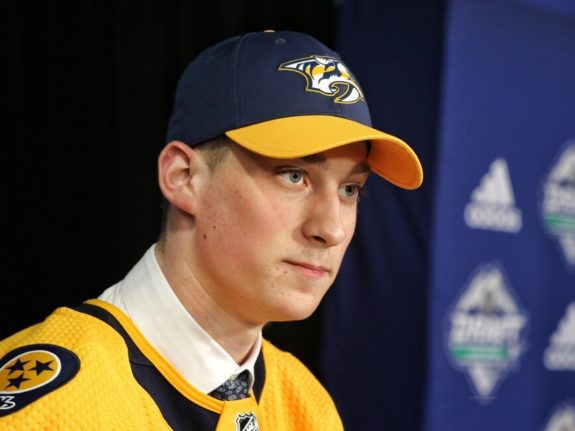 Kings prospect, yes another one, Martin Chromiak cut the lead to one with less than two minute remaining, but Buffalo Sabres draftee Jack Quinn secured the victory with an empty-net goal. Canada walked away with the 3-1 victory and Tomasino led the way with one goal and one assist on the night. Slovakian netminder Samuel Hlavaj was exceptional, stopping 20 of 22 shots against.
The last game of the day produced the first upset of the tournament as the Czech Republic walked away with a 2-0 win over Russia. The Czech team successfully rebounded after losing their opening game to Sweden 7-1. Another Kings prospect in Czech netminder Lukas Parik stole the show, stopping all 30 Russian shots to earn the shutout. The Czech goals came from Filip Koffer and Martin Lang. Russian netminder and Predators prospect Yaroslav Askarov was also impressive, finishing the night with 27 saves on 29 shots against.
Day 4 of the World Junior Championship kicks off today with Sweden vs. Austria and Germany vs. Slovakia.
---
---