While the Calder Cup playoffs carry on without the Providence Bruins, it's time to look back at the year that was and what the P-Bruins will look like moving forward. First up is the forward group. Looking ahead, there's a lot to like about this group. The 2017-18 version could've used a little more secondary scoring to make a deep playoff run. With that said, there will be a lot of potential returning with this group. Late-season additions of young Boston draft picks and signings only reinforced the thought that this will be a special group in 2018-19.
Where Will Veterans Go?
At this point, it's only speculation to say who will be leaving the forward group. A pair of notable names and top-six forwards seem to be likely candidates. Austin Czarnik and Kenny Agostino will be unrestricted free agents and could explore opportunities elsewhere. Czarnik signed a one-year, two-way deal before the season. After a flat-out dominant season in the AHL, earning league Second Team All-Star honors, it's quite possible Czarnik will seek NHL opportunity with another organization.
The duo will be hard to replace if that's what the P-Bruins are faced with. Agostino didn't match his AHL Most Valuable Player numbers from a year prior in Chicago, but he still put up respectable numbers with a 16-37-53 stat line in 64 games. When Czarnik and Agostino were placed on a line with Jordan Szwarz at the beginning of the season, they looked unstoppable at times. Agostino was later bumped down to the second line to add more depth to the lineup, but he was still a key piece on the top power-play unit.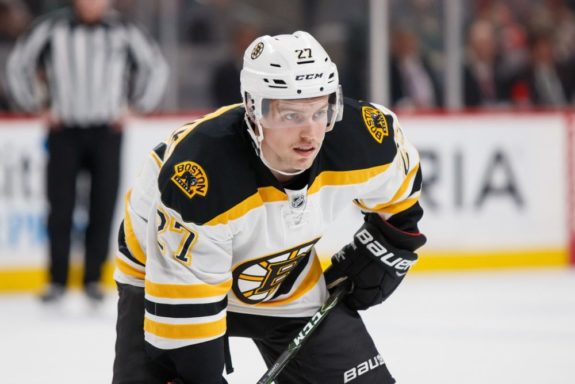 How the P-Bruins potentially move on from losing the veteran pair remains to be seen. The play of the youngest crop of forwards in Providence that joined late in the season was encouraging.  In terms of free agents, the organization will likely add a veteran or two. If both depart, a veteran that can fill a top-six role will be needed. The role shouldn't be hard to fill at the AHL level, as there will be free agents from Europe and North America to pick from. However, it will be tough to replace a player as dominant as Czarnik.
The younger forwards can be analyzed in two separate groups. There's the group of rookies and second-year players that spent an entire season in Providence, and then there are the late-season additions. One player that immediately stands out is Jakob Forsbacka-Karlsson. Although slowed by injury in his first full professional season, Forsbacka-Karlsson is a smart two-way center, the type of player the Bruins organization seems to covet.
Bright Future With Young Forwards
Forsbacka-Karlsson appeared in 58 games this season, and calling him a solid two-way player isn't a knock on his offensive production. When healthy, he was the second-line center, averaging 0.55 points per game. The lineup in Boston may be tough to crack next season, but Forsbacka-Karlsson should be expected to fill a large role for the P-Bruins. He'll be a reliable special teams presence and if he can increase his offensive production, he should be a force at the AHL level.
Ryan Fitzgerald will surely be back after a strong rookie campaign. The Boston College product led Providence rookies with 21 goals. Fitzgerald also missed some time due to injury but came back with two goals in three playoff games.
Zach Senyshyn is the third rookie draft pick that will be relied upon to play a bigger role in Providence next year. Offensively, the 2015 first-round pick's production wasn't great this season: 12-14-26 in 66 games. In fairness to Senyshyn, he spent most of the season on the third line.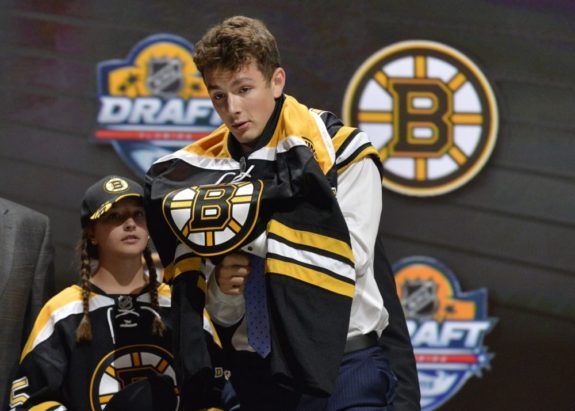 Senyshyn was given the chance this season to develop into a more complete player. It remains to be seen where that will lead. One instant area of improvement for the speedy winger could be putting more pucks on net. Only one P-Bruins forward, Anton Blidh, appeared in as many games as Senyshyn and had fewer shots on goal. An expanded role offensively next season could immediately increase that number.
The P-Bruins received a boost late in the season when some draft picks and free-agent signings joined the squad. Trent Frederic joined the lineup with his Wisconsin teammate Cameron Hughes after their season with the Badgers had ended in March. Frederic looked comfortable making the adjustment to the pro game. The Bruins' 2016 first-round pick was seen as a player that would need time to develop his offensive game when he was drafted.
If Frederic's early stint in Providence is any indication, his offensive game will be just fine. Appearing in 13 regular-season games, Frederic tallied five goals and three assists. He may not have a long stay in Providence, but in 2018-19 he should combine with Forsbacka-Karlsson to give the P-Bruins a solid foundation in the middle of the ice.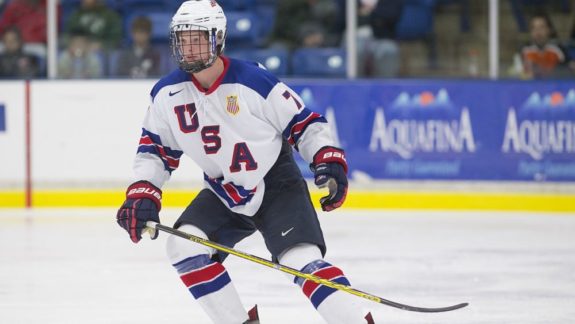 Two more young forwards to watch will be Karson Kuhlman and Joona Koppanen. Kuhlman signed as a free agent after winning the national championship with the University of Minnesota-Duluth Bulldogs. He was named the NCAA tournament's Most Outstanding Player and appeared in one game with Providence this season. Koppanen is a big forward at 6-foot-4 with strong skating ability. He hasn't put up big offensive numbers in his native Finland, but with his physical tools, it will be worth watching how the fifth-round pick develops.
The Providence Bruins will have a talented group returning in 2018-19. Colby Cave and Peter Cehlarik will also be in the mix up front. It's enough talent to get the team back in the playoff picture next season. Depending on who is added to the mix for veteran players, it could be one of the league's top forward groups.