Ever since he was chosen in the second round (59th overall) in the 2010 draft, Jason Zucker has slowly worked to become a fan favorite in the State of Hockey. At 26-years-old, he is just beginning to reach the prime of his career. He is one of the fastest players in hockey and knows how to use that speed to produce points. The biggest issue with Zucker is his size; he stands at 5-foot-11, 187 pounds. While he isn't the biggest player, he is valuable and with the conclusion of the season, he is a restricted free agent.
New Wild General Manager
Like Matt Dumba, Zucker is forced to deal with a new general manager who hasn't had much time with the Wild players. Nobody on the roster is safe (except for the numerous players that former general manager Chuck Fletcher handed no-trade clauses). Part of the reason Fletcher deserved to be fired, was because of the contracts he handed out to veterans that have limited the organization's cap space, their ability to sign free agents and to re-sign their players.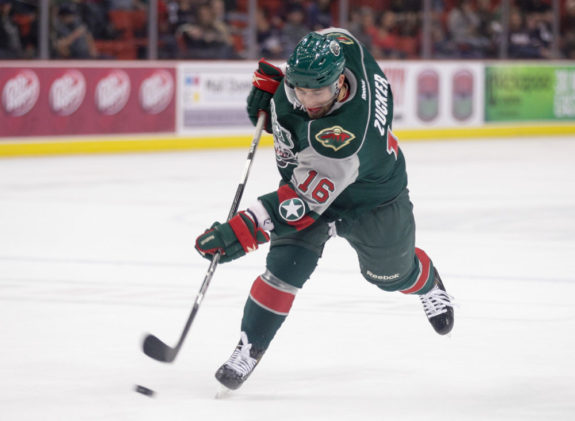 Zucker is an asset but if the new general manager wants to pursue a specific free agent or to make a trade, he could be one of the easiest pieces to move. His contract was a bargain over the last two years, playing at a $2 million cap hit each season. There won't be a ton of added cap space with his departure, but retaining him will not come cheap either.
Related: Minnesota Wild's Best Young Forward
Contract-Year Phenomenon
The 2017-18 season for Zucker was far and away his best season as a professional hockey player. He set career highs in goals (33), assists (31), points (64), penalty minutes (44), even strength goals (25), power play goals (7), and shots (222). In addition, he tied his career-high with a single shorthanded goal and had his second best plus/minus at plus-eight. His plus/minus total was the only significant dip, dropping from the ridiculous plus-34 he had the previous year in 2016-17.
His responsibility this year increased with his minutes, which led to more time on the power play. Prior to this season, he had only three power-play goals in his career. Scoring seven power-play goals in a season is quite an accomplishment.
Zucker was part of a duo with Eric Staal that helped the Wild accomplish something that hadn't been done since 2007-08. Together they crossed the 30-goal mark for the first time in Minnesota since Marian Gaborik and Brian Rolston did the same in a single season.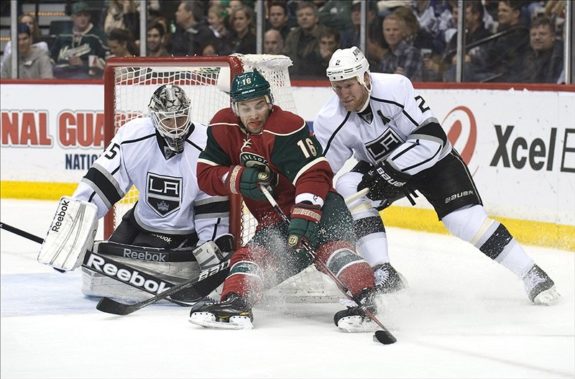 He managed to do all of this before entering his prime and in a contract year. It was a motivator for Zucker to say the least. The front office has to be asking themselves if this is the Zucker that they will be seeing for the foreseeable future or if it was a fluke year and that he is not worthy of a multi-year extension.
Zucker's Body of Work
In his career, Zucker now has 97 goals, 75 assists, and 172 points in 330 games. In his first three years, he was a pretty ineffective player with only eight goals and four assists in 47 games. In the four years since he has accumulated 89 goals, 71 assists, and 160 points in 283 games. The numbers look a little better but they aren't superstar numbers either, though he has improved almost every year he has been in the league.
In 2014-15, he had his breakout season amassing 21 goals and 5 assists in 51 games. The following season he posted only 13 goals and 10 assists in 71 games. He did improve from minus-9 to minus-5. That was the point when Zucker signed a two-year, $4 million contract. He was a 20-goal scorer coming off a down year so the deal made sense for both parties.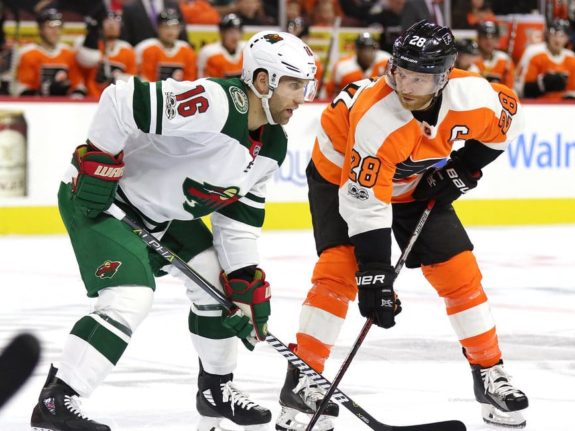 In 2016-17, he had 22 goals, 25 assists, and earned a plus-34 in 79 games. This year he scored 11 more goals and 6more assists than the year before. Producing an additional 17 points is a huge leap in production. Zucker often relied on his speed early in his career, but he has also improved as a playmaker, stick-handler, and his on ice vision. He is a player who has developed nicely and should continue to improve for two to three more seasons.
Ideal Contract for Zucker
Consider if Zucker was becoming an unrestricted free agent after producing 33 goals and 64 points at only 26-years old. It's likely that he knows his worth and wants to receive a significant pay bump from $2 million. He has earned a three or four-year contract worth around $4.5-5 million a season. That would put him in the range of Mikael Granlund and Nino Niederreiter who both signed long-term deals last offseason.
It's also likely that a trade will have to be made in order to retain both Zucker and Dumba, but both put up career numbers so they could demand more than what is realistic to expect. Only one thing is certain, Zucker is going to have plenty of extra dollars heading to his bank account in the next few months.
Related: What Will Wild Do With Dumba?
Jordan Adams is a writer currently based in Minneapolis, Minnesota. He has an Associate's Degree in Fine Arts that was completed in December 2017. Adams has a strong passion for the Minnesota Wild and Vikings franchises, watching the former since their inception when he was only four years old.