All eyes will be in Sunrise, Florida Friday night (April 28) with the Boston Bruins and Florida Panthers playing Game 6 of their Eastern Conference first-round series with the Bruins leading 3-2. In Rhode Island, the Providence Bruins will begin their own postseason in the American Hockey League (AHL) playoffs against the Hartford Wolf Pack in a best-of-five second-round series.
As Providence begins its quest for the Calder Cup, here are three players to keep an eye on as they begin their postseason against the New York Rangers AHL affiliate.
Fabian Lysell
There were high expectations at the beginning of the season for Fabian Lysell and his first full pro season after a strong and impressive 2021-22 season with the Vancouver Giants in the Western Hockey League (WHL). He had 22 goals and 40 assists with the Giants in 55 regular season games, then tallied four goals and 17 assists in 12 postseason games.
This season with Providence, he battled illnesses and injuries, but still managed 14 goals and 23 assists in 55 games. He showed flashes of his skill set this season by making some highlight reel passes while using his quick hard shot to find the back of the net. It was possible that Boston general manager (GM) Don Sweeney could have traded the 21st overall pick in the 2021 Entry Draft in a deal to acquire a big name at the trade deadline, but he held onto him and now Lysell gets his first professional taste of the playoffs. There will be a lot of eyes on him in the next couple of weeks with an eye towards next season in Boston.
Brandon Bussi
Brandon Bussi was in Boston as the third goalie behind Linus Ullmark and Jeremy Swayman on an emergency basis, but has since returned to Providence. Signed as an undrafted free agent following his senior season at Western Michigan University in March of 2022, he has taken advantage of the opportunity in his first full AHL season.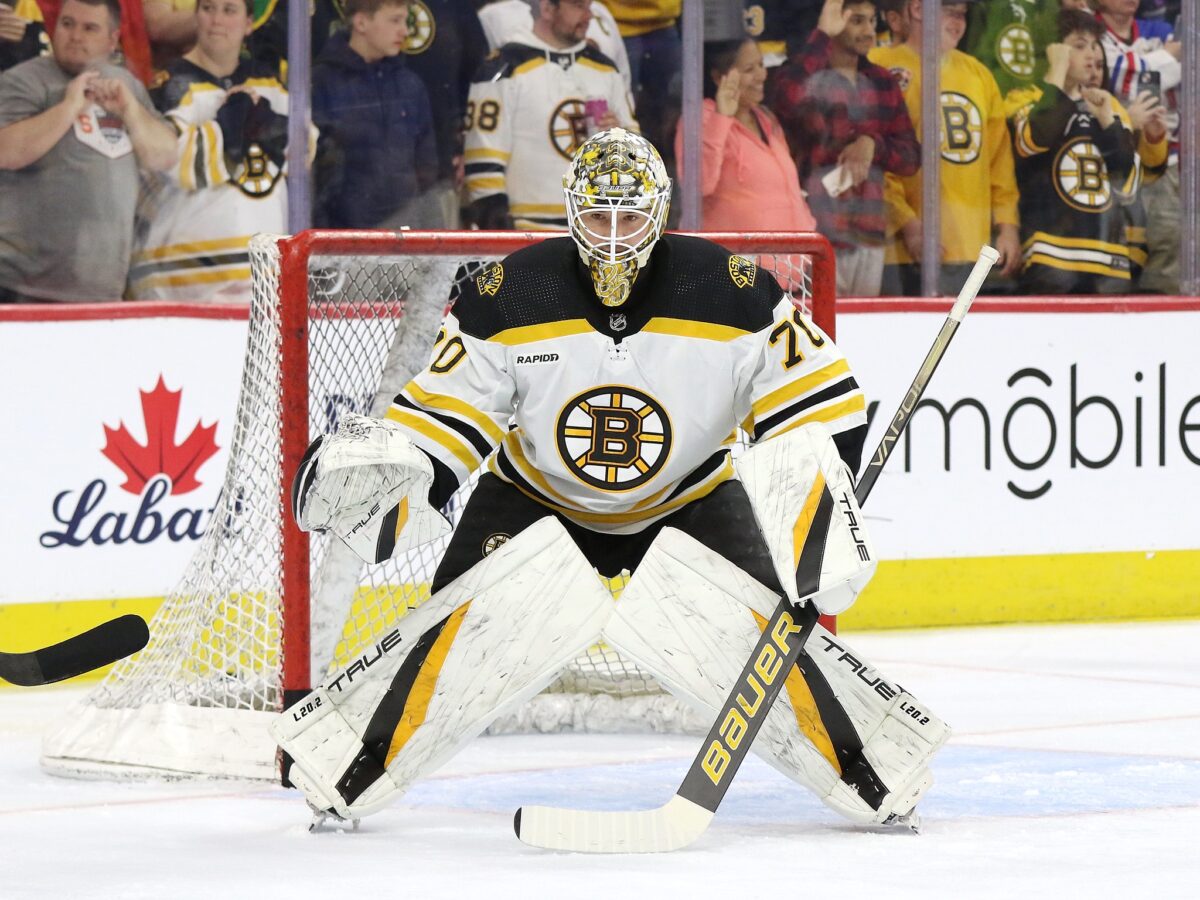 Bussi went 22-5-4 this season with a 2.40 goals against average (GAA) and a .924 save percentage (SV%), splitting time with Kyle Keyser. He was voted team MVP this season after finishing first in the AHL in save percentage and being named an Atlantic Division All-Star in February. Keyser finished 13-6-2 with a 2.79 GAA and a .900 SV%.
If there's one area the Bruins are stockpiling young depth, it's in goal. Reid Dyck, selected 183 overall in the 2022 Entry Draft, recently joined the P-Bruins in a practice and Philip Svedebäck completed a strong freshman season at Providence College. Once Ullmark is gone in Boston and Swayman assumes the crease full-time, the Bruins should have a number of NHL-ready backups in a couple of seasons.
Georgii Merkulov
Of all the prospects in Providence this season, Georgii Merkulov has been the most intriguing one for coach Ryan Mougenel. Like Bussi, Merkulov was signed as an undrafted free agent out of Ohio State in March of 2022, he came with a strong offensive skill set and it was on display in his first full pro season.
Related: 4 Takeaways From Bruins' 4-3 Game 5 Overtime Loss to Panthers
---
Latest News & Highlight
---
He tallied 24 goals and 14 assists for the Buckeyes in 2021-22 before signing with the Bruins, then this season, the 22-year-old had 24 goals and 31 assists for Providence. The 5-foot-10, 163-pound left wing has an impressive skill set, gets to the front of the net, and uses his hard quick shot to beat opposing goalies. What happens with Boston next season remains to be seen with the bottom six as there are a lot of current players whose contracts are up following this season. Sweeney Could attempt to sign some of them or look toward players like Merkulov who carries a $925,000 cap hit to fill in some of those spots. It's too bad that the Bruins didn't give him an opportunity this season in Boston as he earned one with his strong first professional season.
Any postseason experience at any level is going to be beneficial to the P-Bruins as there is going to be some roster turnover in Boston next season, which could open the door for some of them to make the jump to the NHL. Like Boston, Providence is hoping to carry over its strong regular season to the playoffs.