As a hockey fan and a collector of hockey cards for over five decades, I often look back at the good old days of collecting with a lot of fond memories. But with the news of Upper Deck launching a new collecting platform called "Evolution," I feel like the good old days of collecting are still here. In fact, collecting could be even better because now cards and memorabilia are more accessible.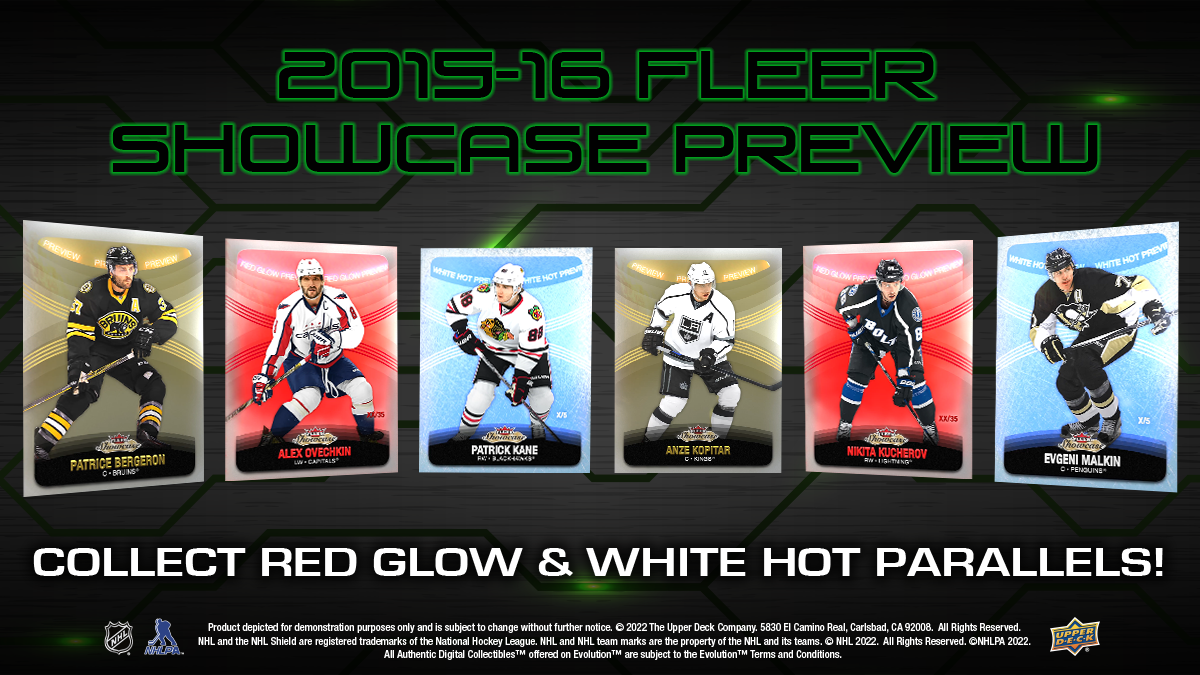 Upper Deck's Newest Collecting Platform Evolution officially launched on April 25, and it's truly a game changer for collectors of all ages and experience levels. With the launch of Evolution, this is the first time that digital collectible items can be traded for physical items and vice versa -making it even easier and more exciting to collect your favorite NHL cards.
Evolution Opens A New Market For Authentic Digital Collectibles
Evolution is the third online collecting platform from Upper Deck, creating an ecosystem for fans and collectors to enjoy and interact with one another – with no extra fees (e-Pack, Collect Forever, Evolution.) To mark the launch of Evolution, Upper Deck is releasing official NHL & NHLPA licensed Authentic Digital Collectibles, with additional products set to release later this year
"We're committed to creating new ways for fans to enjoy the art of collecting and bring home their favorite moments from sports, shows, movies, and more," said Jason Masherah, president of Upper Deck. "From e-Pack to Evolution, I couldn't be prouder of the progress we've made, and to bring Authentic Digital Collectibles to Upper Deck's product suite is an exciting accomplishment. As a collector myself, it's truly thrilling to be at the forefront of this industry's continued innovation."
The Benefits of Upper Deck's Digital Trading Ecosystem
Within Upper Deck's digital trading ecosystem, collectors can benefit from a network of online platforms, including: e-Pack – the platform where collectors can purchase digital trading card packs and virtually open them online, with the option to obtain the physical counterpart; Collect ForeverTM – Collect Forever's premier collectibles website where collectors can purchase a wide selection of physical comics and collectibles; and now Evolution. Once an Authentic Digital Collectible is purchased on Evolution, it can remain on the platform and be traded for other Authentic Digital Collectibles. Alternatively, it can be transferred to an e-Pack and traded for physical items like trading cards, coins, and memorabilia, in a safe and secure peer-to-peer platform–the first time that digital collectible items can be traded for physical items and vice versa.
Added Masherah, "it's no secret that NFTs took the world by storm, but the term 'non-fungible token' has many different interpretations. For us, it was important to continue to carry the industry standard for quality and authenticity that Upper Deck is known for, which collectors will immediately recognize when opening Authentic Digital Collectibles on Evolution."
Watch for New Collectible Releases During the 2023 Stanley Cup Playoffs
Upper Deck launches Evolution with an exclusive assortment of limited-edition Authentic Digital Collectibles dropping throughout the 2023 Stanley Cup Playoffs, starting with the 2015-16 Fleer Showcase. The April 25th release of Preview Packs gives collectors a sneak peek of three upcoming Fleer Showcase drops and boasts 25 top players from the original 2015-16 product.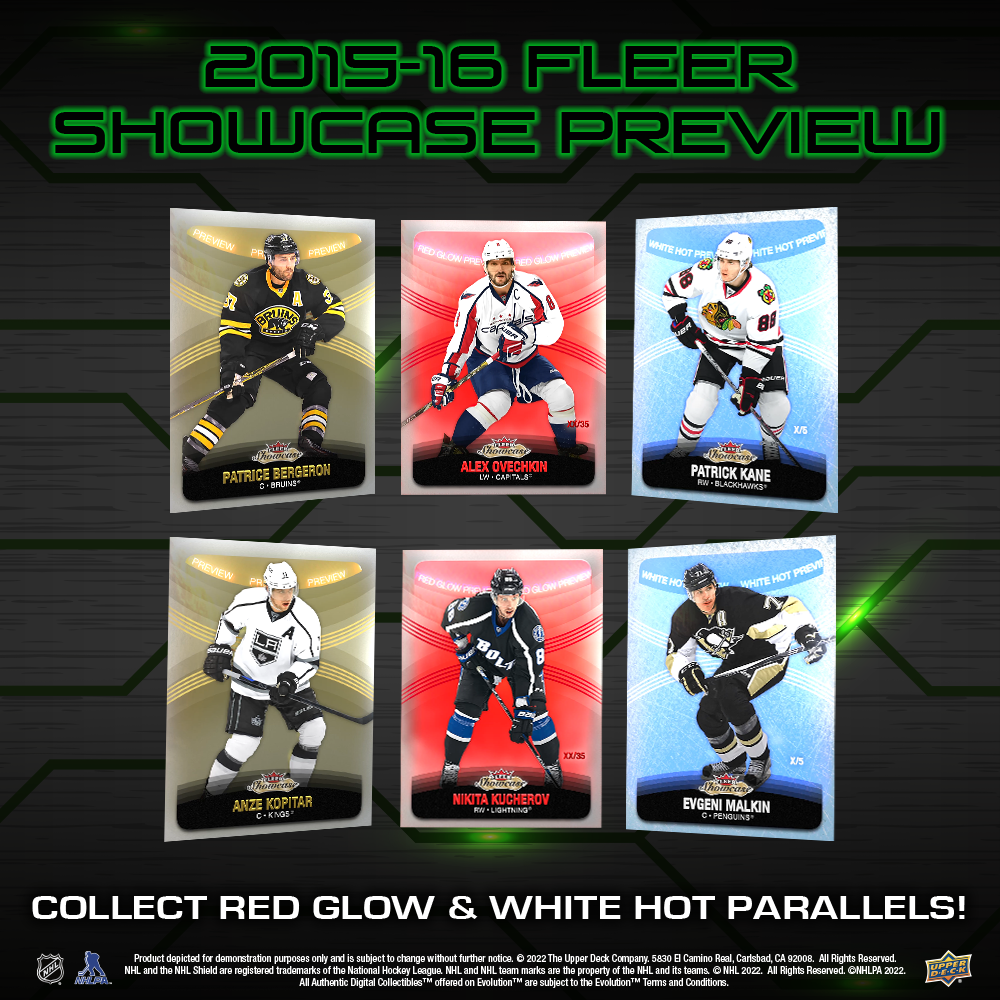 Each of the 9,000 packs contains one NHL and NHLPA-licensed NFT trading card limited to 320 or fewer. Collectors who complete the Base Set can earn an Evolution Update Achievement Set featuring Leon Draisaitl, David Pastrnak, and Andrei Vasilevskiy, three current stars not featured in the original set.
Connor McDavid – Part of New Upper Deck Hockey Heroes Release on Evolution
Upper Deck will soon release 2022-23 Hockey Heroes, which will be the first NHL and NHLPA-licensed weekly product available on Evolution. Each week, 3,000 packs will highlight three top hockey players all with unique visual effects, starting with Upper Deck spokesman Connor McDavid. Hockey Heroes will feature superstars like Nathan MacKinnon and Alex Ovechkin and offer exclusive end-of-year NHL Award Winner achievements that can be acquired by collecting and completing sets of NFT trading cards.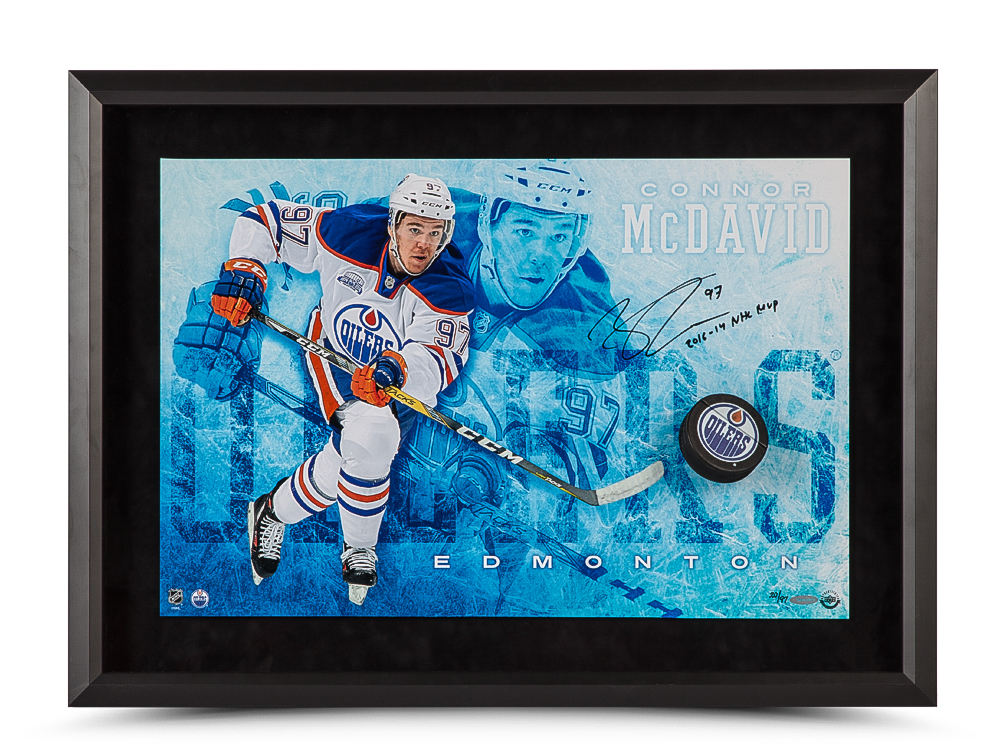 "It's great to be working exclusively with the company that sets the precedent for innovation and authentication in the sports and entertainment collectible space. I'm so excited for fans to see these Authentic Digital Collectibles and honored to be featured in the first Hockey Heroes line" said McDavid, exclusive spokesman for Upper Deck.
Related: Oilers' Connor McDavid Signs New Deal With Upper Deck
---
Latest News & Highlights
---
Upper Deck plans to expand Evolution product offerings throughout 2023, adding new properties and creating even more Authentic Digital Collectibles for collectors' enjoyment. To learn more and explore Authentic Digital Collectibles available for purchase, visit www.collectevo.com.
Evolution Ushers In An Exciting Future For Collectors
I personally love the launch of Evolution. I feel like it brings the past together with the future. It reminds me of when I ask my son what new music he's listening to, and all of a sudden I'm introduced to new bands (to me) such as Bring Me the Horizon or Royal Blood. This is coming from a Zeppelin fan. I feel the same about hockey cards and memorabilia. If I'm not evolving, I'm not living, that's why I'm going to enjoy exploring Evolution and the possibilities of trading some of my older cards for new digital versions. The future is here, and it's really exciting even for an old-time collector like me.