Change is hard for anyone, and change after being in the same city and with the same organization, the same family, is really hard. But for Barret Jackman it has been a smoother transition in the fact that he had a whole summer to prepare for the change of leaving the St. Louis Blues franchise to join the Nashville Predators after signing with them on July 1. "I think this (signing) is a perfect fit for our defense," Preds GM David Poile said. "He brings veteran leadership, physicality, and his biggest asset to us is that he kills penalties. In theory, he should be the first one to go out and kill penalties, and I can't tell you how important that will be in terms of the total balance for resting Shea Weber and Roman Josi in those critical areas."
It's only been three games but the addition of Jackman has been a good one in Nashville, as he not only takes some of the hard minutes off of Weber and Josi's legs, but he can also let his partner Seth Jones be a rover or allow him to jump into plays while the veteran holds the blueline. As a rookie with the 2002-03 Blues Jackman was the winner of the Calder Trophy — beating out some guys named Rick Nash and Henrik Zetterberg — and now he brings his wealth of knowledge to try to assist in the Predators capturing their first Stanley Cup in franchise history.
After the Preds 3-1 win in New Jersey, The Hockey Writers talked to Barret Jackman about leaving St. Louis and adjusting to Nashville, being paired with Jones and what it was like to be teammates with Martin Brodeur with the Blues last year, among other topics.
The Hockey Writers: You guys picked up another two points tonight, improving to 3-0-0 on the season; what was the key to shutting the Devils down?
Barret Jackman: I thought they played really well and played their system to a tee through the first two periods and really didn't let us get a lot through the neutral zone. But we stuck with it and had a big power play goal when we needed it and then got a couple of empty netters that really took the pressure off.
THW: You were paired with Seth Jones tonight and also through this early part of the season, how has that partnership been working out so far?
BJ: It's been great; he's a kid with a ton of talent, and his patience on the ice…it doesn't seem like anything rattles him. It doesn't matter what the situation is, PK, power play, or even five-on-five with pressure; he makes the calm and smart play almost every time.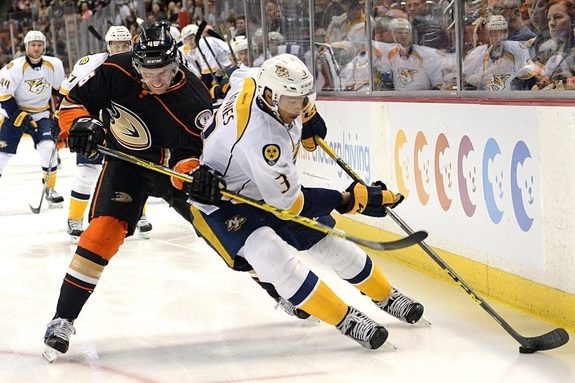 THW: He's still only 21-years-old, is he a guy that picks your brain, asking questions to try to tap into your 800+ games of experience?
BJ: Yeah for sure, we're still getting comfortable (alongside one another) here; I think every game we're getting a little bit better. On the ice our communication is really good and we've been talking a little bit about different plays. Off the ice, I'm sure the more we play and get more comfortable we'll be stepping up our game a little bit.
THW: How tough was it to leave the St. Louis franchise after 16 seasons? Do you feel like a rookie again?
BJ: Yeah it definitely does. I'm nervous coming to the rink every day, making sure I'm not stepping on anyones toes. But the guys are awesome here, they're making me feel comfortable each and every day; making me feel (like) part of the group. It's definitely a different experience leaving St. Louis, but sometimes change is good for you and at this point in my career it's been very good.
Martin Brodeur getting up close with Blues fans for first time #Stlblues @KSDKSports pic.twitter.com/n8FyQOzg61

— Rene Knott (@reneknottsports) December 14, 2014
THW: Last season you got to be teammates with Marty Brodeur for a little while; what was that experience like? Can you give us a little insight into what he was like behind the scenes?
BJ: He was amazing. I knew him a little bit before he came in, but I wasn't sure what Marty's role was going to be. But he came in and was really good with (the other two goalies) Jake Allen and Brian Elliott; I also thought he was really good with sharing his experiences with the whole team. (Personally) I thought it was a pretty neat experience to have a Hall-of-Famer come into your dressing room and be the kind of person that he is and you guys know (here in New Jersey).
THW: After he retired and joined the Blues' front office was he still around, helping guys out and offering advice?
BJ: Yeah, he was around the room a lot. He traveled with us and anytime you wanted to talk to him about any situation — whether it was over a meal, at the hotel, something on the ice or something away from the ice — he was really good. I think he's still trying to find his niche in the organization. But even over the summer I talked to him and he's still a great wealth of knowledge for that team.
Dan Rice can be reached via Twitter: @DRdiabloTHW or via Email: drdiablo321@yahoo.com.