After being traded to the Boston Bruins before the 2013-2014 season, Reilly Smith has blossomed into a solid top six forward. Playing with Brad Marchand and Patrice Bergeron last season, Smith notched over 20 goals and 30 assists for the first time in his young and promising career. The Hockey Writers got a chance to talk to the up-and-coming superstar before the season, and we touched on a variety of topics. The following is the first part of the exclusive conversation with the Canadian winger.
The Hockey Writers: Congrats on your new contract!
Reilly Smith: Thanks so much! It's good to happen right now, it had been a pretty long summer. You want to be in training camp when the rest of your team is there. It's good to be there before the end of training camp and get into good shape before we start playing games.
THW: Can you describe the offseason? What was the most challenging part?
RS: The offseason got tough at the the end. You want to get back and see your teammates, but you still have to be training really hard. It can be really taxing, but you just have to stick to your daily routine and keep on training every day is one of the biggest factors.
THW: How do you feel about your newly signed contract? Obviously you are excited, but do you want to stay in Boston for more than one year?
RS: Yah, absolutely. It's been great so far and I couldn't expect more. Being able to stay with this team and this group of guys, it would be a great opportunity for me, so hopefully everything works out so that I can do that.
THW: Torey Krug was in a similar situation to yours, and didn't sign until training camp. Did you go through that process (over the summer) with him?
RS: Yes, we went through the process together, which helped a lot-just knowing each other so well, being able to bounce ideas off of each other. We actually stayed in Connecticut together for awhile. Going through that together made that a lot easier for both of us.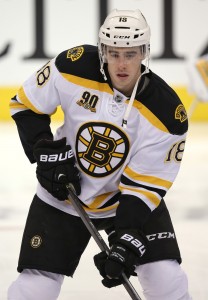 THW: Who is your favorite teammate to play with?
RS: You know, there are so many great ones, but recently, it's been great to play with (Patrice) Bergeron. He's such a good player and such a good leader. He's the ideal image of how professional athletes should portray themselves in the media, with your teammates, and just in general.
THW: How do you want to build on last season's success? Obviously, with 20 goals and 30 assists, you really killed it. You played a huge role on Boston's second line, but what can you do when you're trying to do it all again?
RS: I can do a lot of little things better. There was also a little bit of a slump that I went through last year, so putting all together for 82 games is really important, and I think that it will help our team. But again, it's the little things. You can always get a little quicker, a little faster, more attention to detail. Those little things can increase your game and your performance quite a lot.
THW: Continuing on the flashback to last season, what was it like playing against your brother Brendan (Smith) in the postseason?
RS: It was pretty weird, pretty surreal for sure. During the regular season is one thing, but in the playoffs, you're pretty much playing for your life, it's completely different, and having that experience is pretty intriguing. My parents had fun watching it, but they had a tough time choosing who they were rooting for (chuckles).
THW: Do you wish he had fought (Zdeno) Chara?
RS: (Laughs) No, because I think he would have had a couple broken bones at the end of it.
Part Two is coming shortly, with more about Smith opening up about playing in Boston and a plethora of different questions.