Ryan Bahl is on a mission to make his dream of playing a hockey game on all seven continents become a reality. To date, Bahl has played hockey on six continents. He is currently working with a team of colleagues to complete his quest of bringing a hockey game to Antarctica that is slated for May 2017. For more information on the upcoming events leading to the big game, you can visit the official 2017 Antarctica Ice Hockey Team website.
Recently, The Hockey Writers had the privilege of catching up with Bahl about his plans for the game in Antarctica. We discussed the impact hockey has had on his life and found out how he plans to bring the coolest game on Earth to the coldest place on Earth.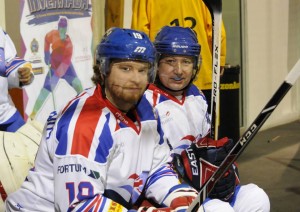 The Hockey Writers: When did you start playing hockey and what do you like most about the sport?
Ryan Bahl: I was on the ice skating at four or five years old and actually started in San Diego, Calif. At that time we were in the midst of Wayne Gretzky coming to Los Angeles, The Mighty Ducks movies, and a lot of other factors that were inspiring kids to play hockey. A lot of my family also came from Minnesota so they had a hand in getting skates on me.
The Hockey Writers: Who was your favorite player or players growing up?
Ryan Bahl: I have always loved the Detroit Red Wings and grew up watching them win the Stanley Cup in 1997, 1998 and 2002. To this day I still wear either number 91 for Sergei Fedorov or 19 for Steve Yzerman. Fedorov had amazing moves and could control the puck at will. The modern day equivalent of Fedorov for me would be Pavel Datsyuk. Yzerman was by far my favorite. He had it all – the moves, the scoring, and the ability to set up his teammates.
The Hockey Writers: What got you interested in playing hockey internationally?
Ryan Bahl: Just out of high school my grandparents took me on a trip to Europe after graduation. I instantly fell in love with traveling, meeting new people, and the different cultures. When I got back I thought maybe there's a way I could do this all the time and play the sport I loved. Instead of taking the traditional route of going to college and eventually trying to play in a semi-pro or professional league, I thought why not do something more fun and interesting? At age 19, I was on my way to my first stop in Hong Kong, China and I've been traveling and playing hockey ever since – for the last eight years so far.
The Hockey Writers: How would you compare playing hockey in Europe to North America?
Ryan Bahl: Europeans grow up playing on larger ice surfaces so their game involves a lot more puck control, poise, and a different type of system than what we're used to. North American ice surfaces are typically NHL sized so our game involves high intensity battle play and a dump and chase type of system. North American hockey is seen as more physical and brute. This obviously isn't always the case. Interestingly enough, places like Finland play a very mixed type of hockey with it being very physical while also keeping to the "normal" European style of play. I have seen hockey played many different ways by different players and teams. It has all been really fascinating to see.
http://gty.im/186520085
The Hockey Writers: To date, you have played on all of the other continents except Antarctica. What was your favorite place and favorite arena where you've played a hockey game?
Ryan Bahl: Man, everyone always asks me and my wife this question. It is really a hard question – mostly because I don't want to get a ton of messages from all my friends around the world about why I didn't choose them. However, with that being said, we really enjoyed Sweden's people and their lifestyle. Sweden, Denmark and Norway are rated as the happiest places in the world and it really shows. Living in South Africa was quite an eye opener – things are very culturally different there. We also lived in Istanbul, Turkey this year and played there as well.
In terms of an actual arena, that's a pretty tough question too. I think my two favorites were playing in Sydney, Australia and in Žďár nad Sázavou, Czech Republic. Sydney was cool because the Australia International Ice Hockey Cup always puts on an amazing series between a USA and Canadian team – I got to play in the Cup. Every game had about 1,500 fans that were absolutely astonished by hockey and loved watching us play. Hockey is not something that most people in Australia are too familiar with. It was really great signing autographs and taking pictures with all the fans after the game. Everyone thought it was such an amazing game.
My other favorite was playing in Žďár nad Sázavou, Czech Republic. The fans there were totally crazy. It wasn't uncommon to look up in the stands and see fireworks or road flares going off. Not to mention, fans singing team chants while they would bang on drums. They used to also hand out pieces of paper – I think the rosters of the teams – that the fans used to fold up into paper airplanes. Everyone would throw them at the same time after the ref called a penalty or the other team scored a goal. The refs would spend five to ten minutes picking up paper airplanes off the ice. It wasn't uncommon for them to miss one or two while picking them up. There were always white pieces of paper and you had to be on edge, literally, so you didn't step on one after the play resumed.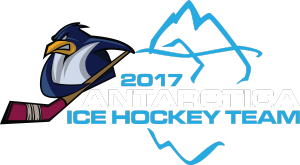 The Hockey Writers: What sparked your interest in playing in Antarctica?
Ryan Bahl: Originally it was actually because the Guinness World Records told me that they could not approve my record for being the youngest/fastest person to play hockey on all six continents. This is because I ONLY played on six continents and not all seven. I was actually kind of upset so I had that "I'll show you mentality." I decided to start doing research and talking with all my contacts around the world on how to make it happen. Since then it's evolved into promoting traveling and playing our sport around the world. The other important concept we started to develop is the negative impacts of climate change and global warming.
The Hockey Writers: Where in Antarctica will the game be played and what will the venue look like?
Ryan Bahl: We are still working out the logistical aspects for the event but we have a few locations in mind. The most promising thus far is going to the South Georgia and the South Sandwich Islands. You've probably heard of these – this is where about 90-percent of all Antarctic tourism visits. We will be shipping a rink down to that area of the world and instead of sending it back, we will most likely be donating it to a local community for them to use to help promote the sport. I'm working with The Hockey Foundation on a lot of these logistics. They have proven success in helping develop hockey in India among other places – not to mention they are really great people.
The Hockey Writers: What other players will be participating in the game?
Ryan Bahl: We won't be announcing rosters until early next year but we have been in talks with a lot of cool people. Some of these people include Olympian Hillary Knight, Youtube star Pavel Barber, ex-NHL'ers like Richard Blair, Darren Banks, Bryan Trottier, as well as Mike Bolt (one of the keeper's of the Stanley Cup). We had quite a lot of people reach out on our website. It's really cool to see that it's people from ALL over the world. This is developing into a world movement with people from all over trying to get involved which fits right into our goals. Everything is moving ahead really well! Resources will obviously be our biggest hurdle but we really want to take as many people as possible. This will just highly depend on how everything works out over the next few months. We also set up a GoFundMe page where we will be giving away a few roster spots in a lottery. All people have to do is donate for a chance to win.
The Hockey Writers: What is the timeline of events leading up to the game?
Ryan Bahl: For the next few months we will be working heavily on the funding and sponsorship side of things. We are developing a business and marketing plan that we will be presenting to companies that are interested. We are also running our campaigns for things like the GoFundMe. We will need the entire community of hockey players to all help out in order to make this happen. We are relying heavily on the support of hockey players and fans around the world and so far it has been outstanding! Heading into the New Year we will start to finalize players, rosters, and who else will be attending. From there we are going to just continue with public relations, marketing the event, and making sure it is covered around the world. As this is all being worked on, my team and I are also working very hard on the back end logistics stuff to make sure we can make this happen. I'm very confident we can make this work.
[See Also: Antarctic Hockey: The Game's Most Ambitious Project by Joe Vito DeLuca]
The Hockey Writers: What has it been like for you putting this big event together?
Ryan Bahl: Putting this event together so far has been quite the whirlwind. At first, I actually didn't think it would be this much work and I really didn't think it was going to be that big of a deal. I'm not sure what I was thinking. Most nights I'm up until 4 am working on this after my normal work hours. Then I'm up the next day to do the same thing. It's really not a big deal in the end though. I am pumped to be doing this and putting together something really amazing. My adrenaline and love for the sport has kept me moving full steam ahead. Most importantly, I have also worked out some really great partnerships and I'm sure there will be many more to come. I think it is truly amazing how hockey players are. I think out of all sports hockey players are some of the best teammates to have and it shows in business and real life. These are people you can always count on. The support team we have built so far has been really great and I know they will do everything in their power to make sure this event happens.